Windows 10 is a ray of hope to a new type of app ecosystem that Microsoft is pushing in hopes all developers adopt it as standard. These UWP or Universal Windows Platform apps can be found in the company's Windows, Store, and in many ways, they operate differently from the traditional Win32 apps, but by nature, they are the same.
Like the regular Win32 apps, these apps can drain your battery if they are left to run in the background. The thing is, many of these apps need to run in the background in order for the user to take advantage of the full feature set. You see, for such things as live tiles and notifications to work, UWP apps must run in the background at all times.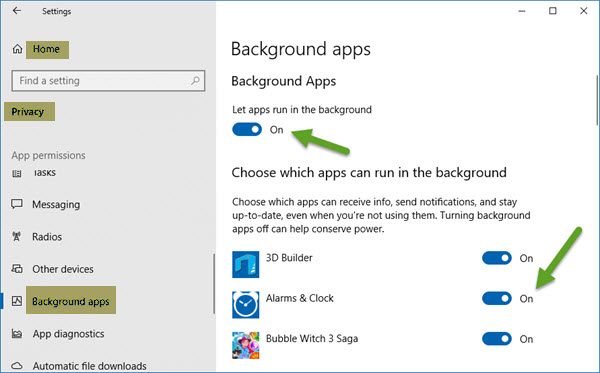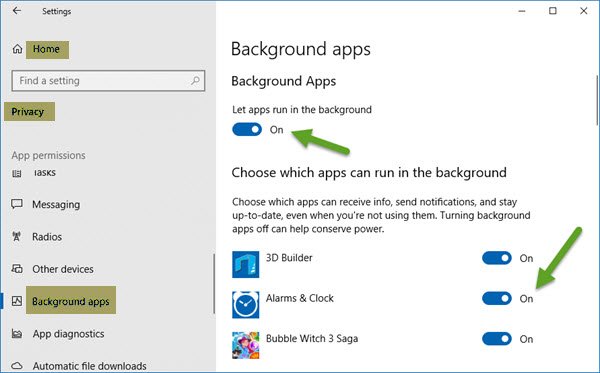 Seeing as the information for live tiles and notifications are usually delivered from the cloud, UWP apps should drain less power from your battery when compared to Win32 apps, but this has yet to be tested by us, so it is still up in the air.
Stop Windows 10 apps from running in the background
There are two ways to do this, but first, we are going to look at how to stop specific apps from running – you know, the ones that are not overly important.
To accomplish this, click on the Start Menu then open the Settings apps. Click on Privacy, then scroll down to the option that says, Background Apps.
From here, you should see a list of apps that have permission to run in the background. Under Let apps run in the background section, simply use the toggle off/on switches to perform the relevant task. Keep in mind that apps such as the Alarm and Mail apps should always run in the background if they are used on a regular basis.
Turning them off means you won't get awaken by the Alarm bell, and you won't get notifications or live tile updates when a new email has arrived.
When you reduce the apps that can run in the background, you will definitely conserve power as well as make your PC run better.
Another way of stopping UWP apps from running in the background, is simply, turning On the Battery Saver mode. Do this, and all apps will cease from running in the background right away. This is great for when you're away from a power supply and want to get the most out of your battery's energy.
To do this, click on the battery icon situated in the notification area, then click on the Battery Saver option to complete the task. See that? The whole process is as easy as saying your ABCs, so there should be no more complaints about battery problems in the future.
Hope this helps!