This article shows you how to geotag a picture on your Windows 11/10 PC. Geotag is the geographic location where a particular image was taken. Most of the raw camera images have this information in their EXIF tags that include longitude, latitude, altitude, and other location data. But, what if an image doesn't have geolocation tagged? No problem. Before that, let's check out how you can activate geolocation for Windows Camera app – and, how to view geolocation in the Photos app.
Enable geolocation for Camera app in Windows 11/10
To enable geolocation for the Camera application in Windows 11/10, open the Settings app (press Windows + I hotkey) and then go to the Privacy category.
Now, locate the Apps Permission section in the left pane and move to the Location tab. In this tab, you can enable location permission for the Camera app from the right panel.
How to check where was a picture taken using the Photos app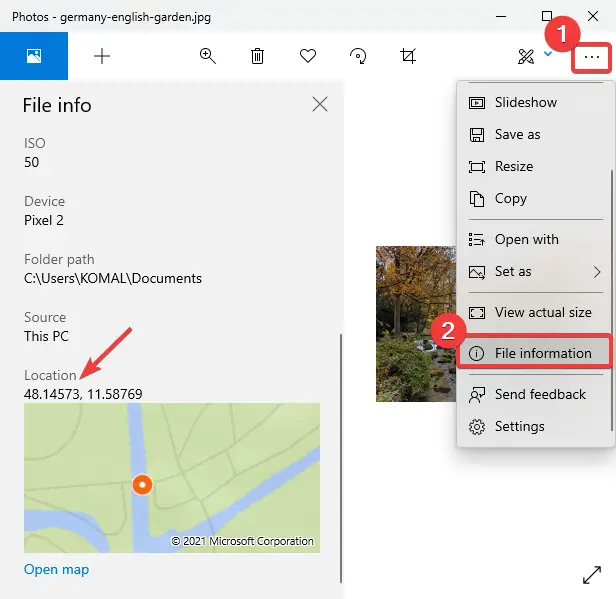 You can easily check geolocation information using the default image viewer app in Windows 10 called Photos.
Launch the Photos app, open your image, and then click on the three-dot menu present at the right. After that, click on the File Information option and a File info panel will open up at the left.
Scroll down to the Location tag and you will be able to see where the picture was taken. It shows latitude and longitude with a map preview. You can also open the map in a dedicated app.
How to Geotag a Picture in Windows 11/10
You can use the following free software to geotag a photo in Windows 11/10:
1] GeoSetter
GeoSetter is a dedicated picture geotagging software for Windows 11/10. It lets you geotag an image using a global map. Just mark the location on the map and tag it to your photos. You can geotag multiple photos at once using this software. Let's check out how to use it.
It is a portable freeware, so just extract its ZIP folder and double-click its application to run it. Now, go to the File menu and use Open Folder to import a folder containing source images. Select the added images from the left panel and then go to the Map tab.
Next, locate the geolocation on the Map. You can select OpenStreetMap or Google Map service to use a map. It also lets you manually add the GPS coordinates and locate them on the map.
After that, you can click on the Assign position marker to selected images button as shown in the below screenshot.
Now, to save images with edited or newly added geotag information, go to the File menu and click the Refresh option. It will prompt you to confirm changes. As you do that, your images will be geotagged.
It can also be used to view various image information including camera model name, focal length, time tags, location information, more. Plus, a lot of handy options are available in it like export to GPX track file, search & filter, synchronize with GPS data file, etc. You can download it from geosetter.de
2] Geotag
Geotag is a lightweight utility to view, edit, or add geotags to your images. It is a Java-based software and needs JRE to be installed on your system to run. Also, it is a portable application and requires no installation.
Now, to use it, simply run this portable geotagging application on Windows 11/10 and import your source images by going to File > Add Image option. If the images already have geolocation tagged, the same will be shown on the interface. It displays information like longitude, latitude, altitude, location, city, country, GPS time, and more. You can simply click on any of the fields and edit the values for them. If a picture doesn't show geolocation, select a geotag field and enter the value.
It also provides a handy feature to load tracks from a GPX file. When done adding location to the image, go to the File menu and click on the Save new locations to save geolocation in selected or all images.