QuickImageComment is a free software for Windows that lets you view and edit image metadata for JPEG, TIFF and other formats of digital images. Whenever you capture an image from a camera or a mobile phone, image metadata is automatically generated and stored along with the image file. The image metadata can be read, and some of its fields can also be edited. This metadata may reveal some important information and for some reason, you may also want to study metadata of some files, or you may want to delete metadata from your images. Quick Image Comment can handle all this very easily.
Image Metadata Editor for Windows PC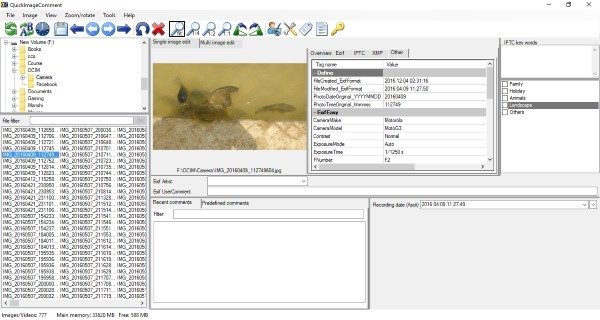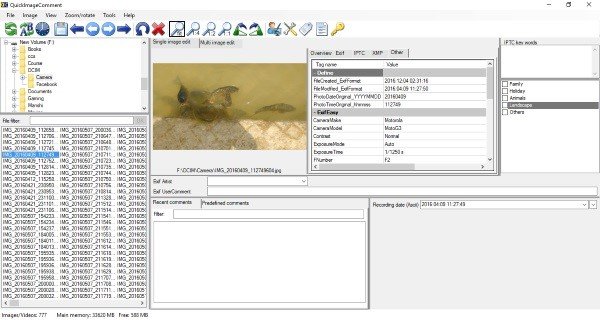 If you are not that deep into image editing and modification, you might want to know more about Metadata. Image metadata is the text information that is embedded into the file and includes details relevant to the image itself as well as information about its production. The Properties, Personal Information and Metadata stored in files come handy when you search for them on your computer, as they help in identifying the file, document, image, picture or photo. This metadata consists information like Date of creation, Author, Size and so on.
Windows OS lets you easily remove Metadata from files, but if you want to view in detail and edit image file metadata easily, QuickImageComment, a free is a free photo details finder and an image metadata viewer and editor can help you.
QuickImageComment is a powerful tool that can be used to display all EXIF, IPTC and XMP properties of an image file. Moreover, other properties like Recording date, modification date and comments can also be displayed. Some of the properties displayed are modifiable and for that can be done by configuring the list of modifiable properties first.
The tool can also be used to batch rename the files; you can select a fixed as well as a dynamic text. A variety of choices for dynamic text is provided from the fields of metadata. For example, you can rename files according to the camera model from where the pictures were taken.
Also, you can change the recording date and time of an image or multiple images at once. You can add or subtract days, hours, minutes and even seconds. You can add multiple images so that when you collectively change the date/time, all the images remain in the same order as they were taken. If you wish to delete the metadata of the images that were captured by you, then you can do so. Also, metadata from one image can be copied to other images as well.
If you are a photo savvy, then this tool is perfect for you. You can play around with the metadata and obtain some precious pieces of information about an image. There are more technical features in the tool as well that will not be appropriate to discuss in this post. I would not say the tool is simple to use. Some parts of it require some knowledge of metadata of images.
Click here to download QuickImageComment.
Read next: How to edit or add Metadata to Photos & Video files in Windows.