The Properties, Personal Information and Metadata stored in files comes in handy when you search for them on your computer, as they help in identifying the file, document, image, picture or photo. This metadata consists of information like Date of creation, Author, Size and so on. But there may be times, when you may want to remove this personal information, before sending it to someone, for privacy reasons. If you need to do this, Windows 10/8/7 will let you do so.

Let us see how you can remove Properties, Personal information and metadata from files, documents, pictures, photos, images and PDF in Windows 11/10/8/7.
Remove Properties & Personal information from files in Windows
Right-click on the file whose Properties and Information you want to remove and select Properties.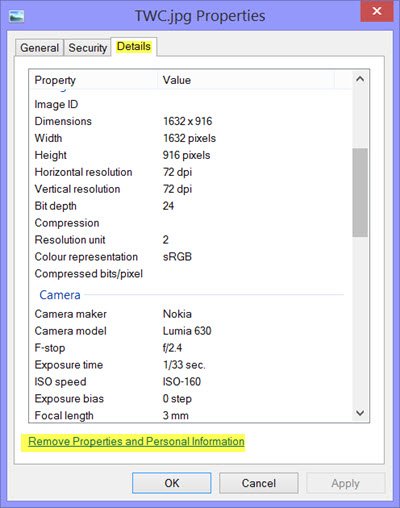 Click on the Details tab and then on the Remove Properties and Personal Information link. The following Remove Properties box will open.
Here you can Create a copy with all possible properties removed or you can remove properties selectively by selecting the Remove the following properties from this file option.
If you chose the latter, you will be able to check the boxes to remove the property.
You will notice that not all file types support having all their Properties removed. You may not be able to remove some.
In Windows 11/10/8.1, you will also be able to remove Properties, when you open a folder and select the file. From the ribbon > Properties, you can click on the Remove properties option.
Microsoft Office programs include a Document Inspector that allows users to easily see the metadata for the documents and remove them.
You can also use Document Metadata Cleaner to remove hidden and sensitive Word, Excel and PowerPoint Documents metadata information. It even lets you clean one or multiple documents at a time. You will get more details on this Office Documents Metadata Management post.
Doc Scrubber is another free tool that lets you remove hidden data from documents.

Remove properties and personal information not working
If this feature is not working for you or you receive a You need permission to perform this action message, make sure that you are signed in as an administrator. You may additionally Take ownership of the file and then try again. Our freeware Ultimate Windows Tweaker will let you add the Take ownership of Files and Folders easily to even Windows 11/10. This will make taking ownership easy for you.
Related posts: