Doc Scrubber as the name denotes that is a document scrubber. It is a tool for Windows that can help you clean up the hidden metadata of your Word documents stored using the .Doc file format. For those who don't know, Microsoft Word documents contain more than the visible plain text. Every Word document contains hidden data like revision logs, access dates, Comments, Keywords, Subjects, Last Saved Date and even the author's name. When you share your .doc file with anyone all of these embedded credentials are also shared.
This is where we need Doc Scrubber – a freeware from the developers of SpywareBlaster. This tool will help you remove hidden metadata from .Doc files, which could be potentially sensitive and private, with just a few clicks. It allows you to clear-out all the hidden tracks of your opened files and the entire information which you might not want to share with others. It is an absolutely free tool and takes no time to download and install in your computer system. It comes with a simple interface making it usable even for the novice.
Remove hidden metadata from .DOC files
With just a single click Doc Scrubber starts analyzing your Word documents and checks if it contains any potentially personal info to be scrubbed. The main overview of Doc Scrubber contains two clear buttons 'Analyze' and Scrub'.  The program first analyzes the Word documents and shows the detailed results in the frame of seconds.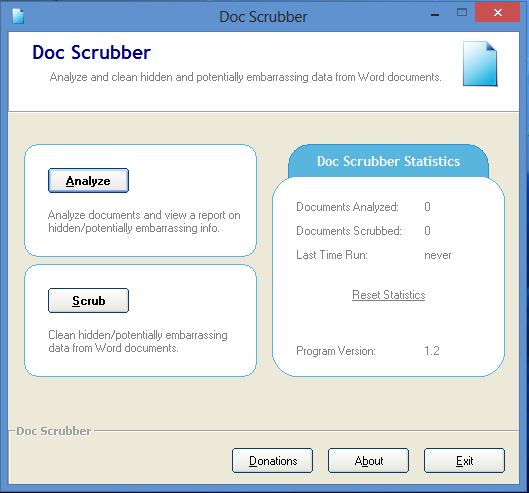 When you click on the 'Analyze' button the program will ask you to select a document file from your system and in just a few seconds you can see the details like the time of analysis performed, title of the file, keywords, subject, template used, date and time when file was created and also the last saved details. If you find something to hide in these details, you can scrub it using 'Scrub' button.
Doc Scrubber, by default doesn't overwrite the document file and keeps the original un-scrubbed file stored in your system. It generates a new copy for your records, but you can choose to have the file overwritten if you want. You just need to check the box if you want to save the scrubbed file over the original file.
In the last step of scrubbing method, you can select the items you want to scrub or remove from your .doc file. Just check the box of items you want to erase and click on 'Next' and you are done. The program will disposes off any data you want removed, and now the document is ready to be shared with anyone over the web.

The tool will then complete the scrubbing of the .Doc file.

Well, I am using Microsoft Word 2010 which saves documents files with the .docx file extension. Microsoft Office earlier used the .DOC file format, but the later versions use the newer .DOCX format. So to be able to use this tool, I will have to save my document files with extension .doc to analyze them and scrub the hidden information. This is where I find it a bit bumpy that it does not support the .docx files. I wish the developers release an update with its compatibility to the documents stored with .docx extension. So users of Office 2007 and later versions may want to check out Metadata Cleaner instead.
Doc Scrubber download
You can download Doc Scrubber from its home page.
Related posts: