Windows 10 automatically downloads and installs updates for Windows Store apps. Windows 8.1 too updated apps automatically – Windows 8 did not. This is quite convenient actually, but if you do not want it this way, then you may turn off or disable Automatic Updates for Microsoft Store Apps, by following the steps laid down in this post.
Disable Automatic App Updates in Windows 10
Log in to your Windows 10 PC with your Microsoft Account. This is a must as some services like this one depend on the Microsoft Account.
Next, open the Windows Store app from the Start Menu and click on '3-dots' to open the Options menu.
Next, click on Settings, as shown in the image.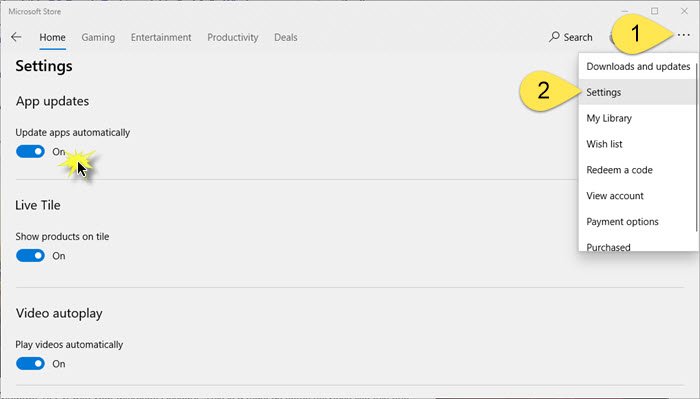 In the Settings, under App updates, you will see Update apps automatically.
It will be enabled by default and slider will be on the On position. Turn the slider to the Off position.
That is all you need to do.
You can also Turn Off Automatic Updates for Microsoft Store apps via Registry, GPO or Command line.
If you do this, remember to check for Windows Store App updates manually.
There is no way to disable automatic Windows Updates in Windows 10. The new OS will automatically download and install new updates. You can at most defer them. But there is a workaround you may try if you need to turn off Windows Update in Windows 10 – although we do not recommend that you do it.
These Windows 10 tips and tricks will help you get the best out of this new operating system from Microsoft. Do check them out!