Windows 11/10 brings with it multiple new features and Battery Saver mode is one of them. When, in the active state, the feature conserves battery life by limiting the background activity and adjusting the hardware settings. It then displays information related to the amount of battery life and the estimated time a user has remaining.
Battery Saver Mode in Windows 11/10
When you turn on Battery Saver in Windows, the following happens:
You will not automatically receive emails or calendar updates
Live Tiles may not update
You can enable or disable Battery Saver by toggling the Battery Saver is currently button to On or Off. You will find that the feature is disabled by default. If turned on, it becomes visible when the battery level falls below 20%. Nevertheless, you can change this setting and set the feature to a higher limit, say 30%.
In Windows 10,  press Win+I to launch the Settings app and then navigate to System > Battery Saver. Here, depending on your requirement, you can turn Battery Saver on or off manually. If you wish to configure its settings, click Battery Saver settings to control its automatic activation.
This Battery saver setting panel will allow you to:
Turn battery saver on automatically if my battery falls below
Allow push notifications from any app while in battery saver mode
Lower screen resolution while in battery saver mode.
If you would simply like to disable the feature if you do not find it of much use to you simply, follow the steps as outlined above but in the end simply uncheck the option 'Turn battery saver on automatically if my battery falls below'.
You can also set when the battery saver should turn on automatically by moving the slider. To raise the limit just slide the bar to the desired value. The default is 20%, but you may move it to 30% if you wish.
Once activated, the icon will turn like this:
This panel also allows you to add apps that can run in the background, even when your Windows 10 computer is running in battery saver mode. Clicking on Add will open a list of the installed apps. Select the ones you want.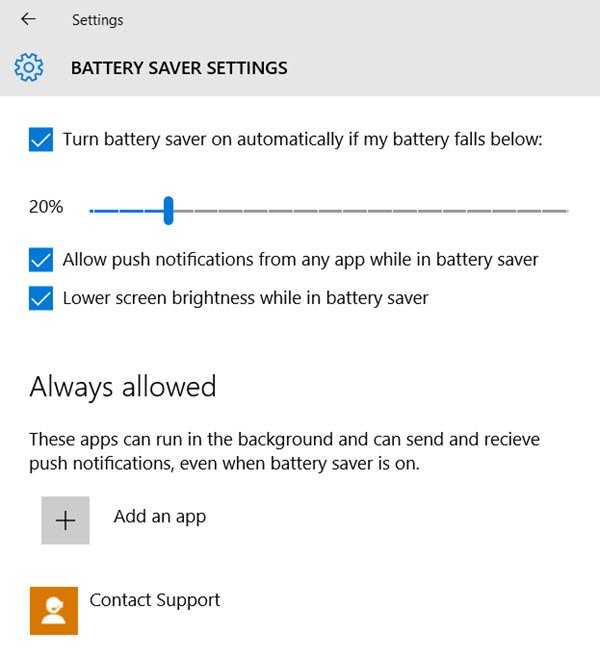 In addition to the above settings, Windows contains additional Energy Saver settings under advanced power settings in the Control Panel.
In Windows 11 you have to configure the Battery saver settings here.
You will get them under Settings > System > Power.
See this post if Battery Saver is not working on Windows Laptop.
You might want to also take a look at Tips to Conserve Battery Power and Extend or Prolong Battery Life in Windows and this Laptop Battery Usage Tips & Optimization Guide.