Windows OS predefined security zones: Internet, Local Intranet, Trusted Sites &  Restricted Sites. There is also a 5th zone viz the Computer zone (which contains files on your local computer). This however can be configured only from the Administration Kit; these settings are not available in the browser interface.
Internet Security Zones in Windows 11/10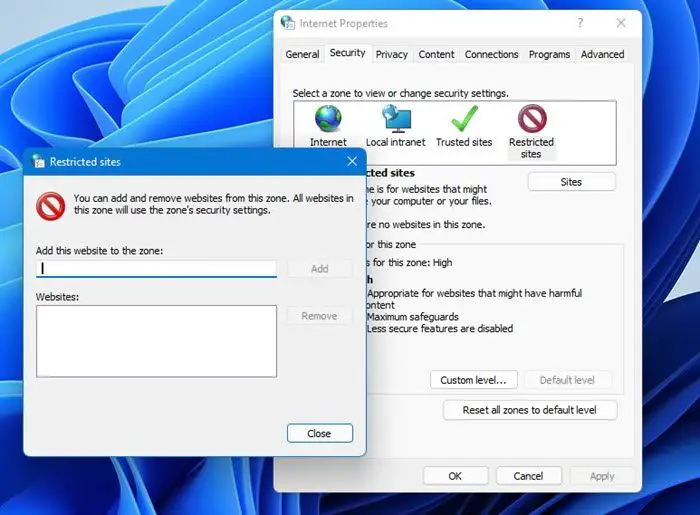 You can set the security options that you want for each zone, and also add or remove Web sites from the zones, depending on your level of trust in a Web site.
Internet Zone: This zone contains Web sites that are not on your computer or on your local intranet, or that are not already assigned to another zone.
Local Intranet Zone: It contains all network connections that were established by using a Universal Naming Convention path, and Web sites that bypass the proxy server or have names that do not include periods.
Trusted Sites Zone: This zone contains Web sites that you trust as safe.
Restricted Sites Zone: This zone contains Web sites that you do not trust.
To customize a security zone on Windows 11 or Windows 10, do the following:
Search for Internet Options and open it
Click on the Security tab.
Here you can select the zone and then choose the security levels you wish to set for these zones, individually.
You can click on the Sites button and Custom level to change the settings.
The default settings are the best for most users.
If you are facing pop-ups, you may want to check out if any website URLs have been maliciously added to your Trusted sites zone. If you do find any such suspicious one's, simply delete them.
You can also add websites to the Restricted sites zone, which you wish to block.
Read: How to reset Internet Options to default in Windows 11.
Using ZonedOut for PC
ZonedOut is a 3rd party portable freeware utility which lets you Add, Delete, Import, Export websites and build a Black/WhiteList in the Internet Explorers security zones, easily.  It now includes Restricted, Trusted and Intranet Zones.
If you want to, you can add a list of 'bad' sites from SpywareWarrior, to your Restricted sites zone. This list is called IE-SpyAd For ZonedOut.
IE-SPYAD adds a long list of sites and domains associated with known advertisers, marketers, adult-sites, krack-sites, malware pushers and crapware pushers to the Restricted sites zone of Internet Explorer. Once you merge this list of sites and domains into the Registry, the websites for these companies will not be able to use cookies, ActiveX controls, Java applets, or scripting to compromise your privacy or your PC while you surf the Net. Nor will they be able to use your browser to push unwanted pop-ups, cookies, or auto-installing programs on your PC.
Please note that IE-SPYAD is not an ad blocker. It will not block standard banner ads in Internet Explorer. What this Restricted sites list of known advertisers and crapware pushers.
ZonedOut simply automates the process of loading the IE-SPYAD sites list (called ie-ads) into Internet Explorer's Restricted sites zone.
If you change your mind, you can always remove this list of website/s easily using the Remove or Remove  All option from its Menu.
As I always say, before making any changes to your system, it's always best to create a system restore point, first!
How do I change my security zone settings?
To change your security zone settings in Windows 11/10, you need to open the Internet Properties panel first. Then, select the zone you want to modify and select the Sites option. Next, you can add or remove a website from the corresponding list.
Where are security zone settings located?
Security Zone settings are located in the Internet Options panel. In order to open it, you need to search for internet options in the Taskbar search box and click on the individual search result. Then, switch to the Security tab, where all the options are located on Windows 11 and Windows 10 PC.
Additional Reads: