Google Chrome browser is considered to be a fast browser. But users did find it going slow sometimes. To address this issue, just like the reset Firefox features, Chrome has introduced the Reset Chrome button.
While you can always try and troubleshoot the Google Chrome Freezing or Crashing issues, if this does not work for you, Google now offers you an easy way to reset Chrome settings on your Windows 10/8/7.
Reset Chrome to default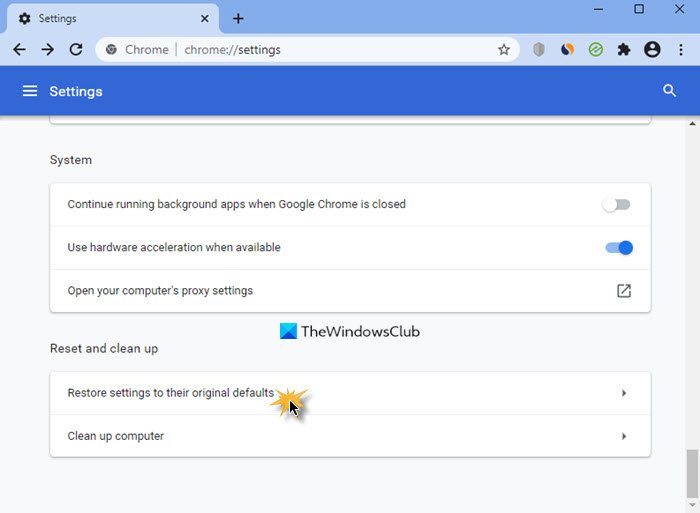 To reset or restore Chrome settings to default in Windows 11/10, do the following:
Open Chrome.
Type chrome://settings in address bar
Hit Enter.
Scroll towards the end and click on Advanced settings.
Toward the end, you will see Restore settings to their original defaults.
Click on the button to restore to open the Reset settings panel
Click on Reset settings button.
When you use this option, it will reset your profile to the post-fresh-install state.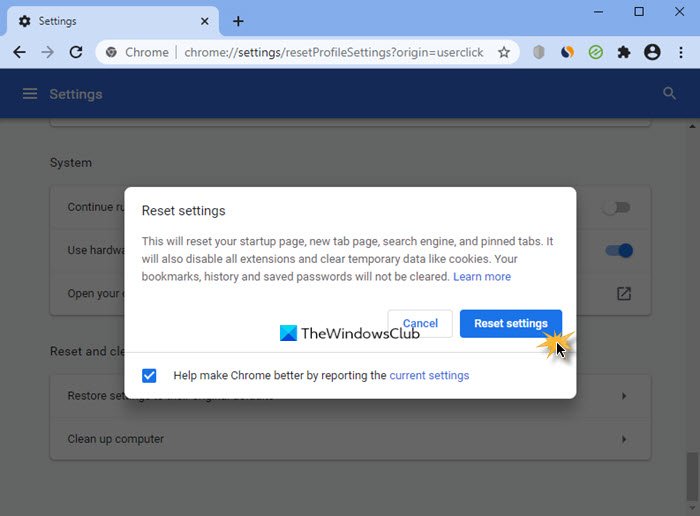 Basically, the following will be done:
Search Engine will be reset to default
The homepage will be reset to default
New Tab Page will be reset to default
Pinned tabs will be unpinned
Extensions, add-ons, and themes will be disabled. The New Tab Page will be set to open on Chrome start.
Content settings will be reset. Cookies, cache, and Site data will be deleted.
Although Google did introduce this feature a little late, it is good that they have introduced it. Now after Internet Explorer, both the other two popular browsers – Chrome & Firefox offer the feature to reset browser settings to default.
Windows 11/10 users – see how to reset Microsoft Edge browser to default settings.
TIP: If you are unable to open or start Chrome, type chrome.exe --disable-extensions in Run box and hit Enter. This will open Chrome in Safe Mode, with plugins, extensions, etc. disabled.