When it comes to browsing security, Microsoft comes up with the best security solutions for the users of Windows 11/10. There are many online threats to the PC and even after we take the utmost care to protect it, your PC could give in to these threats and malware.
How to Stay Safe Online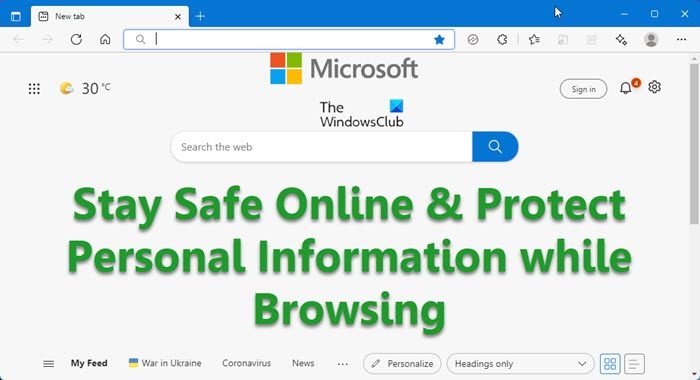 While keeping your operating system updated and installing good security software is important, there are also some other basic precautions you can take to stay safe online and protect your PC. Here are a few online safety tips. These tips consist of keeping your Windows PC up-to-date, defending against infections and adding security info to your Microsoft Account.
Secure your Microsoft Account
The Microsoft Account lets users sign in to websites that support this service using a single set of credentials. Users' credentials are not checked by Microsoft Account-enabled websites, but by a Microsoft Account authentication server. This account helps you connect with your friends, preferences, websites, and setting. You can protect it by adding some security information to it. This security information comes handy when your account is hacked or simply if you have forgotten your password. Your security information is verified by Microsoft, and you can go back into your account, without losing any of the stuff you have associated with it.
How to add security info in your Microsoft account
You can protect your Microsoft account by following a few simple steps.
Go to the Microsoft account webpage and sign in.
Under Password and security info, tap or click Edit security info.
Follow the instructions to add or change your security info, such as:

 Alternate email addresses
 Mobile or other phone numbers
 Additional PCs that you recognize and trust
 A security question and answer that a stranger or hacker wouldn't know

4.  When you're finished, tap or click OK
Though we are often confident that we will never forget the password or nothing will happen to our account; it is advisable to add the security information as soon as you sign up for the Microsoft account. You can also enable the 2-step verification if you wish. A 2-step verification means that Microsoft will ask you for two pieces of information anytime you access your account.
Read: Tips to best secure your browsers.
Protecting your privacy with Edge
Some. especially businesses still use Edge/IE for multiple activities like shopping, socializing, sharing our information and photos, studying and also working. When doing these activities, our personal information might get exposed to the public. We are generally uncomfortable while sharing our personal information with strangers, but we often don't pay serious attention to it on the Internet. It's recommended that we safeguard our information from any misuse.
With Edge, it's easy to protect your Online Privacy. There are a few simple things you can do that will keep your PC and your information more protected.
Read: Mistakes to avoid in Online Dating.
Browse InPrivate: InPrivate is a security mode embedded with Edge and other browsers. Your search history is saved by the browsers to help improve your experience. When you use an InPrivate tab, you can browse like you normally do, but sensitive information such as search history, passwords, and web page history is deleted when you close the tab. Open a new InPrivate tab by tapping or clicking the Tab tools button, and then tapping or clicking New InPrivate tab.
Delete your browsing history: This is yet another simple and straightforward method. Click Internet Options, and then tap or click 'Delete' under browsing history. This clears web page history, any saved passwords, temporary files, and cookies that have been collected as you browse.
Remember, by just following a few simple procedures you can ensure that you are browsing safe.
You might want also to consider installing a link checker addon for your browser if your security software does not provide one.
The Digital Citizenship Toolkit from Microsoft is a set of posters, brochures, documents, fact sheets and tip cards from Microsoft that can educate you about computer security, data privacy, and online safety issues, prevention, and remediation.
There are two good sites which can offer you more information. The Microsoft Your Privacy Type website talks about the tools and technologies Microsoft provides that give them have greater control over personal information as they browse the web and use their favorite Microsoft devices. The Google Good To Know website informs users about Online safety and privacy, and about how to manage online data. Follow Safe computing tips!
Avoid online scams! Follow these online safety tips, stay safe online & prevent online identity theft! Some of you may want to also download this Online Safety Tips Guide for Seniors.

If you are looking for specific login security tips, these are the links you want to check out:
Outlook.com Sign In | Yahoo Login | Facebook Sign In | Twitter Sign In Help | PayPal Login | Gmail Sign In | LinkedIn login tips | Skype security tips.
If you'd like to share any more tips to stay safe online, please do let us know.
Also read: