Microsoft has just announced the introduction of the long-awaited 2-step verification process for Microsoft Account. This security feature will be rolled out to all, over the next few days.
Today, a Microsoft Account has become a key that unlocks everything from a Windows 10 PC to your Windows Phone, from Xbox to Outlook.com, from OneDrive and Skype to Office, and more. It is with this in mind, that Microsoft decided to add an additional layer of security, with the introduction of the optional 2-step verification.
A two-step verification means that Microsoft will ask you for two pieces of information anytime you access your account. For instance, it could be your password plus a code that would be sent to your registered phone or email.
Enable 2-step verification in Microsoft Account
To enable the 2-step verification in your Microsoft Account, go to account.live.com/proofs/Manage and do the needful.
You have a choice of downloading the Microsoft Authenticator app.
If you do not want to use it, click Skip to land on the following page.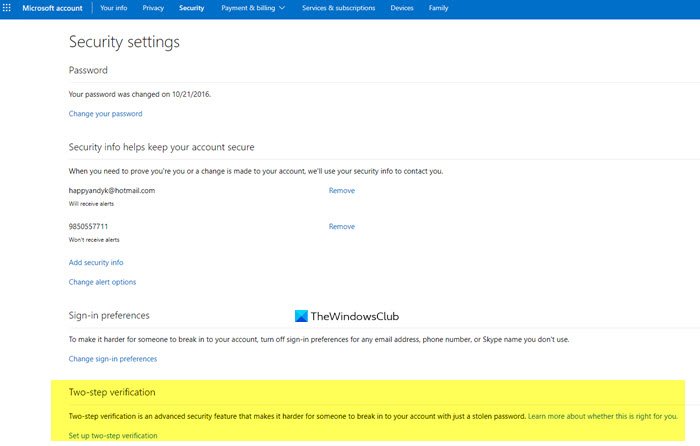 Click on Set up two-step verification to land on this page.

Click on Next ad follow the procedure required.

Now anytime you access your Microsoft Account, you will be sent a code, which you will be required to input.
Turn off 2-step verification for Microsoft account
To turn off 2-step verification for Microsoft account, go to the same 'manage' page and click on the Turn off 2-step verification link.
Click Yes to confirm and your are done.
Microsoft Authenticator app
For Phones, Microsoft has released a Microsoft Authenticator app, that supports a standard protocol for two-step verification codes and can be used with your Microsoft account and other systems that support two-step verification codes, like Google and Dropbox.
Previously we had a notion of trusted devices that was similar but only worked for IE and required you to manage a list if you had too many devices. With this release we've simplified things — you can skip codes on all modern browsers across major platforms, and you never have to manage the list. If you ever lose or sell a device, you can still choose to revoke these "trusted devices" by going to your security settings on account.live.com, says Microsoft.
On devices you use regularly, you can select an option to not ask for security codes.
Just in case you didn't know – You can now sign in to your Microsoft Account using any alias.
Read next: How Attackers can Bypass Two-factor Authentication.