Online Dating has come a long way. Finding love online is not a stigma anymore, and there are innumerable online dating websites with millions of users. It is in fact, one of the most popular ways of finding like-minded people online and make new partners. While there are several online dating websites running over the web, social networking websites like Facebook are also a popular mode of running love stories online. So you have plenty of websites to find your love interest but at the same time, there are some very important points to be kept in mind while dating someone online. A small mistake can ruin your life, and you may end up with a mess. In this post, we will talk about a few online dating tips and talk about some mistakes you should avoid.
Before you begin, it goes without saying that you need to have a fully updated Windows computer along with a good Internet Security Suite software installed on your PC.
Mistakes to avoid in Online Dating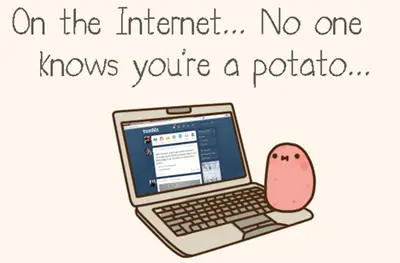 Remember the adage – On the Internet, no one knows if you are a dog or a potato? Well that still hold true, so remember that first, and the move forward,
1.      Be Selective
Do not go to the wrong website! There are many dating websites but not all of them are safe. Do check the reviews and feedbacks of the website before you join it. Do check the reviews over the web and then select the one which seems the safest. There are different kinds of dating websites, some offer you the correct match for you based on your interests and compatibility and some websites allow users to find and add people on their own. Choose the website accordingly. While online dating sites are the best ways to search love online, but it is always better to be selective. Don't add people randomly. Check the profile carefully before you connect with anyone and share your details.
2.      Make sure that you have a proper profile
Make sure that your profile is not too overtly seductive. You do not want to catch the attention of the wrong people. It is very important to complete at least 90% of your profile, add your own profile photo. A flattering picture with a tilted head, genuine smile, and crinkling eyes will make you stand out certainly. If you are in an impression that keeping any celebrity's picture as your profile picture will help you getting a good partner, you are sadly mistaken. Lying gets you nowhere. It is not important to mention everything you like, add your best interests and that's enough. Try to make your profile exciting with some interesting but real information. Adding the wrong interests, just to make your profile look good might not help you getting a likeminded partner. Avoid sharing negative, sad and depressing quotes, always remember, no one like sadness around. Be positive and playful and let your profile reflect your positivity. Such profiles tend to attract more.
3.      Don't rush to connect
Online dating websites help you finding love but don't rush. Take your time, try to know each other first, be good friends and approach for a relationship when you feel it's the right time. Do not get attached soon, this is the worst that could happen in online dating. Too much attachment leads to more expectations and which certainly leads to too much disappointment. You may end up in heartaches. No matter how perfect he or she is, too much attachment and expectations create boundaries which further may make the relations bitter. If in doubt, wait!
4.      Be careful with your messages
Do not send philosophical or hypothetical messages. No one is here to solve your double meaning, putative and senseless messages. People join the dating websites to have fun so try being interesting and fun to be with. Also, don't be creepy and avoid sending the awkward and explicit messages in your initial days of dating. No girl likes the porno-inspired and tacky pick-up lines, instead, try sending genuine and frank messages. Coming on strong always is not cool at all, you may get reported and blocked in no time. In short – do not send messages that you think you'd regret having sent, later on, to someone you hardly know.
5.      Wait for the moment. Haste makes waste.
Don't jump! Be smart enough to hit the trigger at the right time. Do not rush to meet your online partner in person. Going slow is the best idea. If you have been talking to someone for quite a long, try finding some mutual interests, something that you both enjoy to do, may it be playing golf, watching a movie or anything else and then plan a date.
6.      Don't give up
The first few dates usually are not perfect. You may not get the right partner in the first attempt, do not distress and keep trying. You will surely find someone who will love you for what you are, without trying to change you. You will soon find someone which whom you can be what you actually are. Find some good friends, some like-minded people and then finally one fine day you may find someone you want to move ahead with.
7.      Intelligence attracts
The Brain is the largest sex organ and researchers prove that higher intelligence is directly proportional to one's drives. Looks are important but wit attracts. Men or women both are literally attracted to wittiness and intelligence. There are sapiosexuals who are turned on by wit and attracted to the insights. Do use correct language and grammar in your messages and chats.
8.      Don't trust quickly
Do not place your trust quickly. When you are in a new relationship, you should rush and trust the person as much as you may feel like. Don share your financial details or online passwords, etc.
9.      Accept the break-ups – don't push them
Online dating brings lots of heartaches and breakups. After a few dates, you may not find each other compatible, and there's nothing wrong in breaking up in such case. Accept the breakups gracefully and move on. There are no set rules of what constitutes a relationship, not even in offline dating. Not every relationship deserves a dramatic breakup. If by any chance you want to break up, take it gracefully. It's easier said than done, but being practical is the key.
Read: What does Catfish mean in online dating context?
This pretty much sums up the online dating tips and some mistakes that you should avoid. Online dating is more like shopping for love online. You check out people, select the one you like and get connected. You may find the love your life if you follow the correct dating rules.