Click to Play is one of those important browser features that many Windows users fail to take advantage of. We have to wonder, how many folks actually know it exists, and how many know of the benefits?
Enabling the click to play feature on your web browser is very easy to do. We like it because it can conserve battery power and protect users from certain attacks that might be placed within a website's code. It also speeds up loading performance especially when a page is Flash-heavy. Flash is more of a hindrance these days than anything else, which is why we are going to share a trick on how to block it from running automatically.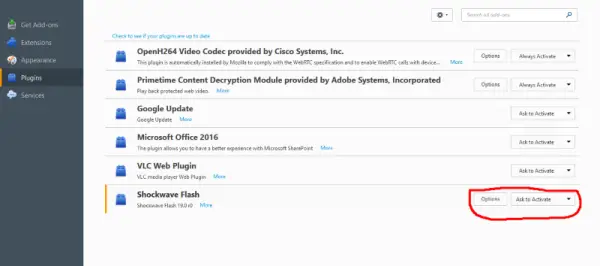 Click To Play feature in web browsers
Bear in mind though that some websites are designed with Flash from the ground up, and such will not work if Flash is in "Click to Play" mode.
The feature works in most web browsers for Windows, but in some aspects, it might work a little differently. For example, the feature in Internet Explorer works differently to how it does in Firefox. However, everything is the same when it comes down to Opera and Chrome because these browsers share the same rendering engine
Google Chrome
Fire up Chrome's menu button and click on the Settings option. Click on Show Advanced Settings, and then Content Settings under Privacy. Scroll down until you're in view of an option that says "Click to Play" or "Let me choose when you run content."
Microsoft Edge
Since Edge is now based on Chromium, the same procedure as is applicable for Chrome will apply here.
Mozilla Firefox
Not 100 percent straightforward with Firefox, but still very much easier than Internet Explorer. Just go to Tools -> Addons -> Plugins, and choose the drop-down box beside Shockwave Flash or any of the other plugins available on the list. Select 'Ask to Activate' and you should be golden from there on.
Opera Browser
Enabling the Click to Play feature is almost the same procedure as Chrome since Opera uses the same rendering engine. To enable the feature, we suggest opening the Opera menu section then click on Settings. Look for the Websites tab under Browser, and then enable the Click to Play feature under Plugins.
Microsoft Internet Explorer
Doing this in Internet Explorer is not as straight forward when compared to the other web browsers. First, you'll be asked to click on the gear icon, and from there, select "Manage add-ons." Next, you'll be required to select Toolbars and Extensions, click on the show box and then choose "All add-ons." Locate the plugin that reads, Shockwave Flash Object plug-in under Adobe Systems Incorporated. Be sure to right-click it and select "More information." Click the button that says "Remove all sites" and from here, Flash won't load automatically.