The Windows Registry is a place where you will find all the settings for your operating system. It contains information for all the hardware and software, along with user preferences. The Registry isn't simply one large file but a set of discrete files called hives, primarily located in the system32 folder.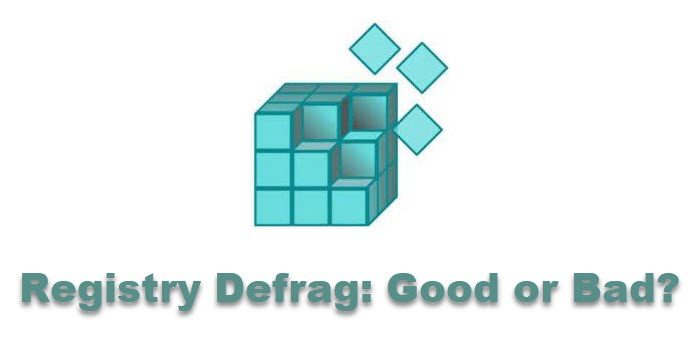 Over a period of time, a lot of entries get added to it as well as deleted. Whenever a user installs or uninstalls software or changes Windows settings, the changes are reflected and saved in the Windows Registry. As a result, many registry entries end up being orphaned, broken or misplaced.
Starting with Windows Vista, the Registry has been Virtualized, and hence unlike Windows XP or earlier versions, does not tend to suffer from bloat. Due to Virtualization, applications are prevented from writing to System Folders and to the 'machine wide keys' in the registry. Nevertheless, invalid registry keys do get created. To clean up invalid registry entries, many prefer to use Registry Cleaners. Whether Registry Cleaners are good or bad, has already been discussed.
Even after you remove the invalid registry entries, empty spaces are left behind. Registry Defragmenters help in removing such bloated registry hive & empty spaces, and compacting the registry.
Discussing the problem of bloated registry hives in some earlier versions of Windows, Microsoft had explained:
You may discover that some of your registry hives are abnormally large or "bloated".  Registry hives that are in this state can cause various performance issues and errors in the system log. There can be many causes for this issue.  Troubleshooting the actual cause can be a long and tedious process.  In this scenario, you simply want to compress the registry hives to a normal state.
Registry Defrag Good or Bad
Registry Defragmenters have become popular – although not as much as registry cleaners!  Unlike Registry Cleaners, defragmenting the registry may improve performance. Paging and Registry file fragmentation can be one of the leading causes of performance degradation related to file fragmentation in a system. Says TechNet:
Standard defragmentation programs can neither show you how fragmented your paging files or Registry hives are, nor defragment them. Paging and Registry file fragmentation can be one of the leading causes of performance degradation related to file fragmentation in a system.
But do not expect any real performance improvement, after using registry defragmenters – especially in the later version of Windows like Windows 11/10/8/7/Vista,. While you may use a registry defragger, as a matter of 'good house-keeping', one must be very careful in selecting a good safe Registry Defragmenter.
Is registry cleaner safe to use?
It depends on how you want to use the Registry cleaner app on your computer. If you want to remove leftovers, registry cleaners are the best option you have. However, if you want to do something else, you need to take precautions as per the requirements. Deleting required keys and values might get you into trouble.
Does registry affect performance?
Yes, having unnecessary registry values and keys can affect the performance of your computer. It might slow down your computer a lot when you have unwanted keys and values. The best way to get rid of such things is by using a software uninstaller that can remove software leftovers.
Personally speaking I hardly ever use a Registry Defragmenter; maybe once in 6 months or so! Should you choose to use a Registry Defragmenter, remember to create a system restore point first or back up the registry using RegBack.
Go here if you'd like to check out some Free Registry Defragmenters.
What is your take on Registry Defragmenters? Do you use them?  If so which ones do you recommend?