Having too many broken shortcuts on your Windows can be messy and it is a good idea to scan for and remove broken shortcuts every once in a while – just a matter of good house-keeping! While most junk cleaners do remove them, if you are looking for a free Shortcut remover software, then this post will help you.
What are broken shortcuts
If you have deleted or uninstalled programs, deleted bookmarks, moved files or folders to another place, then once-valid shortcuts may point to now non-existent files. Such shortcuts are called bad or invalid or broken shortcuts, and you should remove them.
Remove Broken Shortcuts in Windows 10
As I mentioned, having broken shortcuts on your desktop or start menu can be messy and irritating at times. Imagine clicking on a shortcut and receiving an error message and finding that it points nowhere! Here are a few tools that can help remove broken shortcuts in Windows 10/8/7.
1] Broken Shortcut Fixer
Broken Shortcut Fixer scans your Windows computer for broken shortcuts and automatically repairs any shortcuts that it can find using the Windows link resolve method. To use this broken shortcut remover:
Click "Scan Shortcuts" to repair and find broken shortcuts.
Double-click broken shortcuts to view them in Windows.
Hover over a broken shortcut to see the broken path.
"Delete Broken Shortcuts" will send the selected shortcuts to the Recycle Bin.
2] Bad Shortcut Killer
Bad Shortcut Killer is a freeware that will scan your Windows start menu, jump lists, and desktop and fix or delete them easily. To fix the broken shortcuts, run Bad Shortcut Killer. Click on the 'Find Bad Shortcuts' button and the tool will search for invalid shortcuts. Once the scan is completed, you will be presented with a list of broken shortcuts.
Select the shortcuts that you think are broken and click on the 'Delete Selected Shortcuts' button. The broken or invalid shortcuts will be deleted. This freeware can do the following:
It searches Start Menu, Desktop, Jump Lists & Startup Folder for broken shortcuts.
It can remove the invalid shortcuts
It keeps your start menu & desktop tidy and free from broken shortcuts
Help keep invalid shortcuts off of your start menu and your desktop.
You can download from xp-smoker.com.
3] Fix Shortcuts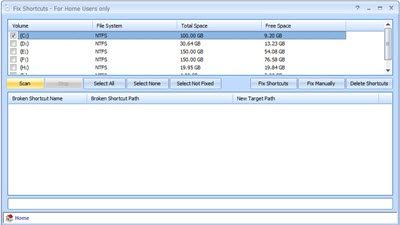 Puran Fix Shortcuts is another utility that can help you find and delete broken shortcuts on your computer. Its main features are:
It scans and deletes broken shortcuts.
Automatically fixes all the broken shortcuts in a click.
You can change the broken target path to a valid path.
It is available for download here.
4] Fix It to remove broken desktop shortcuts
This Fix It from Microsoft will remove broken shortcuts. Specifically, it will fix:
Problems with desktop shortcuts and icons
Shortcuts on the desktop don't work or are broken
Desktop icons are broken or have not been used in 3 months
Startup items don't work or are broken
Apart from removing broken shortcuts, it will also carry our certain other system maintenance tasks. [Update: Microsoft has taken down this tool]
5] Shortcut Scanner
Shortcut Scanner will help detect and delete dangerous Shortcuts.
Check this if you find that your desktop shortcuts go missing in Windows.