If you are looking for a safe and good free Windows optimization software that will offer you good clean-up options, including a 1-click clean-up button you might want to check out Glary Utilities Free. We will see its features, explain the procedure to use the same and review the software in this post.
Glary Utilities Free Windows Optimization software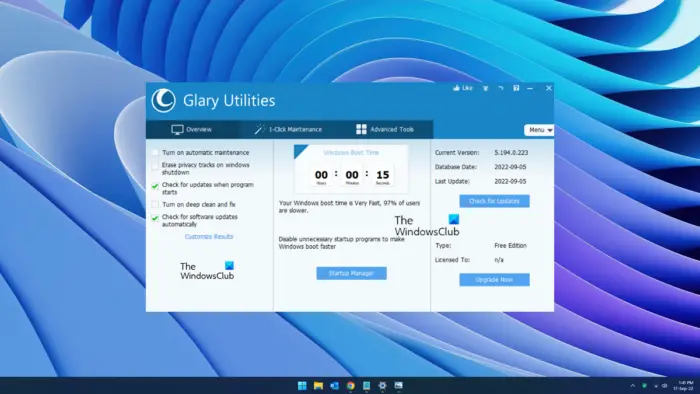 Glary Utilities 5 offers many options to run procedures and manage the system in a single interface. Else, you would have to use Windows Settings, Control Panel, Task Manager, etc for the much-needed jobs. We will discuss each element of the software individually as follows:
Overview checks
Boot status and manager
Windows Update
1-Click maintenance
Registry Repair
Disk Cleanup
Context Menu Manager
Process Manager
Uninstall Manager
Tracks Eraser
Driver Manager
Shortcuts Fixer
Duplicate Files Finder
Empty Folders Finder
File Undelete
File Splitter
Check Disk
Disk Defrag
File Encrypter
File Shredder
System Information
Undo Changes
Memory Optimizer
Registry Defrag
1] Overview checks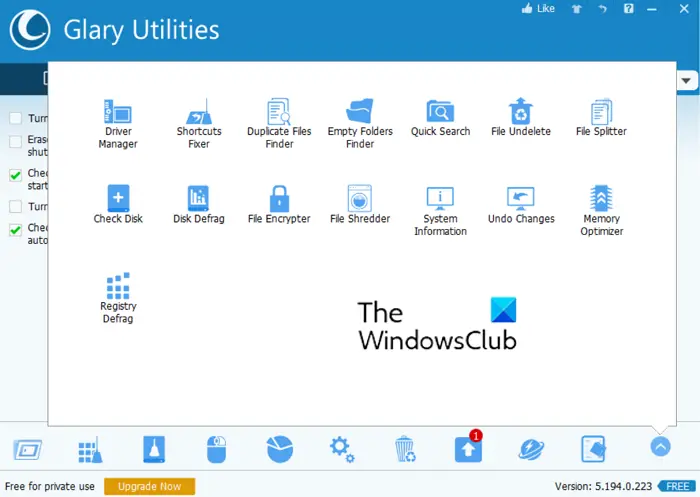 Once you install the Glary Utilities and allow it to manage your system, it will automatically start performing two checks periodically. These two checks are to check for software updates in general and update a program upon launch.
You can add an option to turn ON automatic maintenance, deep clean, and erase privacy tracks.
2] Boot status and manager
The second you launch Glary Utilities, it will immediately display the boot time on the interface. The tool will also mention a comparative review of the boot time.
Adding to this option, you will notice a Startup manager. You can use this tool to enable/disable startup programs.
3] Windows Update
Once an update Windows through Windows Settings. However, if you have Glary Utilities, all you need to do is click on the option to Check for updates on the front page of the tool. It will start updating your Windows system automatically.
4] 1-Click maintenance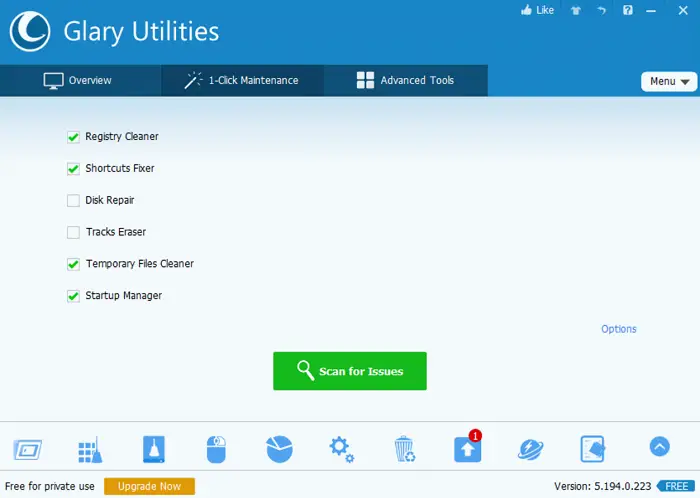 You can scan the system for issues and fix those issues. As an example, you can manage temporary files, startup, etc using the 1-Click maintenance page. All you need to do is check the box associated with the tool you wish to use. Then click on Scan for Issues.
5] Registry Repair
It is common for third-party tools to make changes to the Registry Editor tool of your computer. These changes can be harmful or at least redundant in most cases. You can use the Registry Repair tool to fix this issue. Simply click on the option in the bottom menu.
Read: Are Registry Cleaners good or bad?
6] Disk Cleanup
If your disk is full of junk files, it will bloat the system and you will not be able to use that space for necessary storage. In this case, it is important to clean the disk of temporary useless files from time to time. All you need to do is select the Disk Cleanup tool with Glary 5 in the bottom menu.
7] Context Menu Manager
Changing the options for the Context Menu can be a tedious task. At times, it involves Registry Level tweaks. With Glary 5 Utilities, you can manage Context Menus at the click of a button. Use the Context Manager option from the bottom menu. In this tool, you can add or remove options from Context Menus using the checkboxes.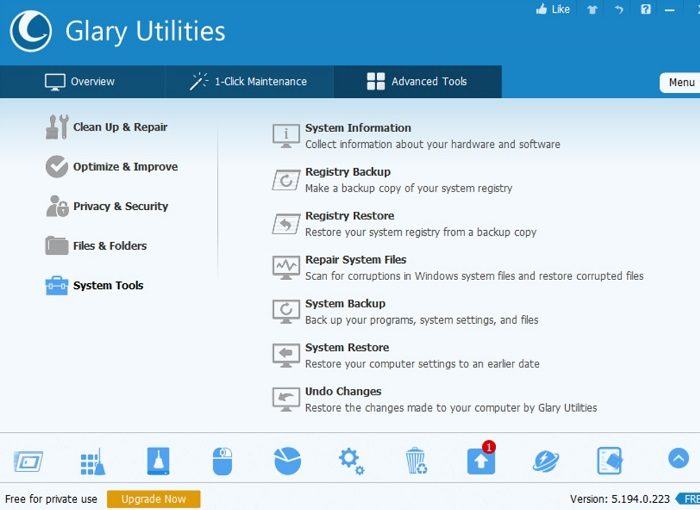 8] Process Manager
The Process Manager is usually a part of the Task Manager. It is a separate window with Glary Utilities. In this case, you can easily change the priority of tasks and kill them. The processes can also be blocked entirely, and you can easily notice the rating of each task.
9] Uninstall Manager
Remember when you had to open the Programs and Features window through the Control panel every time to uninstall applications on your system? Not anymore with Glary Utilities. Another advantage is that the Programs and Features window doesn't allow you to uninstall all programs, while the Glary 5 tool allows much more.
10] Tracks Eraser
Websites and applications track your activity using cache and temporary files. Deleting them from time to time is important. While the Disk Cleanup tool exists on systems, there is nothing to specifically remove tracks. In this case, you can use the Tracks Eraser tool from Glary to remove the tracks.
11] Driver Manager
The Device Manager in the Windows system might not be present for long. All you could do is update drivers through Windows Updates or download them directly from the manufacturer's website, Intel's website, or AMD's website. However, the Glary Driver Manager toll will always be there for help. You will be able to use it for a long time.
12] Shortcuts Fixer
At times you might delete files and the same from the Recycle Bin. However, their shortcuts remain in your system. In this case, you can delete the shortcuts using the Glary Shortcut Manager tool. When deleted, it would save a lot of space on the system.
13] Duplicate Files Finder
The Disk Cleanup tool can recognize temporary files and delete them, but it will not delete duplicate files which seem genuine. However, such files can take a lot of space on your system. In this case, you can use the Duplicate Files Finder tool to find duplicate files. Thereafter, these files can be deleted if they are not needed. It will help save space.
14] Empty Folders Finder
The Empty Folders Finder tool searches for empty folders in the system and allows you to remove them. Empty folders don't occupy a lot of space but still bloat the system's memory. Whenever you try searching using the Windows Search bar, these empty folders add a lot of false negatives. Other than this, it is anyway important to remove clutter from your system.
15] File Undelete
The File Undelete tool is like the Recycle Bin of the system. The use is to restore deleted files in an easy manner. You can also sort the results folder-wise. This makes it even easier to find the files you need to restore.
16] File Splitter
The File Splitter tool is a tool that allow splitting and joining of files in a system. To split a file, you need to specify the path of that file and the destination for the split file. To join the files, you should go to the next tab and use the reverse process.
17] Check Disk
Remember the CHKDSK Scan you use through the elevated Command Prompt window. The command needs to be entered each time to run the scan. An easier way to run this scan is using Glary Utilities. All you need to do is click a button.
18] Disk Defrag
The Disk Defragmenter tool in your system has a replica in Glary Utilities. It isn't much different from the option Windows provides you, but it is available along with other tools at the same interface. This tool rearranges defragmented data so you can use drives on your system more efficiently.
19] File Encrypter
Encryption is the process of changing the language of a file so it cannot be understood till a key is used to decrypt it. The File Encrypter tool helps you make sure that certain files on your system can only be accessed by you and no one else. It has a Decrypter part as well.
20] File Shredder
When you delete a file in Windows, then it simply releases the space on your system. A few recovery tools can help in retrieving the information later. If you wish to remove a sensitive file in a manner that it cannot be retrieved, then use the File Shredder tool. It changes the format of the file permanently so you cannot get it back no matter what. Basically, it is used to remove sensitive information permanently.
21] System Information
With time, Microsoft made it easier to find the System Information through Windows Settings, but still, it needs half a dozen clicks. With the Glary 5 utility, you need only one click and the System information is in front of you.
22] Undo Changes
The Undo Changes tool is a replica of the System Restore tool on your system. Actually, it invokes the same as a third-party utility. You can use it when your system becomes problematic to return to a time when the system was working properly.  You can also use this tool to create more system restore points.
23] Memory Optimizer
The Memory Optimizer tool helps while trying to fix problems with high CPU/memory usage. You can check the memory usage. If it is not up to the mark, simply click on the Optimize button. You can also clear the clipboard to free a part of the memory.
Read: Do Memory Optimizer works?
24] Registry Defrag
The Registry Defragmentation tool is helpful in reducing fragmentation and fixing structural errors with the Registry Editor. You can also use it to recover unused memory space. It reduces the system clutter and improves the efficiency of the system.
Read: Should you defragment Registry?
Pros of Glary Utilities Free
Glary Utilities Free tool brings a lot of utilities to one place and the interface has improved. The utilities are flawless and usually always work. They have covered almost every function available in a Windows system. Since the software is free for private use, we could easily perform all the mentioned functions without paying for anything.
Cons of Glary Utilities Free
The only con of the product is that the graphics are average. However, for a person who wishes to use the application for a personal computer, this part can be neglected.
Conclusion
As a home user, you may find that the Glary Utilities Free meets your requirements completely, and you really do not need its Pro version. The Pro version offers automatic care in the background and free support and is shareware. No longer do you need to download and install separate tools for cleaning junk files, finding empty folders, recovering deleted files, and so on. Glary Utilities Free has them all! We recommend that you download the portable version of Glary Utilities Free HERE. It is probably the best and the most feature-rich freeware optimizer for Windows, in my opinion.
If you have had any experiences while using this program – good or bad – do share them below in the comments.
Does Windows have utility software products?
Windows has quite a few utility applications like for System Restore and Disk Cleanup. However, a lot of options are available only through the Registry Editor. Using the Registry Editor isn't easy. Furthermore, all utilities aren't present in the same menu.
Read: FixWin is the best PC Repair software
Does Windows have something like CCleaner?
Yes, Windows offers a built-in utility that can delete or remove non-essential files including temporary files, clear download folders, and installed Windows updates. It is called Storage Sense which scans the PC for installed apps, other folders, other people, desktops, and temporary files. You can view each section and find out the biggest file, and then delete it if not required.