Most of us use Microsoft Update to keep our Windows 11/10/8/7 operating system and Microsoft software updated. But if you want to, for some, reason, download the updates manually and save it to your computer, this is how you can go about it:
How to download Windows Updates manually in Windows 11?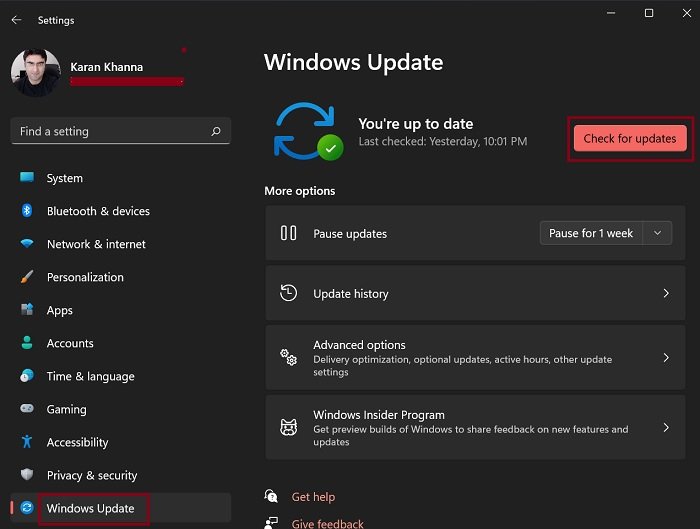 While creating Windows 11, the developers made sure to analyze the data for which settings are used more and which are used less. No doubt Windows Updates were prioritized and a separate menu was created for the same. The procedure to download Windows updates manually in Windows 11 is as follows:
Right-click on the Start button
Select Settings.
In the Settings menu, check the list on the left-hand side.
Windows Update would be the last option. Select it, please.
In the right pane, click on Check for updates to manually run Windows updates.

If any Update has failed to install, you will see it mentioned.
Note down the KB number of the Windows Update.
Once you have the number, you need to manually download the KB from the Microsoft website, the procedure of which is explained below.
Download Windows Updates manually in Windows 10
On Windows 10, open Settings > Update & Security > Windows Update. Here you can Check for updates.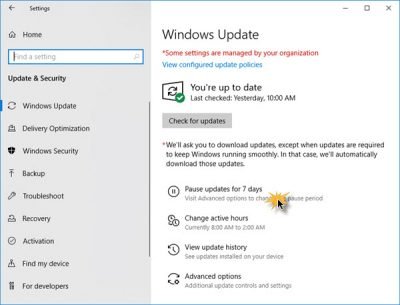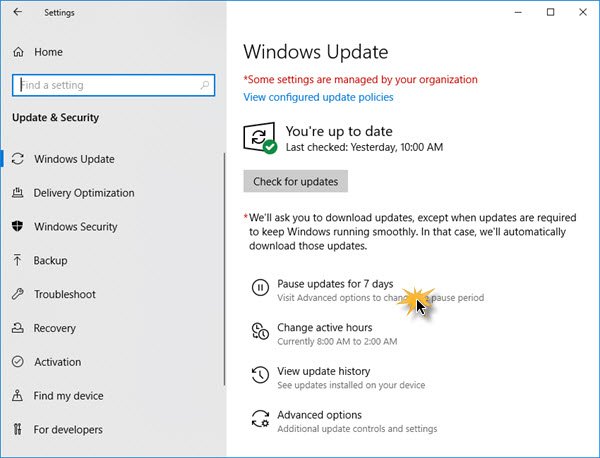 You can also Pause Windows Updates, change Active Hours or look at the Update History.
If any Update has failed to install, you will see it mentioned this.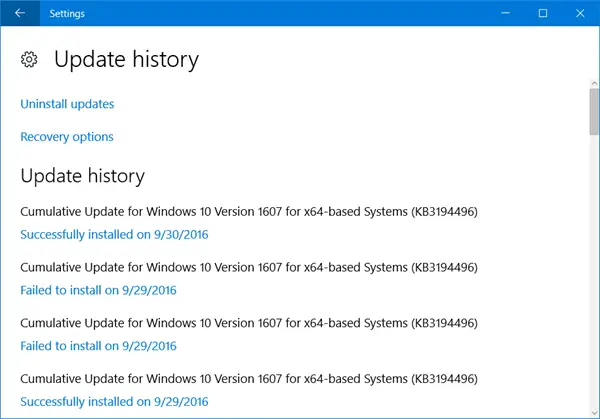 Note down the KB number of the Windows Update.
On Windows 7, 0pen your Control Panel and navigate to the Windows Update applet. If updates are available, click on the Important updates are available, or the Optional updates are available link. You will be able to see the list along with the KB numbers.


If no updates are available, click on Review your update history link. Here you will see the complete list of Windows Updates including Security Updates and Service Packs, if any, which have been installed on your computer.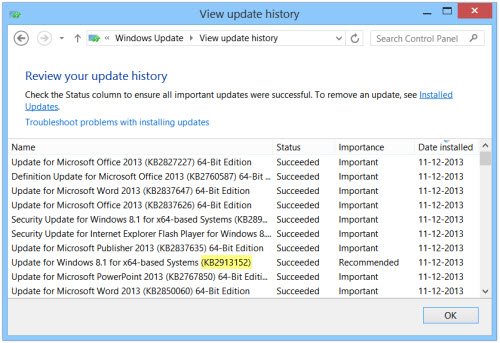 Note down the KB number mentioned in the bracket.
Manually download the KB from the Microsoft website
Now that you have the KB number, and search for it here on Microsoft.com. If you find no suitable results for Downloads, select All Microsoft. In the results, you will see the Knowledge Base article about the update or hotfix and also the Download page.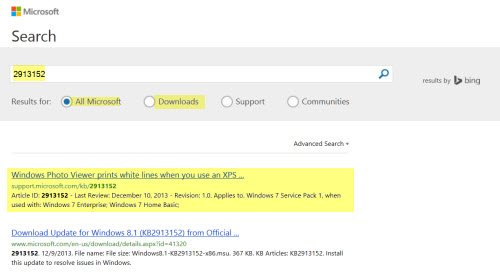 If you open its KB article page, you will see the download links for all operating system. Select your operating system and click on the link to be taken to its download page.
Click on the download button to download and save the Windows Update to your computer.

This way, you will be able to install the update manually on any one or more of your computers, as long as it applies to the installed operating system or software.
Downloading, saving, and installing Windows Update manually may be done if you need to save the updates for some reason or if you find that you are unable to update your Windows using Windows Update.
Microsoft Update Catalog is a service from Microsoft that provides a listing of software updates that can be distributed over a corporate network. Using the Microsoft Update Catalog can prove to be a one-stop location for finding Microsoft software updates, drivers, and hotfixes.
WSUS Offline Update is a free tool using which, you can update Microsoft Windows or Microsoft Office easily without having an Internet connection.
Portable Update lets you update Windows 10 offline without an Internet connection.
Do we need to update Windows manually?
Ideally, Windows updates are performed by the system automatically. We don't really need to hit the "Check for updates" button manually. But, if a third-party software stops the process, it needs to be restarted manually.
Furthermore, if you believe Windows hasn't been updated for quite a while, performing a manual update could be very helpful. Personally, I check for a manual update occassionally just in case anything has been missed.
Why are Windows Updates so important?
One might argue that Windows Updates simply modify the features of the operating system or push fixes to existing problems, which many users might not require. So, why is it still important to make sure your system is up to date?
The reason is simple – security updates. Cybercriminals keep getting smarter and find ways to hack into the current system. To counter the same, Microsoft keeps launching security updates. These security updates are obviously important, else your system would be at risk.
Also see:
How to Update Windows Defender manually.