We normally use the Windows Store application on our Windows 11/10/8 computers to check for and install Microsoft Store app updates. But there may be times when you may want to update the apps, and your system does not have an Internet connection. It is for scenarios like these that Microsoft has rolled out a collection of downloadable updates for the Windows Store Apps, and they are now available on the Windows Update Catalog.
The Microsoft Update Catalog is a service from Microsoft that provides a listing of software updates that can be distributed over a corporate network. Using the Microsoft Update Catalog can prove to be a one-stop location for finding Microsoft software updates, drivers, and hotfixes.
Update Windows Store Apps offline without Internet connection
The idea behind making these downloads available is not to bypass the standard route (Microsoft Store) but to offer an alternative for those machines that fail to connect to the Windows Store while trying to update the Windows Store applications.
This can only help you update apps already installed on the system and not install the apps anew. These updates can be distributed via System Center, WSUS, and third-party equivalents or slipstreamed into the operating system image used by your organization.
Windows Store Apps distributed with Windows 11/10 editions, by default, are available. Third-party Windows Store Apps cannot be updated via this process. The developers can, however, make available the package that can then be side-loaded, similar to the line of business apps.
Microsoft recommends users install the app updates to users as part of their post-operating system deployment updates via WSUS. If users, for some reason, need an automated process, they can extract each of the .cab files to its respective MSI. Then, script the installation or deployment using traditional application deployment technologies.
The packages listed below in the chart will be available to users for installation via WSUS and the Windows Update Catalog and can be downloaded in languages supported by the Windows Store. Some editions, such as Windows RT and Windows 8.1 RT would however not support the packages. These packages are not available in Windows Update.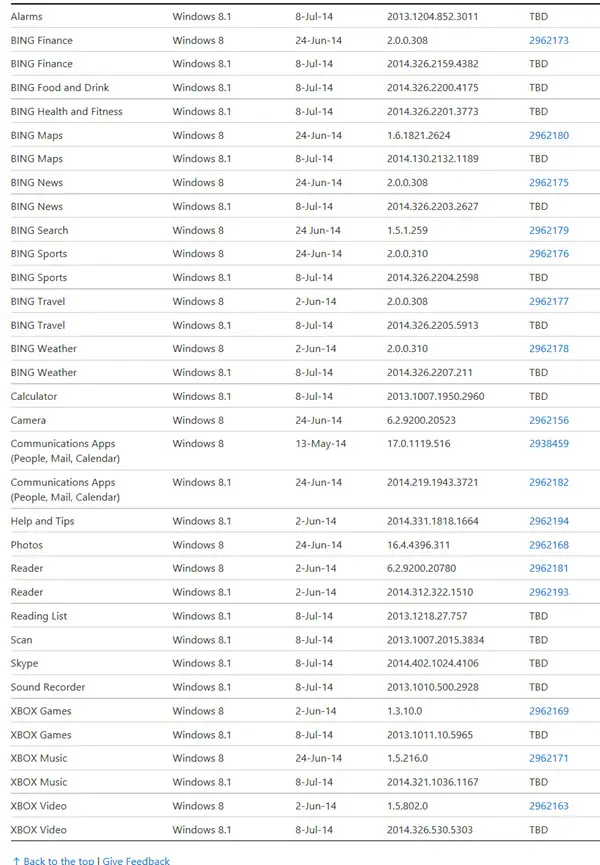 It is important to note that the packages cannot use dism.exe to install the updates offline. They must be installed via the .MSI installer to a running operating system, says KB2971128.
How to download Windows Updates manually may also interest you. Also, see how to update Windows 11/10 offline.