Microsoft PC Manager is a 1-click optimizer from Microsoft that provides Optimization, Junk removal, Virus removal, and other services to make your computer faster. This tool is available as a free download from the Microsoft website and is currently in Public Beta.
Microsoft PC Manager for Windows 11/10
This free software for Windows users offers the following features:
One-click acceleration: Cleans up system debris, releases occupied system resources and promises to make your Windows as fast as new
System space management: Deep cleans system storage space, helps you manage large files, helps you turn on Disk Sense, and free up your computer storage space.
Comprehensive physical examination: It quickly detects computer problems and abnormalities, cleans up garbage, detects viruses, and solves system risks & issues with one click.
Professional virus removal: Microsoft PC Manager embeds Windows Defender definitions to protect your computer.
Now, if these features remind you of other PC optimizers like CCleaner, you are not wrong. This software offers everything except a Registry Cleaner.
Microsoft once offered its own registry cleaners like RegClean, and RegMaid, which were discontinued from Windows XP onwards. Later on, its Windows Live OneCare too offered a registry cleaning feature, which was also discontinued. Starting with Windows Vista, the Registry has been Virtualized, and hence unlike Windows XP or earlier versions, it does not tend to suffer from bloat. Due to Virtualization, applications are prevented from writing to System Folders and the 'machine-wide keys' in the registry. You may be interested in knowing that, generally speaking, Microsoft does not support using Registry Cleaners in Windows now.
Microsoft PC Manager for Windows 11/10 Review
Now let us take a look at what Microsoft PC Manager for Windows has to offer.
When you download it, accept the terms and click on the Install button.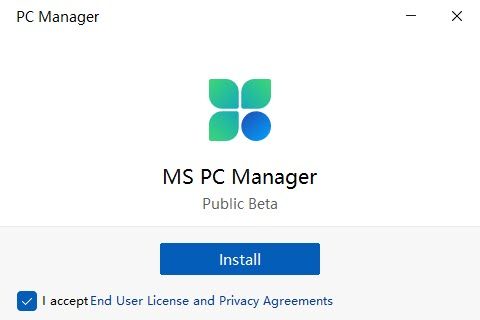 Launch the Microsoft PC Manager and you will see the following interface.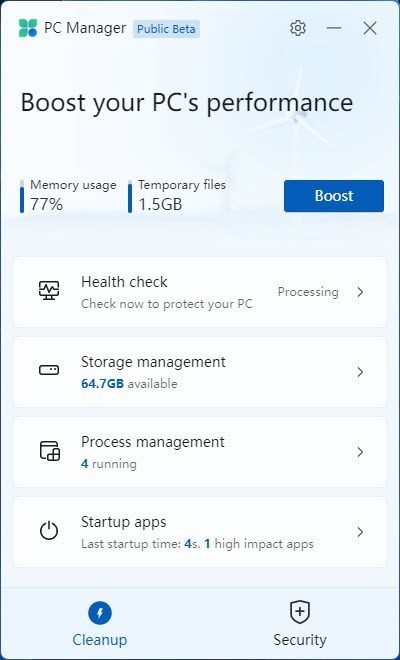 The main screen offers the following options under the Cleanup tab:
Health check
Storage management
process management
Startup apps
Clicking on Health Check lets you clean up some junk files and disable startup apps.
Storage management offers options for Deep cleanup, managing large files, Manging apps and opening Storage sense.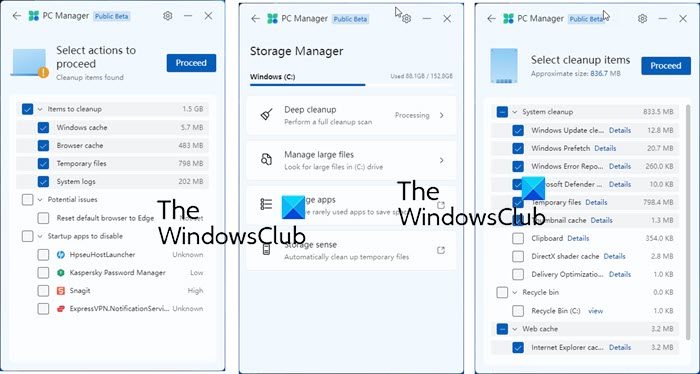 The Process Management section, lets you end unused processes with a click to make your system run faster.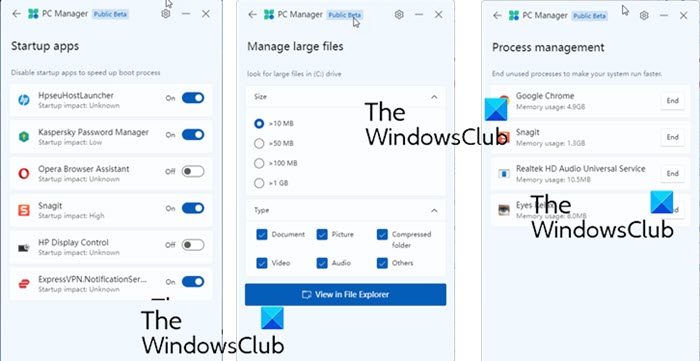 The Startup apps section lets you disable startup apps with a click.
Under the Security tab, you see options to  update your Windows and a section for Browser protection.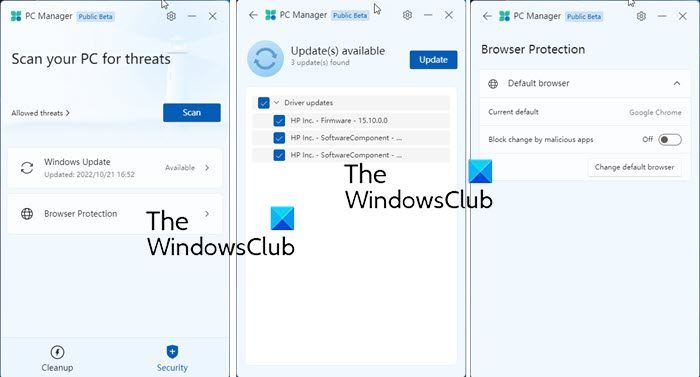 Via its Settings, you can also set it to start at starup and auto-update.
While most of these functions are available in Windows Settings, task Manager, etc, what makes this software useful is that all settings to speed up Windows are accessible via one window. The 1-click Boost button on the main screen will memory usage and clean up all junk files.
Microsoft PC Manager for Windows 11/10 Download
You can download it here from pcmanager.microsoft.com. You can use your browser's translator to translate the page or simply click on the blue button on the left side of the web page to start the download.
Let us know if you find it useful.
How do I speed up Windows and make it run faster?
You can speed up Windows 11/10 by carrying out the following suggestions:
Restrict the number of start-ups
Remove pre-installed Crapware
Turn on Fast Startup
Reduce Visual Effects
Delete Junk Files, Clean Registry & optimize Windows
Use High-Performance Power Plan
Restart PC regularly
Use SSD.
What is the best way to optimize Windows 11?
There are multiple ways to optimize Windows 11 computer. However, you can follow these basic suggestions and you will have a tuned-up & optimized computer running fast.
Uninstall unwanted and unused software
Disable Startup programs you don't need
Reduce visual effects for best performance
Use a good security suite.
Restart PC regularly
Occasionally run SFC, Defrag and ChkDsk
I hope you find the post useful.