Unnecessary startup programs usually cause Windows to boot slower, and hence many decide to disable unwanted startup programs. There are several good freeware like WinPatrol, CCleaner, MSConfig Cleanup Tool, Malwarebytes StartUpLITE, Autoruns, Startup Sentinel, etc., that can help you disable or remove your startup programs easily, thereby making Windows start faster.
Apart from simply disabling or removing them, you can; if you wish, you can also delay the running of such startup programs using software like WinPatrol, Windows Startup Helper, or Startup delayer. Then again, these freeware can help you not just to delay the start-up of programs but also set the time of delay. This means you can configure Windows in such a way that these programs start only after the lapse of a particular period of time. WE will also show you how to delay startup programs in Windows using Task Scheduler.
Set Delay time for Startup programs
Let us check out these free tools that can let you time the delay for startup programs in Windows 11/10.
1] WinPatrol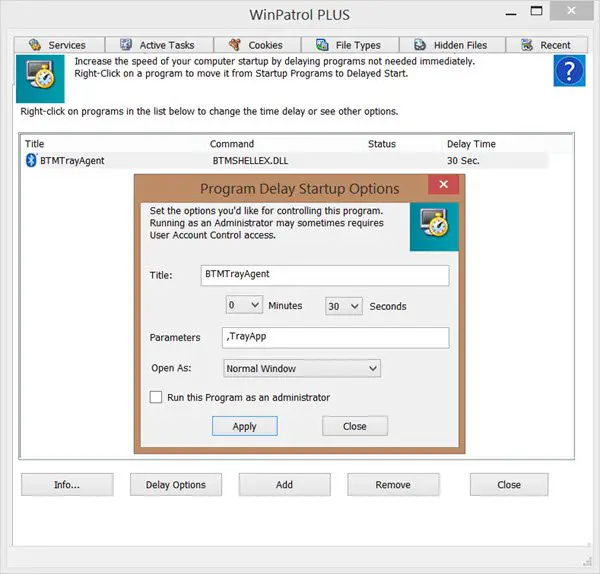 WinPatrol is a great free software to have installed on your Windows computer, as it keeps a watch on it, as well as lets you make changes to it quickly. You can use WinPatrol for setting the time delays too. Under the Startup Programs tab, select the program startup which you wish to delay and right-click on it and select Move to delayed start program list. Now select the Delayed Start tab and select this program. Clicking on Delay Options, you will be offered various Delay startup options.
You can set it to start after several minutes or seconds from the drop-down menu. WinPatrol also offers additional options which you can decide on.
2] Windows Startup Helper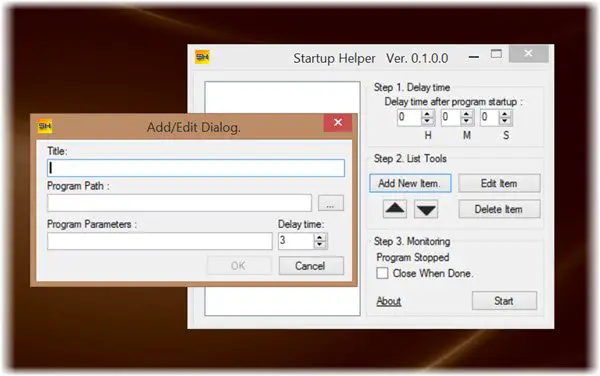 Startup Helper is another program made to help ease the load during Windows startup, by allowing users to select the order, startup delay, and the time between each program startup. It will let you set the order and the delay time for your startup programs, so that they start only after the set time, after your PC boots.
To use it, click on Add new item, and use the Program Path button to browse to the executable. Next, you can set the Delay times.
3] Startup Delayer
Startup Delayer Standard Edition is free. You can use it to start some programs on a priority basis. You can also use it to delay programs, as well as set the time of delay.
During installation, this tool may download and install Visual Studio C++ Runtime automatically on your Windows computer as the program requires it.
4] LaunchLater
LaunchLater allows you to defer the launch of applications that run at Windows login. This lets Windows focus on booting itself first, then subsequently running a list of configured startup apps using a schedule that you control.
These tools run on all the recent versions of Windows, including Windows 11/10 Let us know if you know of any more such free tools.
How to delay startup programs in Windows using Task Scheduler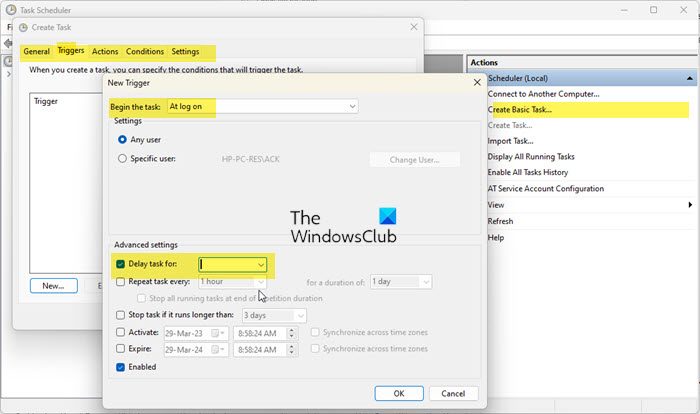 You can also use the built-in Task Scheduler to delay your startup programs as follows:
Search for and open Task Scheduler
Click Create Task on the right side
Type a name for the task in the Name field
Open the Trigger tab and click the New button
Choose At log on or At startup from the dropdown
Select the Delay task for checkbox
Choose 15 minutes or any other time from the dropdown
Click OK and go to the Actions tab
Press New > Start a program > Browse and select the programs' exe file.
Press Open button and click OK.
Now go to the Conditions tab and uncheck Start the task only if the computer is on AC power checkbox.
Press OK, close Task Scheduler and restart your computer and check
Now see how you can delay the loading of specific Services in Windows.
How do I stop unused programs from running at startup?
In Windows 11 or Windows 10, to disable or manage startup programs, you have to open Task Manager and click on the Startup tab. Here you can see the list and right-click on any entry to Disable it. Here, you can find out Startup programs slowing down Windows Boot.
Also read: How to disable Startup Delay using StartupDelayInMSec Registry key.