The Windows operating system includes a feature that allows you to backup your data files and the System Image regularly. While this is a very useful feature, you may at times find that it is consuming a lot of disk space. If you are constrained for disk space, you can free up disk space by deleting previous System Images and Data File backups in Windows 11/10 via Backup and Restore > Manage Spaces. Let us see how you can do this.
Delete System Images and Backups
Open Control Panel and navigate to Backup and Restore (Windows 7) applet. Click on Manage space.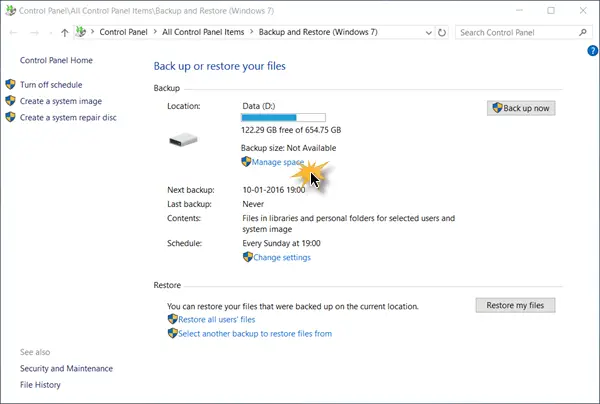 The following Manage Windows Backup disk space setting will open. Here you can click on the View backups button.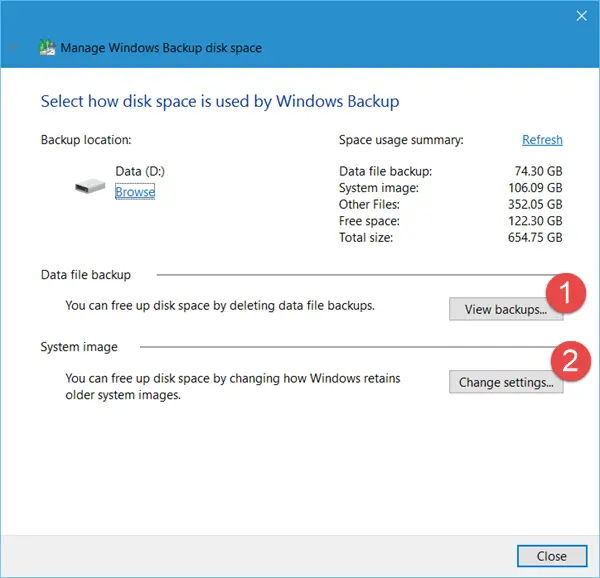 This will allow you to view all your Data File backups, and delete the backups you do not need.
Next under System image, you may click on the Change settings button.
Now when here, you will see the following options:
Let Windows manage the space used for backup history
Keep only the latest system image and minimize space used by backup.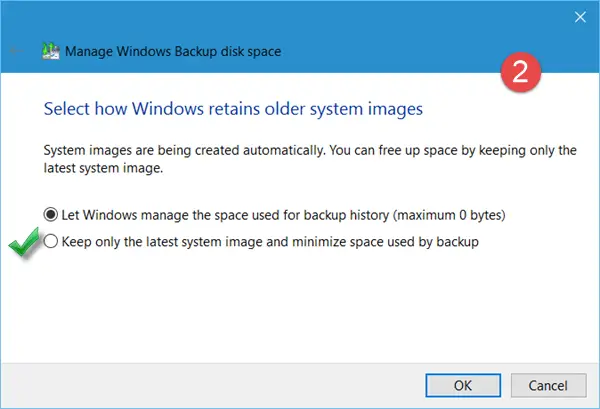 The 1st option is the default one. Select the former or 2nd option. This will delete your earlier system images and keep only the latest System Image, thereby resulting in saving of disk space. Now henceforth, only one, and that is the latest System Image will be saved.
Hope you find this small tip useful.
What is the difference between a backup and system image?
A system image is the exact copy of your hard drive. It contains everything stored on the hard drive. If we talk about the system image of the C drive, it contains all your programs and files stored on it. The benefit of a system image is that you can recover everything on the hard drive easily if your hard drive crashes. On the other hand, a backup contains your files and folders. You can create a backup on any storage device by using the copy-and-paste method, whereas, to create a system image, you need dedicated software.
Is it OK to delete backup files?
It depends on you whether you want to delete backup files or not. If you do not need the backup files anymore, you can delete them in order to free up unwanted space so you can create another backup on the same device.
Now read: How to delete System Restore Points and Previous versions of files in Windows 11/10.