Most of us are aware that we can clean all but the most recent System Restore Point, by using the in-built Windows Disk Cleanup utility. We open the Disk Cleanup utility > Clean up system files > More Options tab > Free more disk space by removing all but the most recent restore point > Click Clean up > Apply/OK.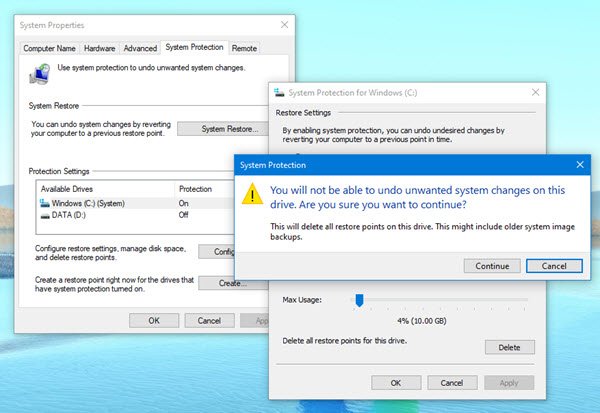 Read: What should be the frequency of System Restore Points?
How to delete System Restore Points in Windows 10
If you wish, you can also clean up ALL the old system restore points, along with system settings and previous versions of files, natively in Windows 10/8/7. To do so:
To do so open Control Panel > System and Security > System and click on System protection.
In recent Windows 10 versions, you may need to open Settings > System > About.
Scroll down till you see the System Protection link. Click on it.
Next, under Protection Settings, click to select the System Disk and then click Configure.
Here click on Delete all restore points (this includes system settings and previous versions of files).
Click Apply/OK.
The old system restore points will get deleted.
That's it!
Free tools like CCleaner also help you delete System Restore Points. You will find this under Tools > System Restore.
This post shows how to delete System Image Restore Point from System Restore.
Now read: