When Windows performs System Restore, or when you opt to Reset This PC, the user is given a clear warning that the process should not be interrupted. If interrupted, the system files or registry backup restore could be incomplete. Sometimes, System Restore is stuck or Windows 11/10 Reset takes a lot of time, and one is forced to shut down the system. It can make the system unbootable.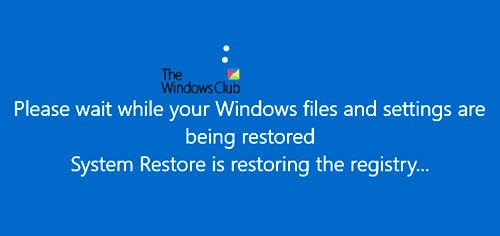 Both Windows 11/10 Reset and System Restore have internal steps. Some are very crucial, and if not completed, can result in an unstable Windows. In this post, we take a look at:
What happens during the Windows 11/10 Reset?
What happens during System Restore?
What if you have to interrupt Windows 11/10 Reset or System Restore?
Let us understand what happens during the process.
1] What happens during the Windows 11/10 Reset?
When you Reset Windows,  System files are replaced with a fresh copy; Registry entries are set back to default, some of the installed software are removed, and the default apps are reinstalled.
2] What happens during System Restore?
When Windows creates a System Restore point, it includes system files, registry files, and some user files. The complete list of the System Restore snapshot includes – Windows Registry, DLL Cache, Local user profiles, Drivers, COM/WMI databases, etc. They help to bring back to a working condition when the OS is restored. When an install failure or data corruption occurs, System Restore can return a system to working condition.
During Restore or Reset, all these files are restored. When the process is interrupted, while there may not be any major issue if the restore of System files is interrupted, if the Registry restore is in process and it is interrupted, it could result in an unbootable system. The OS cannot work with half-baked registry entries.
So my advice to all those who see System Restore or Windows 10 Reset stuck is to give it as much time as possible – maybe even an hour. At least it will ensure that Registry restore is complete. Core system files can be restored using any Windows ISO.
Read: Can you Backup Restore points or Recover Corrupt Restore Points in Windows?
What happens if you interrupt System Restore or Reset in Windows 11/10
If you have waited long enough, and you need to stop, then you can force reboot the system. It may result in an unbootable system. But the good news is that Windows 10 can initiate Automatic Startup Repair for situations like these.
When the computer boots up, and the OS detects that there is something wrong with the files. It will trigger the Automatic Repair mode. If it doesn't, then try interrupting the boot process three times – for when you do this, Automatic Repair mode will appear. If you use the power button, you might have to keep it pressed for at least 4 seconds to force the power off.
During Automatic Repair mode, part of the recovery system will try to fix itself, but in case it cannot, you can use the Advanced Recovery Mode to help you boot into the OS.
We hope that it is clear what happens when someone or a situation interrupts an ongoing Windows 11/10 Reset or System Restore process.
Now read: What happens if you turn off computer during Windows Update?