System Restore Points are states of Windows OS that can be used to fix the computer if anything goes wrong. Right from missing system files to unstable unsigned drivers. That said, all Restore Points are saved into the drive for which it is created, and is limited by space. It is obvious that you may not be able to keep a lot of copies because of limited primary storage.
If any of the Restore Point goes corrupt and Windows is not able to recover, then its a problem that is difficult to sort. In this post, we will take a look at if it is possible to backup restore points or recover corrupt restore points in Windows 10.
Can you backup Restore points in Windows 10?
Backing up Restore Points in Windows 10 is like taking a backup of a backup. While it used to work in Windows 7 and Windows XP, it doesn't seem to work in Windows 10. So what I did was tried giving both Read-only and Full access to an admin account and check if it worked. Here are my experience and clarity on the topic.
Open File Explorer and then open Primary Drive, i.e., on which Windows is installed. In the File Explorer menu on the top, switch to View tab > Options > View.
Locate the option which says — Hide protected operating system files. Uncheck, and apply the change.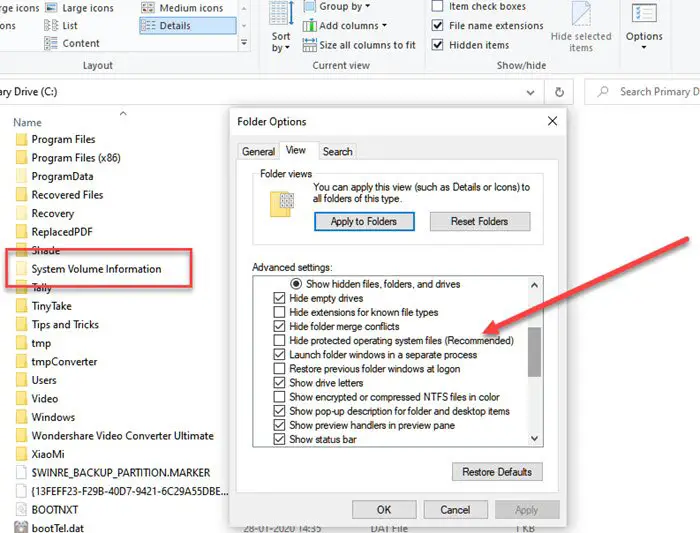 In the Primary Drive, locate a folder with the name System Volume Information. If you try to access it, the System will deny access. The regular user, including admins, don't have access to it.  However, it is possible to add some level of permission, even if Read-only, to allow you access to the folder to copy the restore points.
Right-click on the System Volume Information folder and click on Properties from the fly-out menu.
Switch to Security Tab and then on the Advanced button to open Advanced Security Settings. Next, click on Add button > Select a principal link > Advanced button > and then Find Now button.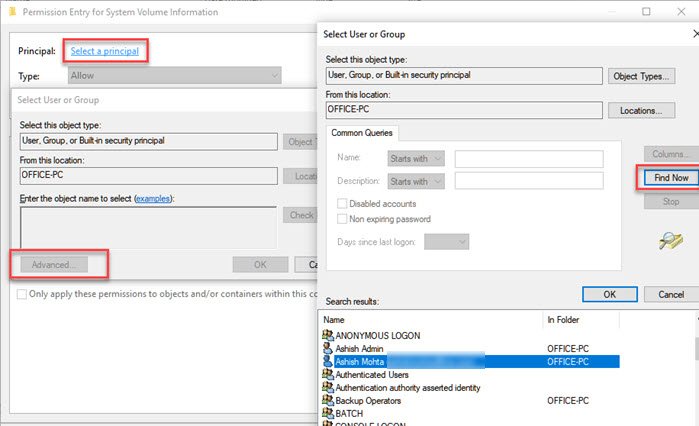 It will list down all the users available on the list. Find your account, and then select the user you need to add. Click on the OK button, and it will be added to the User or Group box. Click on the OK button again.
Back to the Permission Entry box – here you can now choose what permission should be made available. Uncheck everything except for "Read" permission.
That's is where everything changes because while we assume that the user has full information, and he will be able to copy the restore file and use it somewhere else, it doesn't work that way.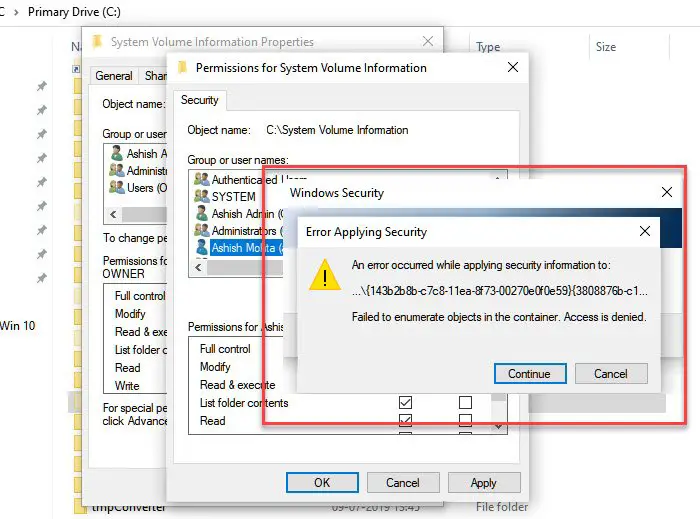 In the above method, When you try to apply for permission, you will face issues that access to specific files, even if its only READ, is not given to the current user.
Also if you try the same with the hidden Administrator account, the access is not granted. The only that seems to work is that you can access the folder and view the files inside it, but nothing else.
When I tried to copy one of the restore files, it did not allow me as I did not have the permission, what it seems, that the files are only available for the OS to manage.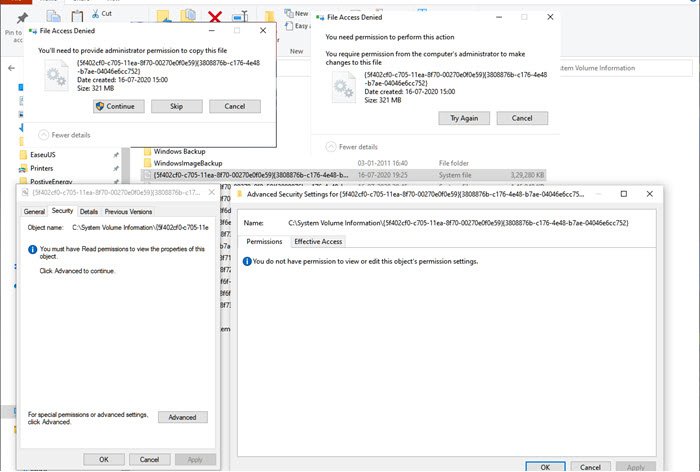 At least as of now, I don't see any way to backup Restore points.
Read: What happens if you interrupt System Restore?
Can you Recover corrupt System Restore Points?
Many a time System Restore Points don't work as expected, and when you try to restore, you may get errors. That may look like the System Restore Point has become corrupted. That said, if the physical files where System Restore is saved are damaged, then you cannot restore it at all. However, if it's is because of Volume Shadow Copy or third -party service interference, then it can be resolved.
While we cannot say that this will help, if you are faced with corrupt system restore points, doing the following in the given order would be your best bet.
1] Run System File Checker
The System File Checker (sfc.exe) is a system utility to scan for and restore corrupt Windows system files. While we have explained in many details in our post to Run System File Checker, but all you need to do is run the below-mentioned command on the Command Prompt (Admin mode)
sfc /scannow
2] Set  Volume Shadow Copy Service to Automatic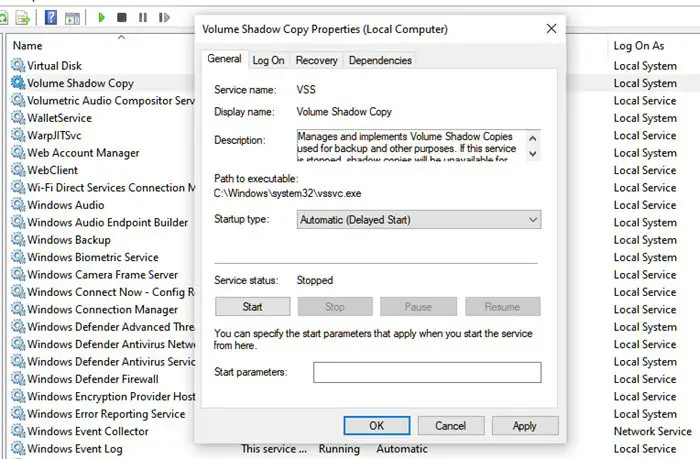 The Volume Shadow Copy service in Windows is relevant to disk imaging. The service is used to restore your computer – complete drive or a folder – to some previous state. If it is turned off, you may not be able to restore the System. Follow the steps to set out to automatic.
Type Services.msc in Start Menu search box and press Enter when it appears in the list.
Locate the service Volume Shadow Copy Service and set it to Automatic.
Click on the Start button or restart your computer to get it started.
3] Disable Third-Party Interference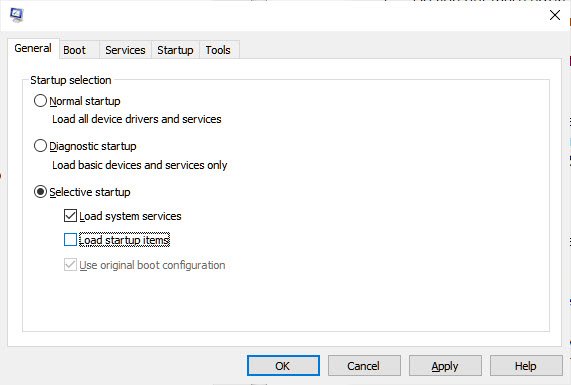 Type msconfig in the Run prompt (Win + R) and press the Enter key
In the Configuration window, switch to the General tab
Click to clear the Load startup items checkbox.
 On the Services tab, click to select the Hide all Microsoft services checkbox, and then click Disable all.
Click OK, and then click Restart.
Now try restoring the System and check if it works.
Lastly, if nothing else works, try restoring to a different date if you have multiple restore points available.