The Disk Cleanup Utility is a handy built-in tool which can help to restore hard disk space. It can remove temporary files, old Windows files,  Thumbnails, Delivery optimization files, Windows upgrade logs, and so on. Now if run the Disk Cleanup Utility, and it is stuck on Windows Update Cleanup, then here is what you need to do. When purging the files, the process could be slow and take forever to complete.
Disk Cleanup stuck on Windows Update Cleanup
If Windows Update cleanup is stuck or takes forever to run, after a while click on Cancel. The dialog box will close.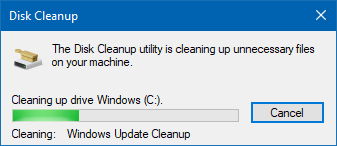 Now run Disk Cleanup Tool again as administrator. If you do not see these files offered for cleaning, then it means that the cleanup has been done. If you still see the files, then try these suggestions.
1] Delete contents of SoftwareDistribution folder manually
Windows downloads all the update files into this folder before installing it on the Windows 10 computer. Disk Cleanup can also remove these files, but if the files are locked, the tool will be stuck. Make sure to delete the contents of SoftwareDistribution folder manually.
2] Delete contents of Windows.old folder manually
This folder holds the older version of Windows when you upgrade. This comes in handy when somebody chooses to revert to the previous version of Windows. Delete Windows.old files in case the cleanup tool is stuck.
3] Run Disk Cleanup in Clean Boot State or Safe Mode
Reboot your computer into Clean Boot State or Safe Mode. Then run the Disk Clean up tool, and it should work just fine.
4] Run the Windows Update Troubleshooter
Windows comes with an inbuilt Windows Update Troubleshooter. You can run that which will resolve the problem around Windows 10 Update which might be causing the cleanup tool to get stuck.
Read: Disk Cleanup is not working properly.
5] Run DISM to fix Component Store Corruption
When you run DISM (Deployment Imaging and Servicing Managemen) tool, it will repair the Windows System Image and Windows Component Store in Windows 10. All of the system inconsistencies and corruptions should be fixed. You can either use PowerShell or command prompt to execute this command.
These tips should help you delete files to free up space, and when Disk Cleanup is stuck on Windows Update Cleanup.
Read next: Windows computer stuck on Cleaning up screen.