While it can happen after an update, at Windows 11/10 Feature Update too can cause panic if users find that tons of files from their user directories like Music, Photos, Documents have gone missing. While there is nothing much you can do about it nor using any recovery software will help, but there is a bright chance that you may be able to recover deleted files after Windows 11/10 Update without any problem.
Recover missing files after Windows Feature Update
Windows Update system always creates a backup of all your files of C drive (the default place where Windows is installed). These files are a copy of C drive including Users folders which includes AppData, Desktop, Documents, Favourites, Links, etc. The backup is intentional. In case of any problem during the update, Windows rolls back to the previous version and uses these files.
The files backed up in the Windows Update are kept in Windows.old folder in the C drive. These files are available for the next ten days in case users want to roll back. Also, these files can be deleted by the user to free up space after a Windows 10 Feature Update. So if you did not rush through deleting those files, all your files are available in that folder.
Go to the following location, where XYZ is the username:
C:\Windows.old\Users\XYZ
This should have all the User folders in place for that user.
Copy the files which you need to your preferred location.
That's it.
If you are not carrying out any clean installation, and have chosen to keep the files during any Windows 10 Update, this folder will be available and comes in handy to recover files.
You can also use Recover Personal Files Tool from Microsoft that lets you retrieve files from the Windows.old folder in Windows 11/10.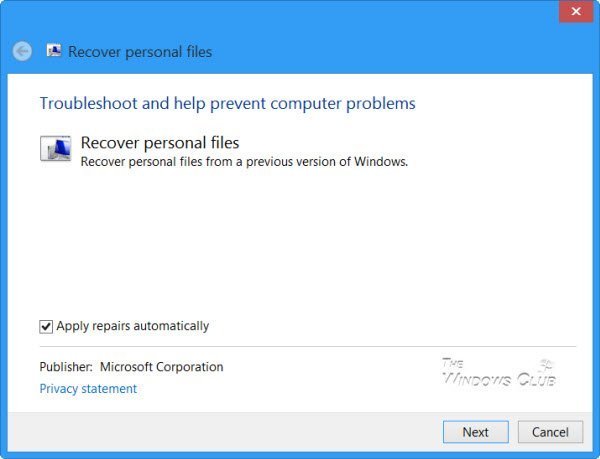 This particular troubleshooter attempts to recover data that is 'lost' during an upgrade or custom install. It will then provide you with steps to migrate this data. If the troubleshooter cannot locate the data it will not be able to recover it
One last thing I would strongly suggest always – Move your User folder location to another partition.
How was your experience with the latest Windows 11/10 Feature Update? Did you lose files because of it?
See this post if Files are missing after Windows 11/10 upgrade.