If after installing the latest Windows 10 version Update you are facing problems and issues with it, you can uninstall it and go back or rollback to the previous Windows version. Most of you may be familiar with the instructions, but for those of you who are not, this post will help you uninstall the latest Windows 10 Feature Update from your PC.
Roll back or Uninstall Windows 10 2022 Update version 22H2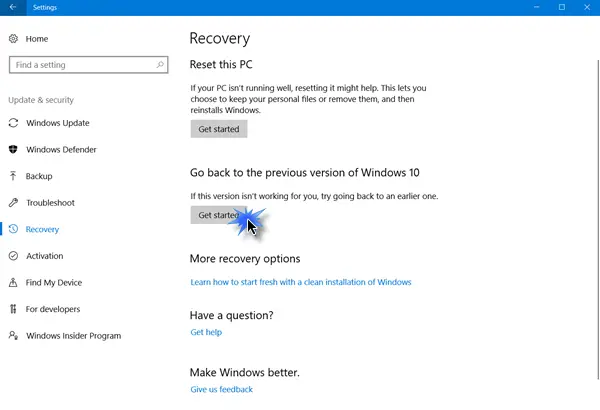 To uninstall this Feature Update, you will have to open the Start Menu. Next, click on the Settings link.
Having opened the Settings panel, click on Update and security and here select Recovery settings.
Next click on the Get started button under Go back to an earlier build section.
The process will start, and you will be asked some questions for information purposes, as to why you are going back to the previous build of Windows 10.
The options are:
My apps or devices don't work on this build
Earlier builds seemed easier to use
Earlier builds seemed faster
Earlier builds seemed more reliable
For another reason – Tell them more.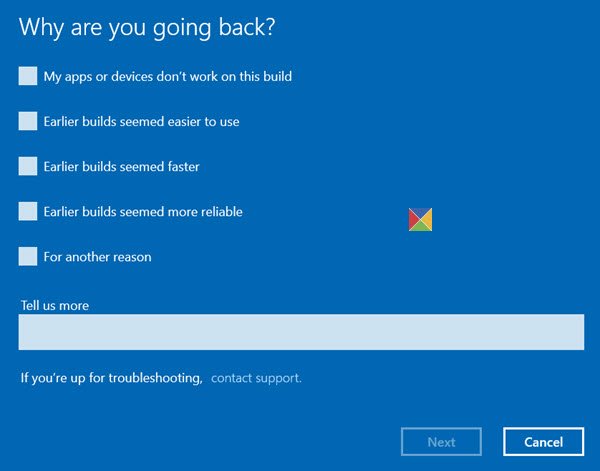 Do the needful and click Next to move on. If you wish, you have a chance to Cancel now.
You have to remember that when you go back, you will lose the settings changes or the apps you may have installed after you upgraded to the current build.
Windows 10 will offer to check for updates. Maybe some new fixes have been released!
Remember to note down your password or login credentials as you will be required to enter them after the process is completed.
Click on Next, and you will be thanked for trying out this build.
Once you are completely sure click on the Go back to earlier build button and the upgrade process will start.
Just to be on the safe side, you may want to also back up your data before you begin.
Once you have done this, you may want to defer installing Windows Updates on your Windows 10.
Related tip: How to extend or increase the Rollback time period to uninstall a Windows 10 upgrade.
All the best!
PS: The post has been updated for Windows 10 2022.