AMD is among the popular graphics card manufacturers. The graphics card manufactured by AMD provides gamers with a superb gaming experience. A graphics card is a piece of hardware that is responsible for rendering images and displaying high-quality photos and videos. Undoubtedly, a graphics card is the best friend of a gamer. In order to establish a communication link between a graphics card and an operating system, you need to install the required driver. When the driver malfunctions or gets corrupted, the respective devices do not work properly. Such an issue is experienced by gamers who have installed AMD graphics cards on their systems. According to them, the AMD driver crashes 10 to 15 minutes after launching a game. If you are facing such a problem, the solutions provided in this article may help you fix it.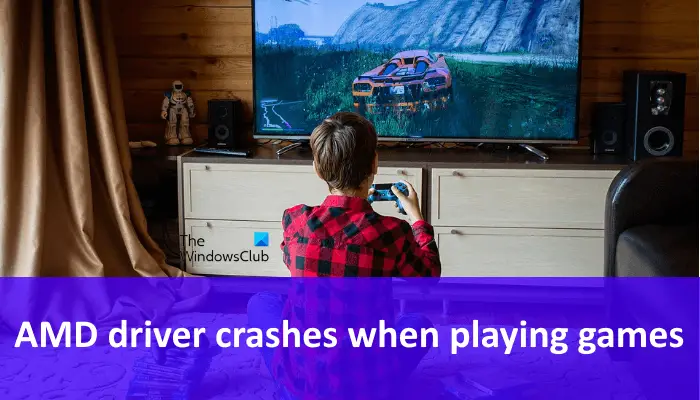 AMD driver keeps crashing when playing games on PC
If your AMD driver crashes when playing games, here is how to fix the problem.
Rollback AMD graphics card driver
Download the AMD graphics card driver
Turn off Enhanced Sync
Use Dual Rail PSU (if your graphics card supports that)
Update your chipset driver
Let's see all these fixes in detail.
1] Rollback AMD graphics card driver
Installing the latest version of Windows Updates also updates the graphics card and other device drivers (if the latest version of the driver is available). If you are experiencing this problem after installing the latest Windows Update, roll back your graphics card driver (if the option is available in the Device Manager) and see if it fixes the problem.
The steps to rollback AMD graphics card driver are as follows:
Press Win + X keys and select Device Manager.
Right-click on your AMD driver and select Properties.
Click on the Driver and see if the Roll Back Driver option is available.
If the option is available, click on it and roll back the AMD driver.
The roll-back option installs the previous version of the driver on your system.
2] Download the AMD graphics card driver
Another solution to get rid of this problem is to download or update AMD Drivers with AMD Driver Autodetect. AMD Driver Autodetect will detect your machine's graphics card and Windows operating system. If there is a new driver available, the tool will download it with a click of a button and start the installation process. The auto-detect tool gives you the option to download the latest official driver. In case you are interested, AMD Clean Uninstall Utility can help you remove AMD driver files completely.
This solution has fixed the problem of many users. It should also help you.
3] Turn off Enhanced Sync
The Enhanced Sync or VSync is a feature of AMD graphics cards that matches the frame rate of your game with the refresh rate of your monitor and provides you with an ultra-fast and tear-free gaming experience. Some users have experienced issues with this feature. When they turned off this feature, the problem disappeared.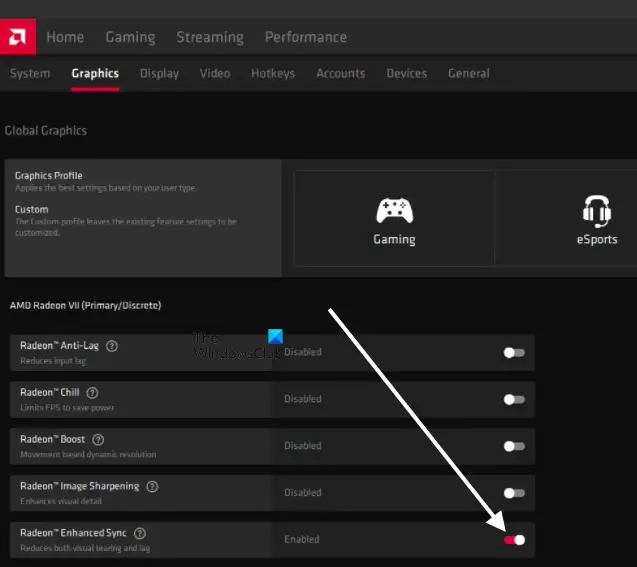 If you have enabled the Enhanced Sync feature, we suggest you disable it and then check if it fixes the problem. To turn off AMD Enhanced Sync, open the Settings panel of your AMD graphics card software and then select the Graphics tab. After that, click on the button next to Radeon Enhanced Sync to turn this feature off.
4] Use Dual Rail PSU (if your graphics card supports that)
If your graphics card is connected to PSU via a single cable split into two ends, replace it with two separate cables. But for this, you need a dual rail PSU (Power Supply Unit). The electronics components in a PC need DC input current to operate. That's why a PSU is installed on every computer so that the incoming AC current is converted into DC output current.
A Graphics card requires 12 V DC input. A Dual Rail PSU has two 12 V DC outputs. In a Dual Rail PSU, the incoming current is distributed to two 12 V outputs, hence, the two 12 V outputs deliver less current as compared to the single rail PSU. The current is directly proportional to Power and Power is directly proportional to Heat generation. Therefore, less current means less power consumption and less power consumption means less heat generation. That's why if you connect your graphics card to a Dual Rail PSU by using two separate cables, your graphics card will consume less power due to which the amount of heat generated is less. This decreases the chances of crashes while playing games.
Before you purchase a Dual Rail PSU, you should know how much current your graphics card requires to operate correctly so that you will not make any mistakes while buying a Dual Rail PSU. Read the specifications of the PSU to know how much current is delivered through each 12 V output.
Read: Ryzen Master Driver not installed properly on Windows PC.
5] Update your chipset driver
Another cause of this problem is the outdated or corrupted chipset driver. We suggest you update your chipset driver from the Device Manager. The steps for the same are given below:
Right-click on Start and select Device Manager.
Expand the System devices node.
Right-click on your chipset driver and select Update driver.
Now, select Search automatically for drivers.
After that Windows will search for the latest version of your chipset driver and install it. Alternatively, you can also install the chipset driver manually by downloading it from the manufacturer's website.
Why does my game keep crashing AMD?
Before you purchase a game, you should check its hardware requirements. The most common cause of game crashes is unsupported hardware. If your computer is not capable of running the game, the game will crash. If your game crashes despite your system's hardware being capable of running it, your graphics card driver might have been corrupted. You should update your graphics card driver from the Device Manager.
Another cause of the game crash is the excessive heat generation during the gameplay. When we play a game, the graphics card consumes power. Due to high power consumption, the amount of heat generation is also high. One way to reduce heat generation is to reduce the power consumption by your graphics card which can be done by using a Dual Rail PSU.
How do I fix my AMD driver bug?
If your AMD driver has a bug, there should be the latest version released by AMD on its official website. Visit AMD's official website and download the latest version of your graphics card driver. Now, uninstall the current version of your graphics card driver and then run the installer file to install the driver manually. Alternatively, you can also update your graphics card driver via the Windows Optional Update feature.
Read next: NVIDIA driver keeps crashing in Windows 11/10.