In case your Windows 10 operating system is not performing properly and is, in fact, giving you problems, you may want to consider using the Reset this PC feature that is available in Windows 10. This tutorial will show you how to Reset your Windows 10 PC to factory settings without losing files.
Reset this PC Windows 10
To Reset your Windows 10 PC:
Open Settings
Click on Update & security
In the left pane, select Recovery
Now in the right pane, under Reset this PC, click on Get started
Follow the on-screen instructions carefully.
Read on for details with screenshots!
From the WinX Menu open Windows 10 Settings and select Update and security as shown below.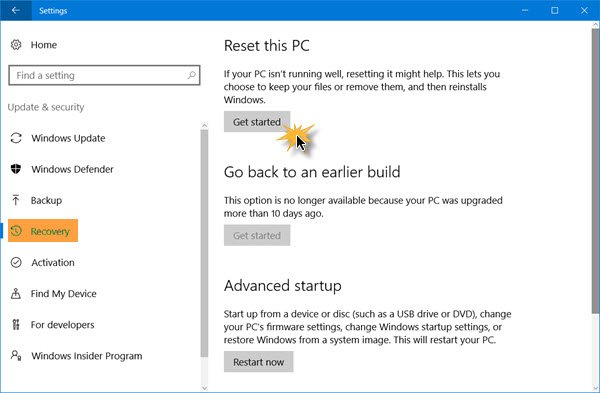 Next click on the Recovery link, which you will see in the left pane. Now under Reset this PC, click on Get started button which you will see on the right side.
You will see the following window open up. If you do not want to lose your files and data, select the Keep my files option. When you select this option, Windows will remove your apps and settings but keep your personal files and data intact.
If you want to remove everything and start afresh, select the Remove everything option. If you select the Remove everything option, Windows will ask you if you want to remove all files from all drives or only the drive where Windows is installed. You will also be asked if you want to clean the drives too.
Once you make your selection, you will see the following screen, where Windows will tell you that it is getting things ready.
Once Windows is ready, it will show you a list of your apps that will be removed. It will also save a list of removed apps to your desktop which you can access after the reset operation is over.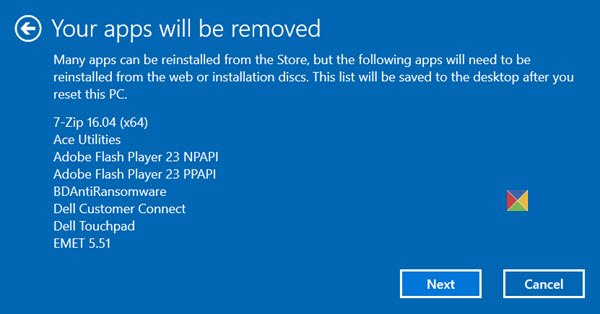 You have the option to Cancel the reset operation if you wish to. If you wish to proceed, click Next.
You might see a warning stating that This PC was recently upgraded to Windows 10. If you Reset this PC, you won't be able to undo the upgrade and go back to the previous of Windows.
Click on Next to proceed and you will see this final screen.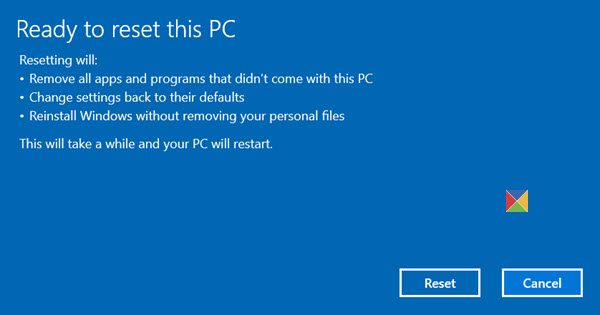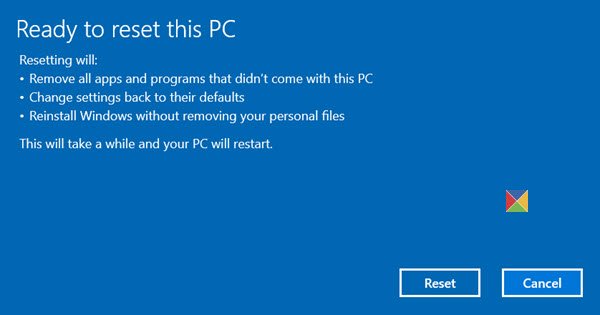 Clicking on the Reset button will start the process, which you will not be able to interrupt, so proceed only when you are sure about it.
The process is expected to take an hour or so and your PC may restart a couple of times.
Note: You can also use the Cloud Reset option.
When you reset your Windows 10 PC, all apps, drivers, and programs that did not come with this PC will be removed, and your settings restored back to defaults. Your personal files may be kept intact or removed depending on the choice you made.
As a matter of abundant precaution, I would still suggest that you backup your data to an external drive just to be safe before your reset your Windows 10 OS.
PS: Reset this PC in Windows 10 may fail if you have Get Office app installed. This post may help you if you receive a There was a problem resetting your PC  message.
TIP: You can also reset Windows 10 without using the Settings app.
A bunch of posts on this website that will help you reset other functions or software:
Our portable freeware FixWin allows you to reset most of the following with a single click.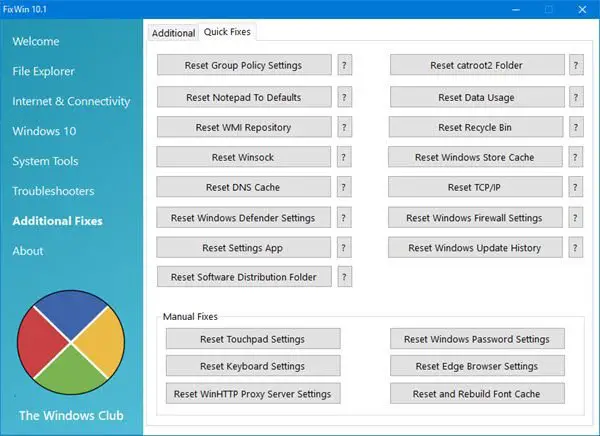 Reset all Local Group Policy settings | Reset Windows Search | Reset Windows Store apps | Reset Notepad | Reset Windows Store Cache | Reset Recycle Bin | Reset Keyboard settings | Reset Surface Pro devices | Reset Microsoft Edge browser settings | Reset Internet Explorer Settings | Reset Chrome browser settings | Reset Firefox settings | Reset Windows Security settings | Reset Windows Firewall settings | Reset Winsock | Reset TCP/IP |  Reset DNS cache | Reset Windows Update | Reset each Windows Update component | Reset Windows password | Reset Touchpad settings | Reset WinHTTP Proxy Settings | Rebuild Icon & Reset Thumbnail cache | Reset WMI Repository | Reset Data Usage | Rebuild Font cache | Reset App Volume and Device Preferences | Reset Windows Spotlight. | Repair corrupted Registry.