The humble but very useful Notepad is a built-in basic text editor included in the Windows operating system, which is also used to save certain file formats like Registry files, Batch files, Script files, NFO, DIZ files, etc. Over a period of time, we often customize its settings to suit our requirements. We might change its default font, its style and size, the window position, word wrap, status bar settings, etc. While you can revert each one back, if you want to reset all Notepad settings to default values, then this post shows you how to do it.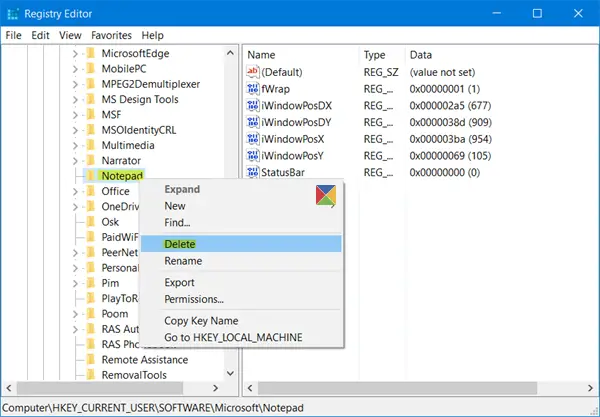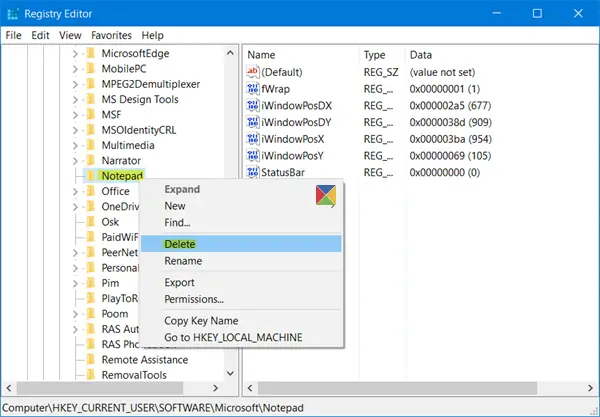 Reset Notepad to default settings
The default font in Notepad in Windows 11/10, is Consolas with Regular style, and font size 11. Word Wrap and Status Bar are disabled. To reset all Notepad settings, from the WinX Menu, open Run box, type regedit and hit Enter to open the Registry Editor.
But before you begin, you may want to create a system restore point and/or backup your Registry.
Next, navigate to the following key:
HKEY_CURRENT_USER\Software\Microsoft\Notepad
Now in the left pane itself, right-click on Notepad and select Delete.
This will delete all the saved settings of Notepad, which you can see in the right pane.
Having done this, your Notepad will be reset to its default settings. Useful if Notepad is not opening or if it keeps closing automatically.
Love the Notepad? Then these Notepad tips & tricks are sure to interest you.