If you tried to use the Reset This PC option on your Windows 11 or Windows 10 computer to restore your PC to factory settings and the process failed with an error message There was a problem resetting your PC, No changes were made on your Windows computer then the suggestions in this post are sure to help you fix the problem.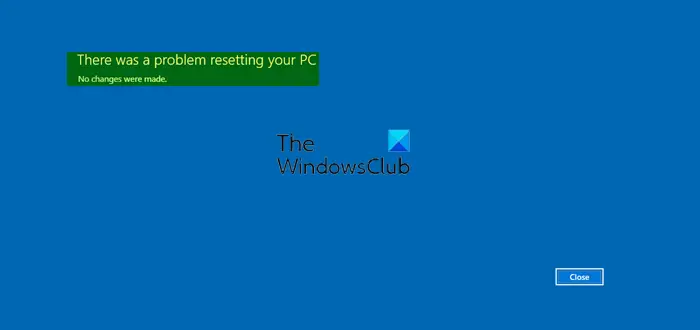 There was a problem resetting your PC
The process is the same as it is for when Windows fails to boot. Here is what you need to do:
1] Run this command
If you are able to boot to your Windows 11/10 desktop, then from the WinX Menu, open an elevated command prompt.
Next, use the CD command and change the directory to \Windows\System32\config folder. Type the following command and hit Enter-
cd %windir%\system32\config
Now you should rename the System and Software registry hives to System.001 and Software.001.
To do so type the following command one after the other and hit Enter:
ren

 system system.001



ren software software.001
If Windows 11/10 will not boot to the desktop, then from the Advanced Startup options access the Command Prompt.
You may also boot into Safe Mode and the open the Command Prompt to run the above-mentioned command.
Just for your information, if you want to use Refresh your PC, rename ONLY the System hive. But in such a case, if your Software hive is also corrupt, you may not be able to use the Refresh your PC option. In such a case you may have to rename the Software hive too. When you rename the Software hive, you will not be able to use Refresh your PC, but only the Reset your PC option.
Finally, type Exit to close the Command Prompt.
Restart your computer and try again. This should help!
Related: Reset this PC is stuck.
2] Re-enable the Windows Recovery Environment
In case the above suggestion does not help, then you may disable and then re-enable the Windows Recovery Environment and see.
You can use the REAgentC.exe tool to configure a Windows Recovery Environment (Windows RE) boot image and administer recovery options.
To disable it execute:
reagentc /disable
This will disable any active Windows RE image that is mapped to the online image.
Next, run the following:
reagentc /enable
This will re-enable the WinRE image.
3] Recover PC from a drive
The last suggestion we have as a workaround is for you to boot to the USB recovery drive > Troubleshoot > Recover from a drive. Follow the on-screen instructions.
All the best!
Related: Your PC has been reset, but we couldn't remove all your personal files.