The Windows operating system creates a cache for the fonts so that they can load faster every time you start a program, app, Explorer, etc. But if you are facing Font problems, where the fonts are not rendering properly or displaying invalid characters on your Windows 11/10 computer, maybe the Font Cache has become corrupt. To resolve the issue, you need to reset, clear & rebuild the Font Cache. Let us see how to do it.
Rebuild Font cache in Windows 11/10
Type services.msc in Start search and hit Enter to open the Windows Services Manager.
Locate the Windows Font Cache Service. Double-click on it to open its Properties box. Stop the Service and Disable it as well. The Windows Font Cache Service optimizes the performance of applications by caching commonly used font data. Applications will start this service if it is not already running. It can be disabled, though doing so will degrade application performance.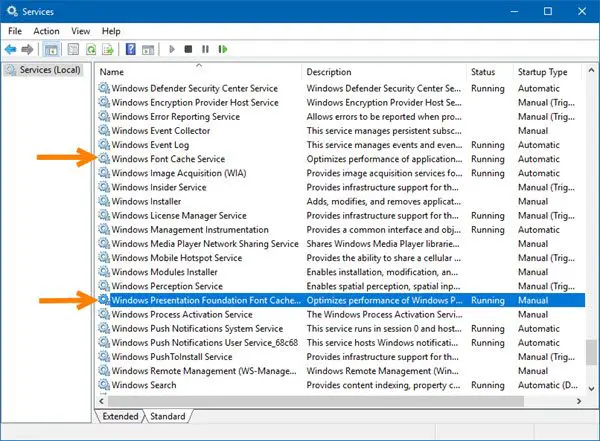 Do the same for Windows Presentation Foundation Font Cache 3.0.0.0 Service as well. Stop and Disable it as well. The Windows Presentation Foundation Font Cache 3.0.0.0 Service optimizes the performance of Windows Presentation Foundation (WPF) applications by caching.
Now open File Explorer, make Windows show Hidden files & folders and then manually navigate to the following location:
C:\Windows\ServiceProfiles\LocalService\AppData\Local
Press Continue if you are asked.
Once there, delete all .dat files starting with FontCache.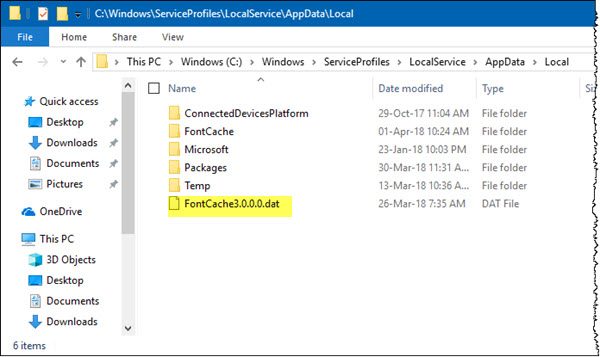 Next, open the Font Cache folder which you see there and delete all its contents.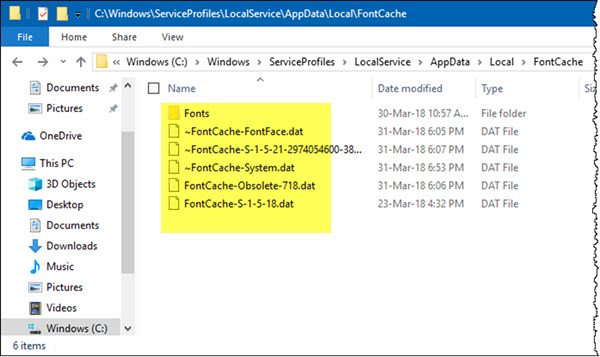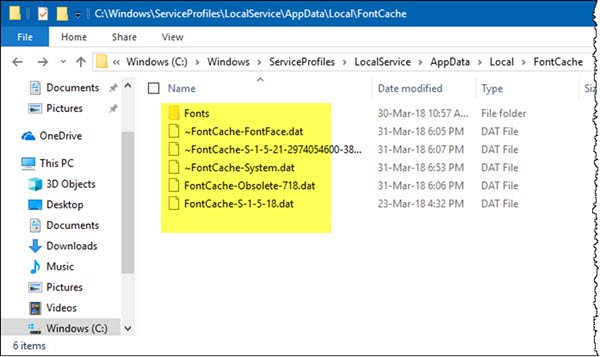 If you are unable to delete some files, restart the computer and try. Since you have disabled both the Services, they will not start, and you will be able to delete all files.
Once you have deleted the files, Enable both the Services and Start them via Services Manager.
I hope this helps you.
Posts you may want to read: