If the Reset This PC option is not working on your Windows 11 or Windows 10 computer, and when you try to perform the operation, just a loading spinning circle appears and then disappears or in some cases is stuck on the Resetting this PC screen on a black background, then this post will help you.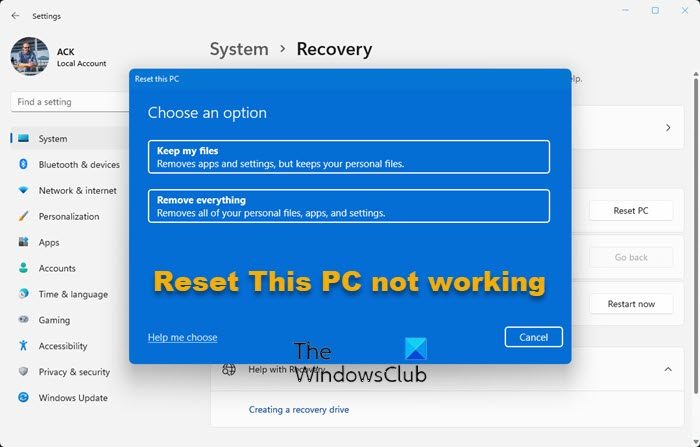 Affected PC users have reported when trying to reset the PC, at a certain point, they get the Undoing changes message, followed by a blue screen pop up with the message There was a problem resetting your PC; No changes were made. The most likely culprits to this issue are system file corruption, bad system image or permissions issues; possibly caused by a botched Windows update package.
Reset This PC not working on Windows 11/10
If you can't reset your Windows 11/10 PC, you can try our recommended solutions below in no particular order to resolve the issue on your system.
Run Automatic Startup Repair
Perform SFC and DISM scan
Perform reset operation in Clean Boot state
Perform reset operation via Advanced Options
Perform In-place Upgrade Repair
Clean install Windows 11/10
Let's take a look at the description of the process involved concerning each of the listed solutions.
Can't Reset PC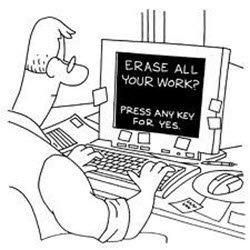 Before you try the solutions below, check for updates and install any available bits on your Windows 11/10 device and see if you can complete the reset procedure successfully. If the issue started after a recent Windows update, you can perform System Restore or uninstall the update. Either of these actions should get your system back to normal working conditions to allow for the PC reset operation to complete successfully. However, if there are other underlying issues interfering with the procedure, you will have to proceed with the solutions below.
1] Run Automatic Startup Repair
You can begin troubleshooting to fix the issue of you can't reset your Windows 11/10 PC by running Automatic Startup Repair. The built-in Startup Repair tool is designed to detect and repair common startup problems you may be facing.
After the startup repair completes, see if the issue is resolved. If not, try the next solution.
2] Perform SFC and DISM scan
As already pointed out, this issue in focus could be due to system file corruption or bad system image; possibly caused by a botched Windows update package. In this case, to resolve the issue, you can run an SFC scan and DISM scan, and after you must have gotten a clean bill of health on both scans, try the reset operation again and see if the issue persists.
The SFC/DISM are both native tools to the Windows OS which PC users can utilize to fix corrupt or missing system/image files on the Windows 11/10 computer.
3] Perform reset operation in Clean Boot state
If some of the many device drivers, settings, and software installed on your system are corrupted, you're likely to encounter the issue in highlight. Or perhaps, some of the aforementioned conflict with the Reset This PC feature – you will be unable to reset your device. In this case, to rule out this possibility, you can clean boot your Windows device, and then you can reset your computer in that system state and see if the task completes without issues. Otherwise, try the next solution.
Related: Reset this PC is stuck.
4] Perform reset operation via Advanced Options
This solution requires you to alternatively perform the reset operation via Advanced Options. Here's how:
Start the computer​, and press F11 to enter Advanced Startup Options menu.
Select Troubleshoot. ​
Select Reset this PC. ​
Select Keep my files OR Remove everything. ​
Select Just remove my files OR Remove files and clean the drive. ​
Follow the on-screen instructions.​
5] Perform In-place Upgrade Repair
Essentially, a PC reset process is intended to reinstall Windows 11/10 on your computer with or without deleting files on your computer, per your selection. If you're unable to reset Windows 11/10 or the reset feature is simply not working, it's likely the recovery partition may be corrupted. In this case, to resolve the issue in hand, you can perform an in-place upgrade repair – this procedure will fix any corrupt system files or bad image, which in turn can get the reset feature working normally.
6] Clean install Windows 11/10
At this point, if the issue in view is still unresolved, it's most likely due to some kind of system corruption that cannot be resolved conventionally. In this case, you can clean install Windows – performing a clean install will likely resolve any problems, but keep in mind that during the procedure, all the data on the computer's hard drive will be erased — so be sure to take any necessary precautionary measures like back up your files before you proceed.
Hope this post helps you!
How do I restore PC to factory settings?
Navigate to Settings > Update & Security > Recovery. Under the "Reset this PC" section, click Get Started. Now, you can either select Keep My Files or Remove Everything. The former resets your options to default and removes uninstalled apps, like browsers, but keeps your data intact.
Read: Windows fails to boot; Automatic Startup Repair, Reset PC fails & PC goes in loop
Does reformatting a computer erase everything?
Reformatting is the same as deleting a file on a hard drive, except every file is deleted at once. However, while the drive may appear empty, the data may be recoverable either through the use of data recovery software or with the services of a data recovery specialist.