If you have installed Windows 10, you might have started exploring it already. Windows 10 comes with new opportunities for users to personalize it, according to their own preferences. In this post, we will take a bird-eye view of the settings offered by Windows 10.
While Microsoft has always been offering a decent range of settings options and personalization capabilities in all its Windows versions, things are a bit different in Windows 10. While the familiar Control Panel is still there, the new Settings app comes with a new design and a new interface.
Windows 10 offers a wide range of settings, which include personalization, system, and privacy options. You will be able to see this once you open the Windows 10 Settings window and explore your way through all the options. The new Windows 10 Settings app now comes with a new design and a new interface that allows its users to customize and personalize it according to their preferences.
In this post, we will be covering the following points:
 How to open the Windows 10 Settings app.
 How to use the Windows 10 Settings app.
TIP: This post talks about Windows 11 Settings.
Users can sync their settings by using their email id, manage sign-in options, change privacy settings, manage and update security, customize the Start menu and Taskbar, and a lot more. We will first see how to open the Settings app in Windows 10 and then go step by step through all the settings. So, let's get started!
How to open Windows 10 Settings
To open the Windows 10 Settings app, click on the Start button, and then further click on the gear icon called Settings. The Settings app window will open.
Another way to open it is to simply search for it in the Taskbar Search option. The keyboard shortcut is Windows key + I.
As you can see, the Windows 10 Settings include the following sections.
 System
 Devices
 Phone
 Network & Internet
 Personalization
 Apps
 Accounts
 Time & Language
 Gaming
 Ease of Access
 Search
 Cortana
 Privacy
 Update & Security
How to use Windows 10 Settings
Windows 10 Settings allow the users to customize and configure the Operating System as per their needs. We will now go through all the sections and settings in detail.
1. System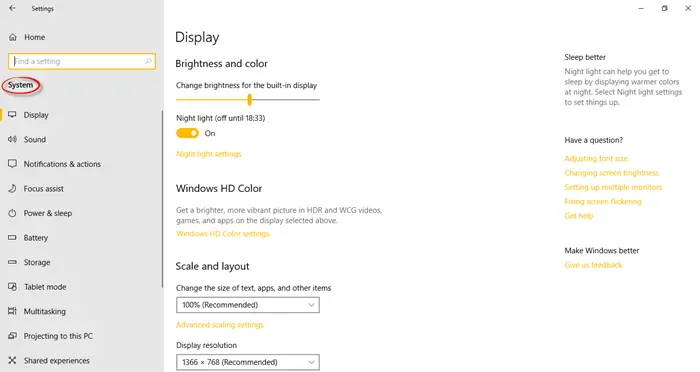 The System Settings let you adjust the settings of all your apps, notifications, display, and power. You can change the display resolution, display orientation, and brightness and color of the built-in display. You can also change the size of the text, apps, and other items.
In the Sound category, you can choose your input and output devices, manage all the sounds devices, and set other advanced sound options. You can edit, add, remove, select the quick actions, show or hide notifications, adjust the power and sleep and battery saver settings, configure storage settings, and more.
Storage lets you decide where your apps, documents, music, pictures, and videos are saved by default. If you are using a touch-enabled device, you can set your PC into tablet mode from System Settings > Tablet mode.
The Multitasking feature enables you to work with multiple windows and virtual desktops. Projecting to this PC allows you to project your Windows phone or PC to the existing screen to use its keyboards, mouse and other devices. You can share or receive content with a nearby device using Bluetooth and WiFi. It is also possible to sync your clipboard data across devices as well as clear it.
You can set up Remote Desktop which lets you connect and control your existing PC from a remote device by using a remote desktop client. In the About section, you will be able to see your device specifications such as the device name, processor, installed RAM, device ID, product ID, etc.
2. Devices
You can adjust the Devices Settings for connected devices like printer, scanner, mouse, keyboard, etc. You can explore the touchpad sensitivity and advanced typing and keyboard settings. Other related settings such as AutoPlay, USB, and Pen and Windows Ink are also under this section of settings.
Read: How to configure Mixed Reality settings.
3. Phone
Under Phone Settings, you can add a phone and link it to your PC which will allow you to browse the web and use apps on your phone and then instantly switch onto your computer.
4. Network and Internet
All your WiFi networks, Dial-up connections, VPN, Ethernet, etc. can be managed here in the Network & Internet section of settings. You can check for available networks and change the connection properties. More settings related to a mobile hotspot, airplane mode, data usage, Wi-Fi Sense and the proxy can be found here.
5. Personalization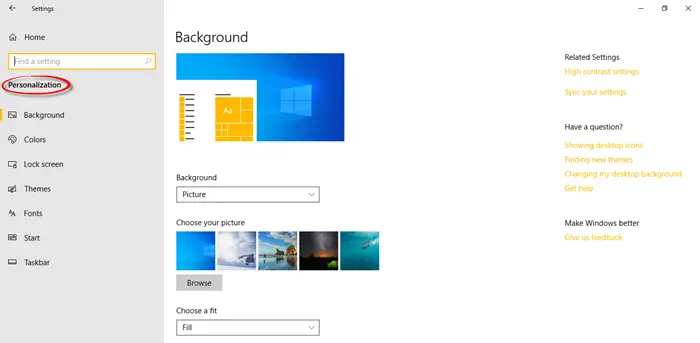 Under Personalization Settings, the users can customize the background, colours, lock screen, fonts, and themes. The Start menu and the Taskbar can also be personalized as per the user's preferences.
6. Apps
In Apps & features, you can search, sort, filter, move as well as uninstall the apps here. You can choose the default apps, download offline maps, associate apps with websites, and so on. You can also change the video playback and startup apps settings.
7. Accounts
In the Accounts settings section, you will find all your information, such as billing details, subscriptions, family settings, and all about your Microsoft account. You can add another Microsoft account as well as a work/school account here. There are several sign-in options to choose from, such as a password, picture password, PIN, fingerprint, etc. You can sync your settings as well.
8. Time and Language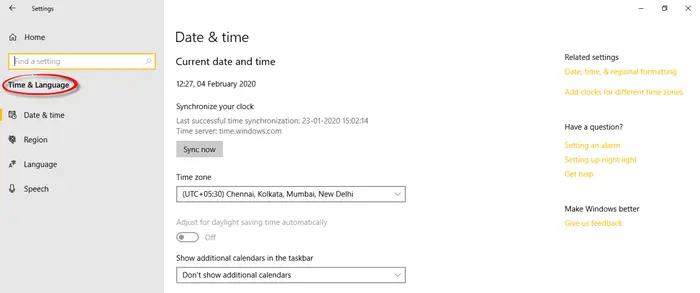 The Time & Language settings include the date and time settings, region and language settings, and speech settings. You can change date formats, add additional clocks for different time zones, choose the language you speak with your device, and also add preferred languages.
9. Gaming
The Gaming settings let you control how the Game bar opens and recognizes your game. You can create your own keyboard shortcuts for various functions such as to open game bar, start/stop recording, microphone on / off, and so on.
This section allows you to control and determine the audio quality, microphone volume, system volume, and how you capture your game through screenshots and game clips. You can turn the game mode on here and control how your game appears when you broadcast. Under Xbox Networking, you will find details regarding the connection status and performance.
10. Ease of Access
The Ease of Access settings is categorized into three settings related to vision, hearing, and interaction.
Vision includes settings that make your display, pointer, cursor, and touch feedback easier to see. You can use a magnifier to zoom, a narrator, high contrast, and color filters for a better viewing experience. Hearing includes the settings that make your device easier to hear or use without sound by displaying audio text. Interaction includes all the settings related to speech, keyboard, mouse, and eye control.
11. Search
Under Search Settings, you will find the permissions, search history, and advanced search indexer settings and learn all about the Windows Search and your privacy.
12. Cortana
The Cortana Settings section lets you learn all about Cortana and your privacy settings where you can manage what you permit Cortana to do, see, and use.
13. Privacy
Privacy includes the Windows permissions as well as the App permissions.
Windows permissions include general settings, speech, ink and typing personalization settings, diagnostics and feedback, and activity history. App permissions include all the settings related to location, camera, microphone, voice activation, notifications, account info, calendar, contacts, phone calls, history, email, tasks, messaging, radio, other devices, background apps, app diagnostics, automatic file download, documents, pictures, videos, and file system. Take a look at the Windows 10 Privacy Settings.
14. Update and Security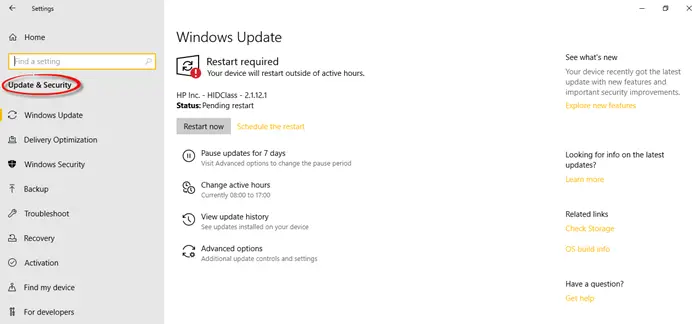 Microsoft has added an option of Update and Security settings where you can check for the latest Windows updates, Check Activation state, adjust the Windows Defender settings, open Windows Security and also rollback to your previous version of Windows via Recovery option.
Read: Windows 10 Security features.
In this section, you will find all about the Windows updates and security, delivery optimization and troubleshooting settings. You can backup using file history and explore the recovery options. You will find information regarding the activation and product key here in this section under the Activation tab. You will also see the Find my device settings and Developers settings here.
New settings available in Windows 10 Settings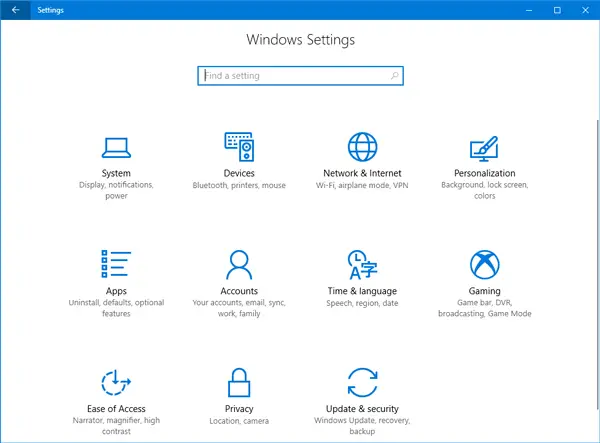 System settings
Some features are removed from this System Settings panel of Settings. However, the following features are new in this latest version of Settings panel.
Shared experiences: This function helps users to open apps, send a message and on any other devices running the same Microsoft account. However, this is also possible to share apps and send messages to any nearby device.
Night Lights: This is a new feature that lets you control the brightness of your computer display screen.
Microsoft has removed Apps & Features, Default apps, Offline maps, etc.
Personalization settings
Although most of the options are same, a couple of new options are included:
Themes: Windows 7 like the Theme feature is back again in Windows 10 v1703. Microsoft removed that functionality from previous versions of Windows 10. However, now you can download your favorite themes from Windows Store. Apart from that, you see some options like Background, Color, Sounds, and Mouse cursor.
Start: One additional option called "Show app list in Start menu" has been added in this section. The other options are same.
Apps settings
This is a completely new category added in the Settings panel of Windows 10 Creators Update. Here you will see the following options:
Apps & Features: Here, you can manage app installation, block third-party apps from being installed, manage installed apps, etc.
Default apps: This section of Settings panel will let you manage default apps in Windows 10. You can change or assign your favorite app as your default file opener.
Offline Maps: Offline maps has been moved from "System" to "Apps" section of Settings panel.
Apps for websites: Another feature from "System" panel is moved to "Apps" section. You can manage the website that can be opened by an app here.
Accounts Settings
Dynamic Lock: This feature helps you lock Windows 10 automatically when you step away
Gaming settings
This is another new category included in the Settings panel. These following features are new in this category.
Game bar: It helps users to record games, screenshots, and live stream the game.
Game DVR: It assists Windows 10 users to control how your machine is capturing your game.
Broadcasting: as the name suggests, this option helps users to control how your game appears when you live stream it.
Game Mode: this is one of the best options since it helps users to optimize your computer for a particular game so that you can get the best performance while playing.
Ease of Access settings
One new feature is included in the Narrator section called Braille. This is currently under development. It helps users to communicate with a braille display. However, it requires a third-party software that is available in the Windows Store. It does support more than 40 languages.
You can find Audio options in Other options. This helps users to enable to disable Mono audio.
Privacy settings
Now you can directly turn on speech services and typing suggestions. This option is now included in Speech, inking, & typing
Tasks: This is a whole new sub-category listed in the Settings panel. You can add tasks, manage apps which are using Tasks, and much more.
Feedback & diagnostics: In this section, you can find a new option called Diagnostic and usage data. You can manage what data and how much data is sent send to Microsoft to provide Tailored Experiences.
App diagnostics: It helps users to allow apps to control your diagnostic information.
Update & security settings
Troubleshoot: This option will aid you to fix common problems related to internet connections, audio, printer, Windows Update, Blue Screen, Bluetooth, hardware, HomeGroup, keyboard, power, network adapter, audio recording, etc.
Find my device: This is another new setting available in Windows 10 V1703 Settings app. You can find your lost device, and track a lost laptop and much more. Also, you can turn off this functionality.
Windows Defender Security Center: From here you can manage all your security settings.
These are new features included in Windows 10 v1703 Settings app. Microsoft has also changed some icons – like the Windows Update icon.
If you are an IT admin wanting to restrict access to Windows 10 Settings page then this post will show you how to configure Windows 10 Settings visibility to hide all or select settings.
Related reading: