Windows 11 is here now! If you have installed Windows 11 on your computer and are feeling overwhelmed by it, then don't you worry – This easy-to-understand tutorial will help you sort everything! Windows 11 comes with a vast categorization of Settings that allows its users to personalize their PC just as the way they like it. In this guide, we will first show you how to open the Windows 11 Settings, and then later, take you through all the categories of the Windows 11 Settings. Let's get started!
How to open Windows 11 Settings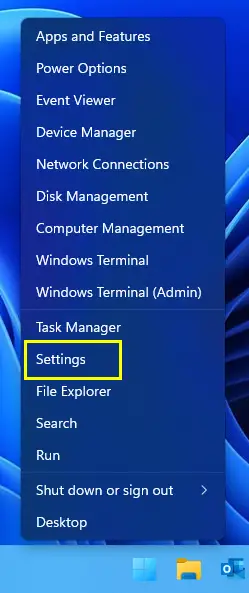 In the exact center of the Taskbar, you will find the Start Menu. To open the Windows 11 Settings, right-click on the Start Menu, and simply click on Settings. That's it! You will now see a window that shows you all the Windows 11 Settings.
You can also click on Volume or Network icons in the Notification area.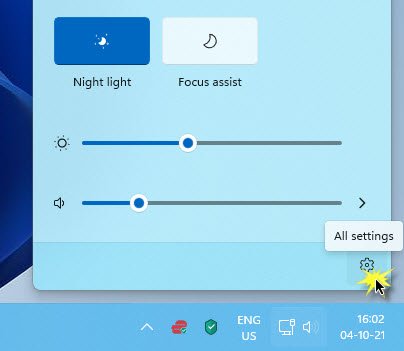 You can see an icon on the right side, clicking on which will open Settings.
How to use Windows 11 Settings
After you have opened the Windows 11 Settings, this is how your screen will look. In the top left corner, you have your Local Account Picture; and you will also see a search box below that, where you can simply search for any setting that you are looking for. As you can see in the image above, in the left pane, you will see 11 categories of your Windows 11 Settings.
System
Bluetooth & devices
Network & internet
Personalization
Apps
Accounts
Time & language
Gaming
Accessibility
Privacy & security
Windows Update.
There are tons of Settings related to Windows Security, Windows Permissions, App Permissions, Personalization that lets you select the theme for your PC, Sign-in options, Windows Backup, Display, Sound, and WiFi and Internet, and many more. We will now cover each and every category and sub-category of these Windows 11 Settings.
1] Windows 11 System Settings

Clicking on System in the left pane, will open all your Windows 11 System Settings. These settings include the ones that are associated with your systems such as your display orientation, resolution, sound, screen, troubleshooter preferences, and such. Following are the sub-categories of System Settings:
Display: Here you can adjust the brightness of your built-in display; and apply warmer colors by turning on and setting the duration for the Night light. You can scale and change the size of the text, apps, and other items. You can also adjust the display resolution and display orientation. This also lets you change the default graphics settings.
Sound: This allows you to adjust the volume of your system. You can pair a new input device and set the input volume according to your preference. All the advanced settings related to the Input and Output Devices are situated here, and you can also troubleshoot the common sound problems.
Notifications: Here, you can turn on or turn off the notifications and alerts from the apps, system, and your contacts.
Focus Assist: These settings let you prioritize and choose when and which notifications you would like to receive – you will find all your notifications in the notification center, which you can view at any time. You will find the check box that shows you a summary of what you've missed when focus assist was on.
Power: This includes settings related to sleep, battery usage, and battery saver.
Storage: Here, you will find Storage Spaces, Backup options, Cleanup recommendations, and Configuration rules.
Nearby Sharing: This allows you to share files, photos, and links with nearby Windows devices.
Multitasking: Find the option to automatically resize and rearrange windows on your PC, desktop, and task switching.
Activation: As the name suggests, you will find all the details related to the product key, activation state, and subscriptions.
Troubleshoot: You will find the recommended troubleshooter preferences to fix any issue that could occur on your Windows PC. You can run troubleshooters to fix problems related to Internet Connections, Windows Update, Printer, Audio, Bluetooth, and such. Also, in the recommended troubleshooter history, you can see if and which all troubleshooters have your Windows device run. These troubleshooters can help you fix Windows 11 Problems.
Recovery: If you are having problems with your PC, these recovery settings will help you fix the problem. You can choose to fix these problems by running a troubleshooter. If that does not fix it, you may then choose to reset and reinstall your Windows PC. This also includes an Advanced Startup option, which restarts your PC – including starting from a disc or USB drive.
Projecting to this PC: All options related to your PC's permissions and discoverability are found here. If you wish to use the Screen Mirroring feature, you can project your Windows phone or PC to your existing screen – this lets you allow its keyboard, mouse, and other devices as well.
Remote Desktop: The Remote Desktop app allows you to connect your PC and use it from another device. When you enable and turn on the Remote Desktop settings, you and the other selected user accounts can connect to your existing PC remotely.
Clipboard: In this section of settings, you will find your clipboard – cut and copy history, sync, and clear clipboard settings.
About: As the name suggests, you will find all the details about your Windows PC, such as device name and specifications, device ID, product ID, installed RAM, system type, Windows OS specifications, and support. Here, you can also rename your Windows PC. You will also find links to Related Settings to Product key and activation, Remote desktop, Device Manager, and BitLocker.
2] Windows 11 Bluetooth & devices Settings

Next, we have Bluetooth & devices settings. These Settings are related to Bluetooth, printers, scanners, mouse, keyboard, and such other devices. Let us go through the sub-categories one by one:
Bluetooth: Turn on this option to make your Windows PC discoverable, in order to connect it to other devices.
Devices: You can add a device such as audio devices, controllers, mice, keyboard, pens, TVs, Wireless monitors, Xbox controllers, and other devices.
Printers & scanners: These settings allow you to add a printer or scanner, troubleshoot, and choose printer preferences.
Your Phone: Connect your phone to access your Android phone's photos, texts, etc.
Cameras: Access all the camera privacy settings, connected cameras, and default image settings here.
Mouse: All the mouse settings such as mouse pointer speed, scrolling, buttons, and visibility are found here.
Touch: You can turn on three- and four-finger touch gestures, scroll, taps, zoom settings in this section.
Pen & Windows Ink: These settings let you use your own handwriting to enter text and set pen button shortcuts.
AutoPlay: You can turn on the AutoPlay option for all media and devices here, and also choose AutoPlay defaults.
USB: These settings are related to USB connection notifications, USB battery saver, and mobile device preference.
3] Windows 11 Network & internet Settings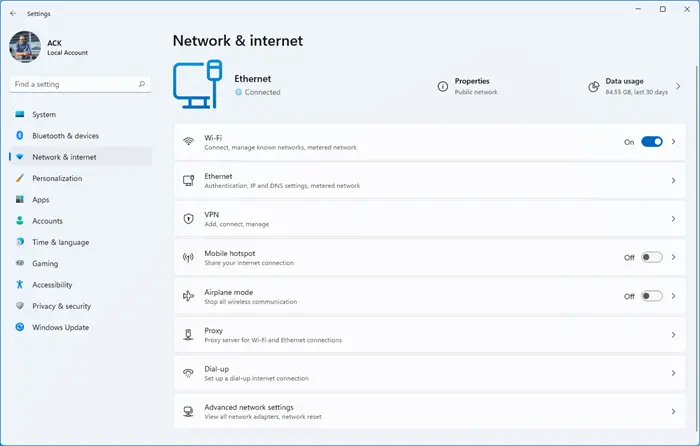 We now have Network & Internet Settings, which include settings related to WiFi, VPN, Proxy, Mobile Hotspot, and so on. Let us look into them one-by-one:
WiFi: When you turn this button on, you will see all the available networks – you can connect to the network of your choice accordingly! You can manage known networks here, by editing, adding, or removing them.
Ethernet: The settings with regards to the authentication of Ethernet and IP and DNS Settings are available in this section.
VPN: Turn on the advanced VPN settings here to allow VPN over metered networks, VPN over roaming.
Mobile Hotspot: Mobile Hotspot allow you to share your mobile's internet connection over WiFi or Bluetooth.
Airplane Mode: By turning on the airplane mode, your device will stop all the wireless communication such as WiFi, Bluetooth.
Proxy: You can use a Proxy server for Ethernet or Wifi connections. You will find options for automatic as well as manual proxy setup.
Dial-up: You can set up a new Dial-up internet connection here.
Advanced Network Settings: In this category of settings, you will find settings related to Network Adapters such as Bluetooth Network Connection, Ethernet, WiFi, Data usage, Hardware and connection properties, and Network reset, etc.
4] Windows 11 Personalization Settings
Personalization Settings in Windows 11 help you to customize and personalize your PC. These settings include those related to the background, fonts, theme, lockscreen, and more. These settings allow you to completely customize your PC as per your preference.
Background: You can personalize your PC's background by choosing a picture, a solid color, or even a slideshow.
Colors: You can choose the mode of the color here – light, dark, custom – these are the colors that appear in Windows and the apps. You can also turn on the Transparency effects here.
Themes: Themes comprise a number of elements such as background, sounds, color, mouse cursor, etc. You can choose an appropriate theme for your PC to give the look and feel of your choice.
Lock screen: This section includes settings related to lock screen images, apps, and animations.
Touch keyboard: Select the keyboard size, keyboard theme, and key text size here.
Start: You can choose to show the recently added apps, most used apps, as well as recently opened items in Start, Jump Starts, and File Explorer.
Taskbar: Choose the items you wish to show or hide on the Taskbar – Search, Task view, Widgets, Chat. Similarly, you can choose which Taskbar corner icons to hide or show at the corner of your Taskbar.
Fonts: You can choose from the available fonts or install new font options.
Device usage: Here, you can select all the ways in which you want to use your device with regards to gaming, entertainment, business, family, and creativity.
5] Windows 11 Apps Settings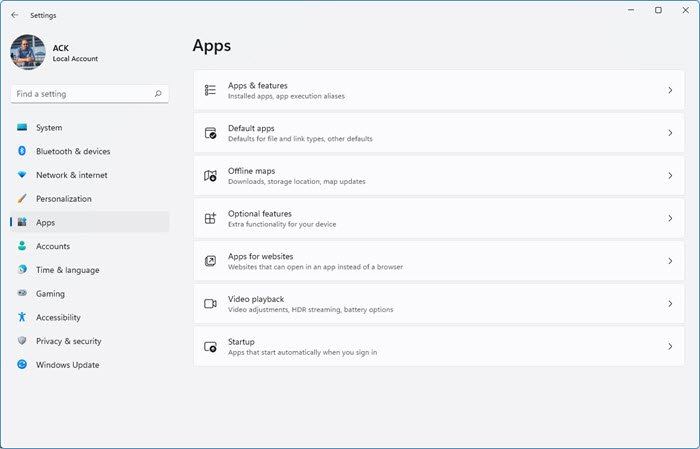 The Apps Settings comprise Apps &all the settings linked to the installed apps and their features.
Apps & features: You will find your app list and all the related settings here.
Default apps: You can set defaults for your applications here.
Offline maps: These settings allow you to download maps for apps when there is no internet connection available. You can also choose the location to save the offline maps. You will also find an option to update maps.
Optional features: In Optional features, you can add and view optional features like fonts, tools, etc. as well as view the optional feature history. This helps you add extra functionality to your Windows 11 PC.
Apps for websites: Here, you find the links to websites that can open in an app instead of a browser.
Video playback: Click here to find settings related to video adjustments, HDR streaming, and battery options.
Startup: Turn on these settings to configure apps to start automatically when you sign in or log in.
6] Windows 11 Accounts Settings
The Windows 11 Accounts Settings display your account information, sign-in options, device access, and more. Tou will see six sub-categories in the right pane – Your info, Email & accounts, Sign-in options, Family & other users, Windows backup, Access work or school.
Your info: Your account settings are here, where you can also manage them. It also gives you an option to Sign in with a Microsoft account instead.
Email & accounts: This section includes all the accounts used by email, calendar, and contacts. You can add a Microsoft, work, or school account here as well.
Sign-in options: You can choose ways to sign-in such as facial recognition, fingerprint recognition, PIN, password, security key, and picture password. In the additional settings, there is also an option of Dynamic Lock which automatically locks your Windows device when you are away or not using your PC.
Family & other users: The Family Safety settings are found here, where you can ensure your family member's online safety. You can set up a kiosk to use as a digital sign, interactive display, etc.
Windows backup: These settings allow you to back up your files, apps, preferences, in order to restore them across devices.
Access work or school: You can connect a work or school account here.
7] Windows 11 Time & language Settings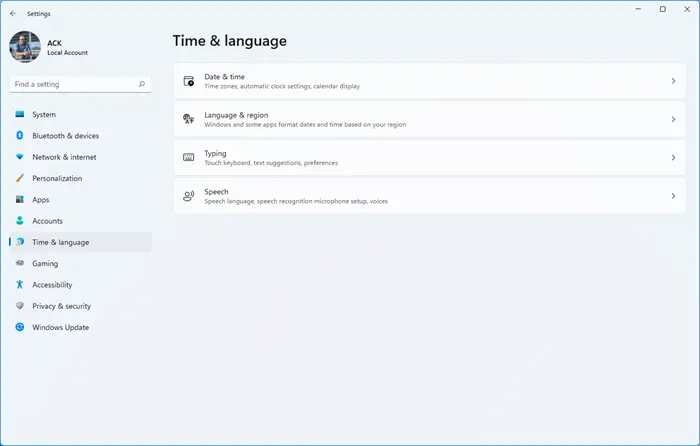 Time & Language Settings include your PC's clock settings, calendar display settings, Windows display language, and regional format.
Date & time: You can set the time and time zone automatically by turning on these settings. You can also choose to display additional calendars in the taskbar.
Language & region: Settings such as the Windows display language, preferred languages, country or region, and regional format are found here.
Typing: Head to this section for settings related to touch keyboard, multilingual text suggestions, typing insights, and advanced keyboard settings.
Speech: As the name suggests, you can choose the primary language you speak with your Windows PC. These settings also allow you to set up a microphone for speech recognition. Also, check the drop-down options to choose a voice from a number of options; and set the voice speed too.
8] Windows 11 Gaming Settings
The Gaming Settings allows its Windows 11 users to optimize their PC for better gaming performance.
Xbox Game Bar: The controller and keyboard shortcuts are found here. Click on 'Get to know Xbox Game Bar' to get more details on the same.
Captures: You can choose the location or folder to save the captures. Also, all the recording preferences such as video quality, maximum recording duration, video frame rate, etc. can be set here.
Game Mode: Turn on the Game Mode to optimize your Windows 11 PC.
9] Windows 11 Accessibility Settings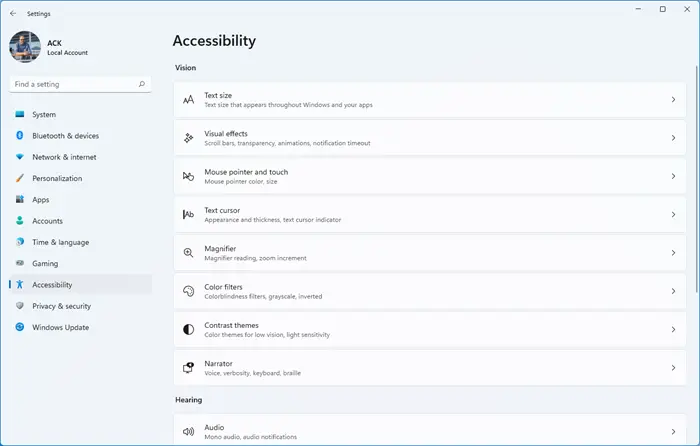 Windows 11 Accessibility Settings enable and assist users to use the computer, especially the ones who find it difficult. These settings include a number of settings related to Vision, Hearing, and Interaction.
Vision: Vision Settings include text size, visual effects, mouse pointer and touch, text cursor, magnifier, color filters, contrast themes, and narrator. For example, you can increase or decrease the size of the text, increase or decrease the zoom level, choose a theme to make the text and apps appear more distinct and visible, etc.
Hearing: Hearing Settings include audio and captions. For example, you can make your device easier to use by turning on the sound and displaying audio as text.
Interaction: Interaction Settings include speech, keyboard, mouse, and eye control. For example, you can dictate with your own voice, turn on keyboard shorts and access keys, increase or decrease mouse keys speed and acceleration, and connect an eye tracker to use eye control.
Read: Windows 11 Tips and Tricks.
10] Windows 11 Privacy & security Settings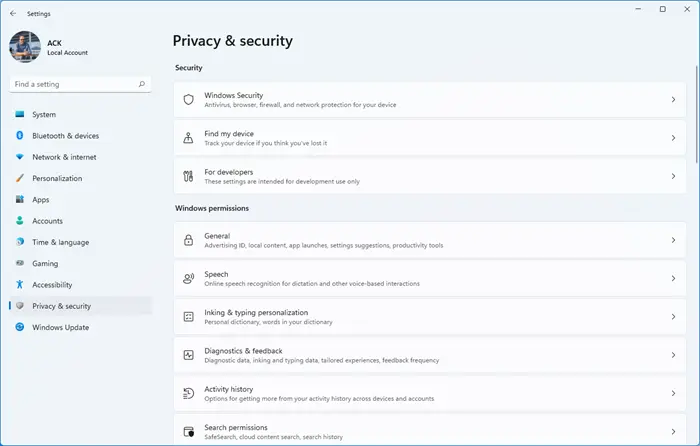 Privacy & security settings comprise some of the most crucial settings related to your device. These include Security, Windows permissions, and App permissions.
Security: You can open Windows Security to check the health of your PC. This will tell you if there are any actions needed in terms of virus & threat protection, account protection, firewall & network protection, app & browser control, device security, and device performance & health. These settings also allow you to track your device by using the feature 'Find my device'. Advanced developer settings are also located here.
Windows permissions: Under Windows permissions, you will see sub-categories such as General, Speech, Inking & typing personalization, Diagnostics & feedback, Activity history, Search permissions, and Searching Windows. For example, you can turn on online speech recognition, store your activity history on your device, send your activity history to Microsoft, enable SafeSearch, enable Cloud Content Search, set indexing options, etc.
App permissions: You can turn on or turn off various app permissions regarding location, camera, contacts, phone calls, microphone, voice activation, file system, pictures, videos, automatic file downloads, documents, email, account info, calendar, notifications, call history, etc.
11] Windows Update Settings in Windows 11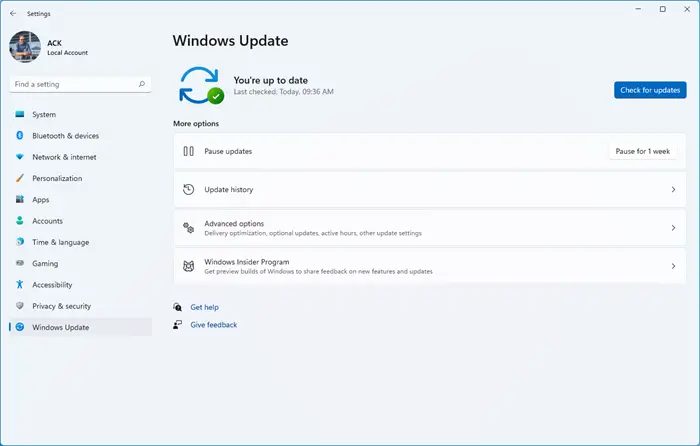 In Windows Update Settings, you can check for recent updates, if any. It also shows you the status if you are up to date and the last time checked for updates.
You can Pause updates, View your update history, Download updates over a metered connection, Set active hours, Get Microsoft Office and other updates, and such.
You will also find tabs for Advanced options and Windows Insider Program.
These are all the new improved Windows 11 Settings that help you to optimize your Windows 11 device, by providing better functionality.
Hope this step-by-step guide was useful and easy to understand!
Read: Windows 11 Settings you should change right away.
What are the new features in Windows 11?
Windows 11 has all the features, power, and security of Windows 10. The primary difference appears to be a redesigned Desktop and the Settings menu. But apart from this, there are several other new features under the hood. Windows 11 offers new Security features as well as new features for Business and Enterprise.
Read next: Windows 11 Tutorial for Beginners.