In this post, we will talk about the Windows Update Settings in Windows 11. Apart from the redesigned Start menu, taskbar, and other features in Windows 11, Microsoft has also made changes in its Settings app. In comparison to the Windows 10 Settings app, the Windows 11 Settings app has got a new interface and new names for different categories and Settings pages. Some changes have also been done in the categories, pages, and options, and Windows Update Settings is one of them. So, let's check what we get in the Windows Update Settings of Windows 11.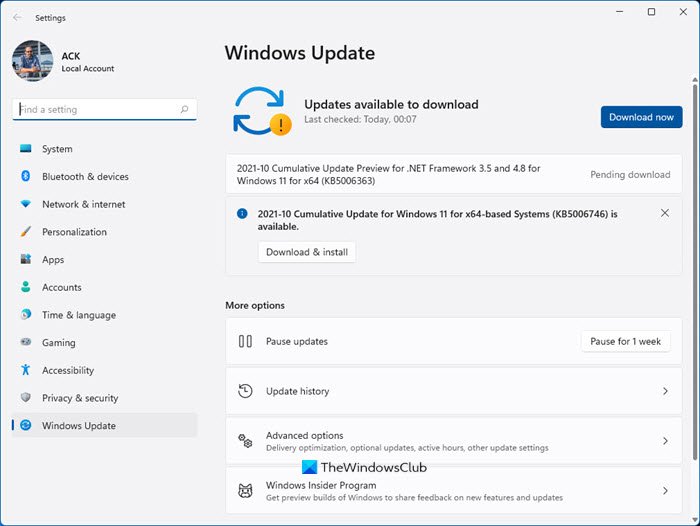 Windows Update Settings in Windows 11
To access the pages and options available in Windows Update Settings, open the Settings app using Win+I hotkey, and click on the Windows Update category available on the bottom left section.
On the right-hand section, there is a Check for updates button using which you can download Windows quality updates and other updates (if available). Just below it, a More options section is present where Windows Update pages are available. These pages are:
Pause updates
Update history
Advanced options
Windows Insider Program.
Let's check about these pages and the options present in them.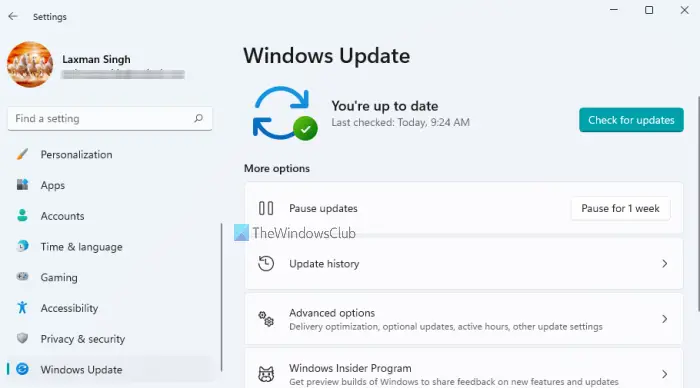 1] Pause updates

As the name indicates, this option helps to pause Windows updates. You can use the Pause for 1 week button and then Windows updates won't be available till that time period. Windows 10 has the option to specify a date to resume the updates, but Windows 11 doesn't provide such a feature (for now). Updates can be paused for 1 week and then the updates option will be resumed.
If you want, you can also resume updates before one week using the Resume updates button that will be available after you have paused the updates.
2] Update history
Whether you have downloaded some Feature Updates, Quality Updates, Driver Updates, and/or other updates, this Settings page of Windows Update shows the list of all such updates section-wise. You just need to expand a particular section to check the list of updates available in it.
For each update, you can see the name and installed date. Apart from that, you can also learn more about an update on the official support page of Microsoft using the given link.
Update history page also includes a Related settings section. You can use that section to:
Access the Uninstall Windows updates page
Open the Recovery Settings page to reset your PC, access the Advanced startup options, etc.
3] Advanced options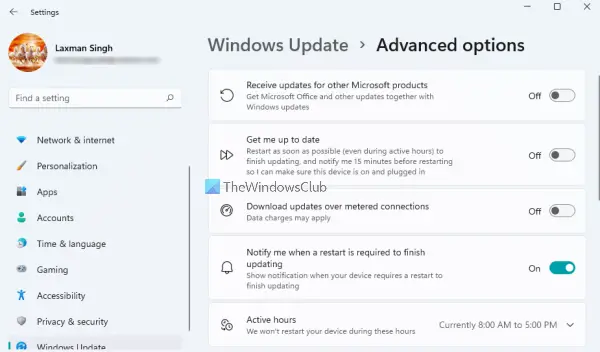 The options covered under this Advanced options page are:
Active hours: Using this option, you can set a time range to let Windows know when you use your computer. You can also set an automatic option based on which Windows will automatically set your active hours based on your daily activity.
Get me up to date: If this option is turned on, Windows will restart your device for finishing the pending updates. Though Windows doesn't restart your computer during active hours to finish the updates, this option will bypass that function. Windows will also notify you 15 minutes earlier before restarting your computer. This will help you wrap up your work and plug in the charger if your laptop battery is low so that updates can be installed uninterruptedly.
Download updates over metered connections: If you have an internet connection(s) that have limited data but you still want to download Windows updates with that particular connection(s), then you can turn on this option. Windows don't download updates on metered connections, but this option sets that function off.
Notify me when a restart is required to finish updates: If this option is turned on, you will receive a notification on your computer screen to remind you that you should restart your computer to complete the updates.
Receive updates for other Microsoft products: Turn on this option if you want to receive Microsoft Office updates as well as other updates along with Windows update.
An Additional options section is also there under the Advanced options that has a couple of useful features. These are:
Optional updates
Delivery Optimization.
Optional updates
This section or feature includes the driver updates that you can download and install to your computer. Though automatic updates of Windows already keep your device drivers up to date, you can use this section if you have a specific problem related to installed devices. Just select drivers from the available list and press the Download & install button to update those device drivers.
Delivery Optimization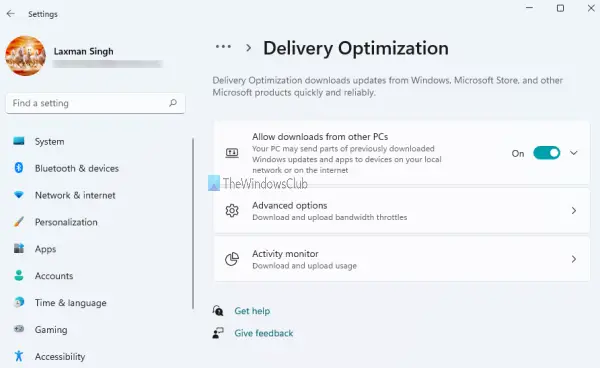 Under this feature, you will have options to:
Allow downloads of Windows updates as well as apps to your computer from those devices that are either available on your local network or from devices that are present on the internet and your local network.
Check download statistics and upload statistics for Windows updates. Click on the Activity monitor option to check the stats. For download stats, you can check download usage or percentage from Microsoft, from PCs on the internet, local network, and Microsoft cache server. And, upload stats show upload usage for PCs on the internet and on your local network. A beautiful chart is also provided for upload and download stats.
Set download and upload bandwidth limit for Windows apps, Windows updates, and other Microsoft products. Use Advanced options for this. Though Windows dynamically optimize the bandwidth for your device, you have this option to set download bandwidth for updates in the background and foreground, upload bandwidth for updates to other PCs on the internet, etc.
In addition to these two main features, you can use the Additional options section for accessing:
Recovery Settings page
Sign-in Options page
Configured update policies: This option will show policies applied to your computer by your organization (if any).
4] Windows Insider Program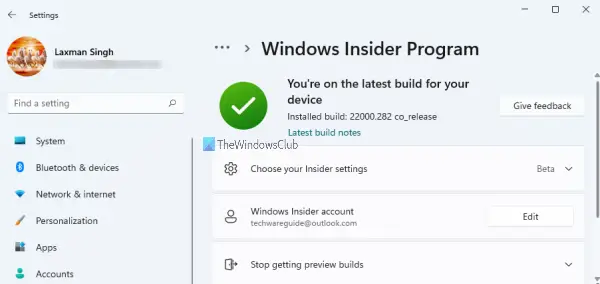 If you want to try new features and updates prior to the stable release of Windows 11, then you can use this page to join Windows Insider Program. You will be able to select if you want to choose:
Dev Channel: This channel is for highly technical users. You will get preview builds from the earliest stage in the development cycle. The builds will not be stable and there would be a lot of bugs or issues and the stability level is also low. Apart from that, some features could be removed later when the stable release will be available to the public.
Beta Channel: In this channel, preview builds will be more reliable than Dev Channel. It is also the recommended channel for insiders.
Release Preview: Join this channel if you want to get the upcoming version of Windows before it releases to the world. This channel provides a more stable version of Windows 11 than the other two channels.
So, just open the Windows Insider Program page, and then you can:
Choose your Insider settings: You have to use your Microsoft account so that you can select an insider channel. Later, you can also switch to any other channel once you have joined the insider program.
Change your Windows Insider account. It is handy when you want to use some other Microsoft account for the insider program.
Stop getting preview builds. When you want to switch from Insider preview build to stable build of Windows 11, you need to use this option. Also, this option will work only when you are using the Beta or Release Preview channel.
So, this is all about Windows Update Settings for Windows 11 computers. Hope you find this information useful and helpful.
How do I turn off automatic updates on Windows 11?
To turn off automatic updates in Windows 11, there are two native options:
You can access the Windows Update category and then click on the Pause for 1 week button to stop Windows from getting updates. This option only defers or pauses Windows updates. You need to use that button again once one week is completed.
Use Services window to completely turn off Windows updates. In that window, you need to access and disable Windows Update service and Windows Update Medic service by using their properties.
How do I change Windows Update Settings in Windows 11?
To change Windows Update settings in Windows 11, you need to open the Windows Settings panel first. Although there are so many methods, you can press Win+I to open it on your PC. Then, switch to the Windows Update tab on the left-hand side. Here you can find all the options that you might want to change.