In this post, we will show you how you can effectively & completely block, stop, disable & turn off Windows Update in Windows 11/10 so that you can install them when you want to. You will need to disable Windows Update Service, WaaSMedicSVC, Set Network as Metered connection, or use a Tool.
How to disable Automatic Windows Update in Windows 11/10
Some background information before you proceed!
There is no option to stop or turn off Windows Updates using the Control Panel or Settings app in Windows 11/10, as it used to be with earlier versions of Windows. But there is a workaround to disable or turn off Windows Update in Windows 11/10, that we'll talk about in this post.
First, let us take a look at why people may want to turn off Windows updates.
Turn off Automatic Windows Update in Windows 8.1 and earlier versions
With Windows 8.1 and earlier versions, we had Windows Update giving us options to:
Install updates automatically (Recommended)
Download Updates but choose when to install them
Check for updates but let me choose whether to download and install them
Never check for updates (Not Recommended)
These options provided a way to defer updates until we had enough time to download and install them or to have them downloaded automatically and then install them at a time we wish. These options are not present in Windows 11/10 Update & Security Settings now.
Turn off or Pause Automatic Windows Update in Windows 10
Now in Windows 10, open Settings app > Update and Security > Windows Update > Advanced Options, you will see the following settings: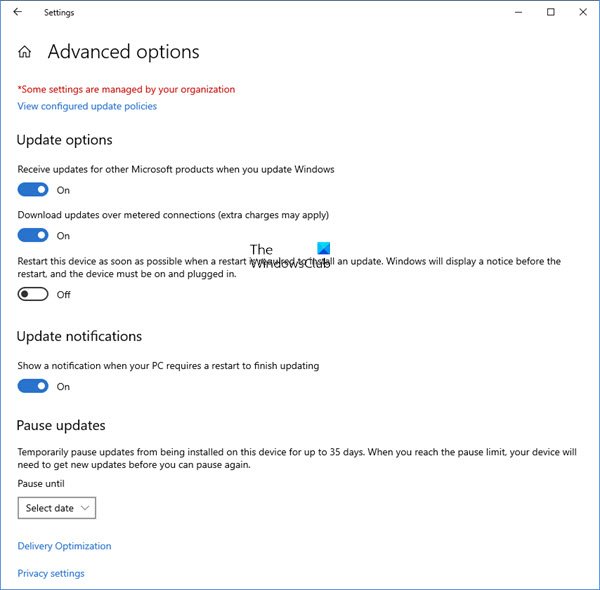 Microsoft has explained that it will provide updates in two distinct methods for its two distinct types of clients.
The Home users now have the option to pause Windows Updates. Earlier they did not have this option. Windows 10 will also let you defer restart, but that is not enough because a download in the background might slow down your browsing in some cases.
The other ring of users are Enterprise users who will have the option to delay updates so that they can hold it to the time when they are free. Microsoft said it would push updates to such users less frequently so that they are faced with minimum downtime. These are the corporates and real-time users such as hospitals and ATMs etc.
Coming back to Home users and Professional users, there is not even the option to delay the updates. They will be downloaded as soon as they are available. The availability of Windows Updates for normal users means that the updates have already been tested by Windows Insiders. If you are a Windows Insider, running Windows 10 Home or Pro, you will be in priority to receive updates. After a few days of you testing the updates and if it doesn't pose any problems, it will be released to the normal ring of users.
Thus, you are stuck. Windows 11/10 will keep on downloading updates as soon as they are available and will occupy your computer resources, when you may not want it too. Some of us will want to keep the automatic downloads to be stopped so that we can install the updates manually when free – when we are not working on something urgent. That is to say; some users would want the liberty and option to download and install updates when they want and not when Microsoft provides them.
Since there is no option to turn off Windows updates from Control Panel or PC Settings, here is a workaround.
Read: Windows Update enables itself even after turning it Off.
Pause or Stop Automatic Updates in Windows 11
It is good to keep your computer up to date, but sometimes, you may want to manually update your computer instead of allowing the system to install it automatically. Therefore, in this article, we are going to see how to stop Automatic Updates in Windows 11. These are the following ways by which you can stop or defer or pause automatic updates in Windows 11 via Settings.
First of all, the easiest way to stop automatic updating of Windows for a few days would be to change your Windows Settings and in this section, we are going to see how to do the same.
To pause automatic updates from Windows Settings, follow the given steps.
Open Settings by Win + I.
Go to Windows Updates.
Click Pause for 1 week.
After this, your computer will not automatically install new updates for a week, but in the meantime, you can manually update your computer.
Completely Turn off Windows Updates in Windows 11 or Windows 10
To completely stop or disable automatic Windows Updates in Windows 11/10, you will have to:
Disable Windows Update & Windows Update Medic Services

Change WU settings using the Group Policy Editor

Set your network connection to 'Metered'
Use a free tool that lets you disable automatic updates.
Now let us see each of these suggestions in detail.
1] Disable Windows Update & Windows Update Medic Services
Next up, we have another method for you to turn off automatic updates, that is, by stopping the Windows Update service.
If you want to stop Windows Update Service, use the following steps.
Open Services from the Start Menu.
Look for the 'Windows Update' service.
Right-click on it and select Properties.
Change the Startup type to Disabled and click Apply > Ok.
You need to also disable the Windows Update Medic Service or WaaSMedicSVC. The Windows Update Medic Service is a new Windows Service introduced in recent versions of Windows 10. This Service has been introduced to repair Windows Update components from damage so that the computer can continue to receive updates. We recommend you try this method first.
You can disable the Windows Update Medic Service via Windows Services Manager. In the Services window, scroll down to Windows Update Medic Service and turn off the Service. To turn it off, right-click on the process, click on Properties and select Disabled. That will take care of Windows Updates not being installed on your machine.
Now, if you ever want to enable the Service, follow the aforementioned steps, but this time, change the Startup types to Automatic.
Do remember to install updates though!
Since Windows is a Service now onwards, you have to keep your computer updated. To be able to install the next set of features or a newer build, you will require the earlier updates to be installed. That's why if you use the above workaround, you will have to go to the Windows Services Manager and turn it on once in a while to download and update your copy of Windows.
After you turn on the Windows Update Service, when you open Windows Update in Settings, you will see a message that updates were not installed because the computer was stopped. You will have to click on Retry so that all the available updates are downloaded and installed. This may take two or three "Check for Updates" tries. You will have to keep on clicking "Check for updates" until it says your computer is up to date. Then you can go back and turn off the Windows Update service until the next time you feel you are free enough to spend time updating your copy of Windows 11/10.
2] Change WU settings using the Group Policy Editor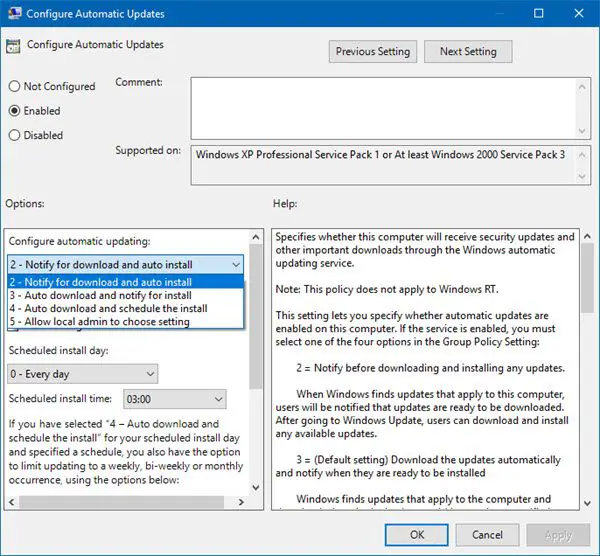 If your version of Windows 11/10 has Group Policy, you can also change some settings using the Group Policy Editor. Run gpedit and navigate to the following policy setting:
Computer Configuration > Administrative Templates > Windows Components > Windows Update.
On the right side, double-click on Configure Automatic Updates and change its settings to suit your requirements.
Once you configure the settings, you will see the result in the Settings app as follows: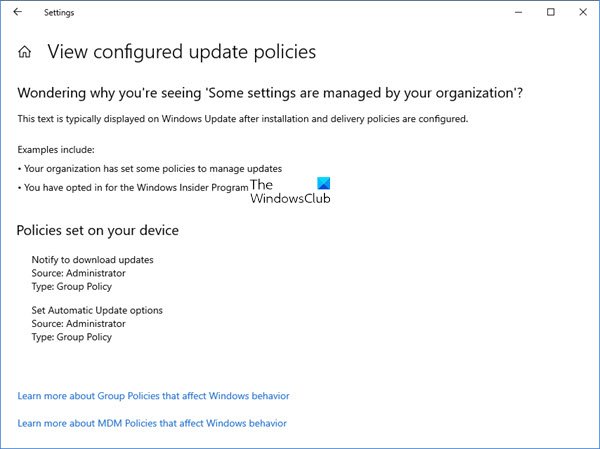 Read: How to configure Windows Updates using Registry.
We do not recommend that you disable automatic Windows Update in Windows 11/10. If your computer is fine with downloads in the background and doesn't affect your work, it is not advisable to do it. But if you face a slowdown of the computer due to updates downloading and installing in the background, the above tip to turn off Windows updates in Windows 10 will be of some help.
3] Set your network connection to 'Metered'
Setting your network connection to 'Metered', can also stop Windows 11/10 from automatically downloading the Updates. You can do it as follows – Settings app > Network & Internet > WiFi > Advanced options. Move the slider to On position for Set as metered connection.
Windows 10 users: This post will show you how to set Metered Connection in Windows.
Windows 11 users: If you enable Metered Connection on a network, your Windows 11 computer won't automatically download the update when connected to that particular network. Follow the given steps to do the same.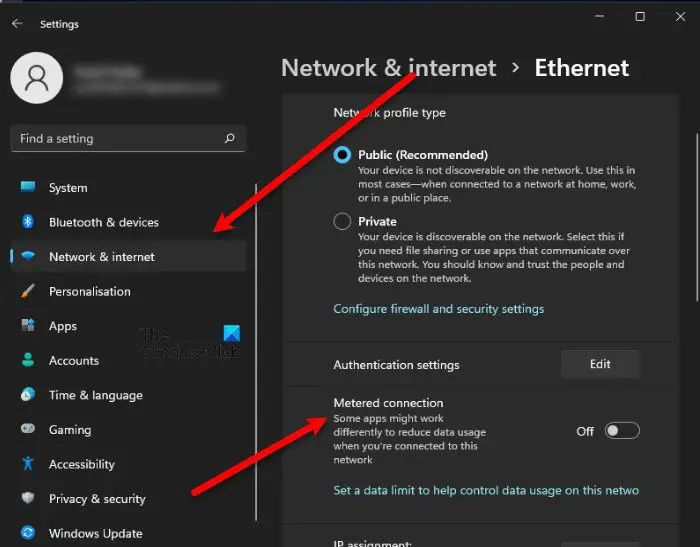 Open Settings from the Start Menu.
Click Network & Internet > Properties.
Now use the toggle to enable Metered connection.
Now, your computer will download updated automatically when you are connected to that network.
4] Tools that help you block automatic Windows Updates

Here is a list of some free Windows Update Blocker tools to Stop Automatic Windows Updates. You might want to take a look at them as they allow you to control Windows 11/10 Updates with a click.
Windows Update Blocker
StopUpdates10
Wu10Man
Kill-Update
WuMgr
Win Update Stop
Win Updates Disabler
WAU Manager.
Incidentally, Microsoft has released a tool called Show or Hide Updates that allows users to hide or block specific unwanted Windows Updates. Using it, you can stop Windows 11/10 from downloading specific updates.
Is it safe to turn off Windows Update in progress?
No, you should never turn off your computer when it is installing the update. It can lead to some serious issues such as BSOD or corrupted Windows. If you are not sure whether you want to use the update in question, you can always roll back to the previous version. But, stopping the ongoing update should not be an option.
What if I don't update Windows?
Updates are primarily used by Windows to roll out bug fixes and add new features to Operating System. However, if you are happy with the current set of features of your OS and its stability you can skip updates for some time.
But eventually, you have to update as you can't afford to run an outdated OS. Otherwise, some of the applications will stop working and you will experience some other failures. Even some of the games want the latest version of Windows. Therefore, it is always recommended to keep your system up to date.
Related reads: