Microsoft has released a tool that allows Windows users to hide or block specific unwanted Windows Updates or Driver Updates. Using the Show or Hide Updates Tool, you can stop it from downloading specific updates.
Windows 10 for home users, will always download and install Windows Updates automatically, so as to keep your device always up-to-date, with the latest features and fixes.
UPDATE: 28th DEC 2022 – You can now download this tool here from microsoft.com.
UPDATE: Microsoft appears to have taken down the Show Hide Updates Tool (wushowhide.diagcab), but you can still download it.
TIP: You can use PowerShell to Hide Windows Updates.
Block unwanted Windows Updates in Windows 11/10
There is no option to turn off Windows Updates using the Control Panel or Settings app in Windows 10, as it used to be with earlier versions of Windows. There is a workaround to disable or turn off Windows Update in Windows 10. But you don't want to do that if your objective is to block only unwanted Windows Updates, which may be known to be causing trouble. In such instances, it is better to use this tool from Microsoft instead.
Show or Hide Updates Tool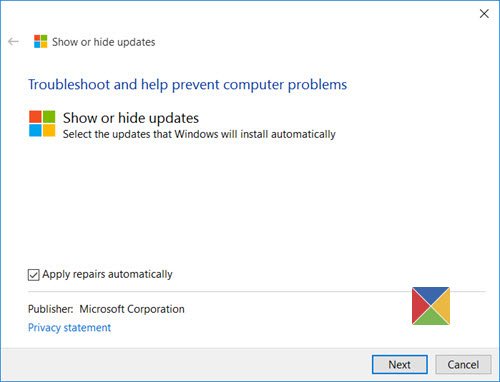 In case, for some reason you wish to hide or block unwanted Windows Update on your Windows 10 computer, you can use the Show or Hide Updates tool from Microsoft.
Once you have downloaded the standalone package from Microsoft, run it.
Click on Next to proceed.
The Show or Hide Updates tool will scan your system for updates.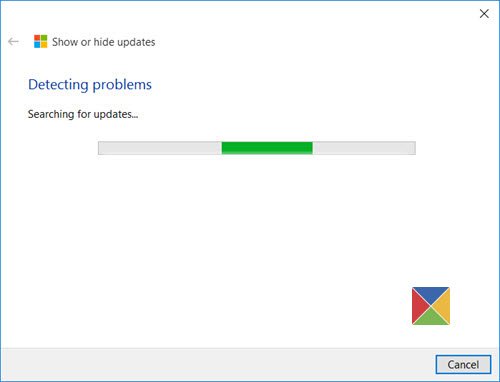 Once the scan is completed, you will see the following screen. Select Hide updates.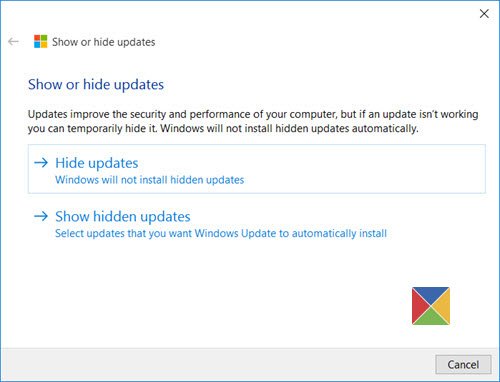 You will next see the following screen where you can choose the updates you don't want to install.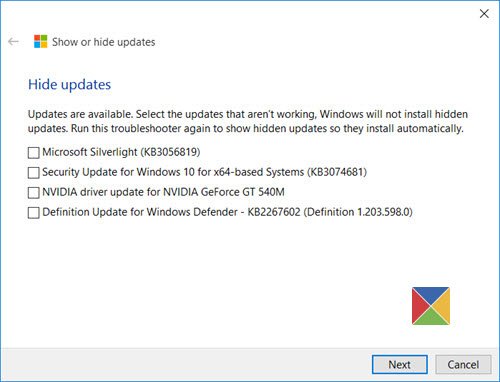 Using this tool will prevent the problematic driver or update from reinstalling automatically the next time Windows Updates are installed.
If later on, an updated driver or update is released and you wish to install it now, you may click on the Show hidden updates and uncheck them
You can download the tool from KB3073930.
You can also stop automatic Driver updates if you wish. This post will show you where to look for Windows Update History.
TIP:  StopUpdates10 can also help you block Updates on Windows.