While simply plugging in the device and letting Windows 10, Windows 8, or Windows 7 install the driver automatically is cool, you may for some reason prefer not to have the Driver installed automatically. You can if you wish, stop windows from installing the drivers automatically. You can stop automatic Driver updates in Windows 10/8/7. If you follow this tutorial, you can disable automatic driver installation in Windows 10, using Control Panel, Windows Registry, or Group Policy Editor.
Disable Automatic Driver Updates
1] Using Control Panel
While it is recommended that you let make Windows download Drivers & Realistic Icons automatically if you wish, you can stop Windows 10/8 from automatically installing Drivers, open Control panel > Advanced System settings > Hardware tab > Device Installation settings.
You can also access it by opening Control Panel > Device & printers > Right-click the Computer under Devices and select Device Installation settings.
You will be asked, Do you want to download driver software and realistic icons for your devices?
Here select No, let me choose what to do. Click Save changes.
2] Using Group Policy Editor

Type gpedit.msc in start search and hit Enter to open Group Policy Editor.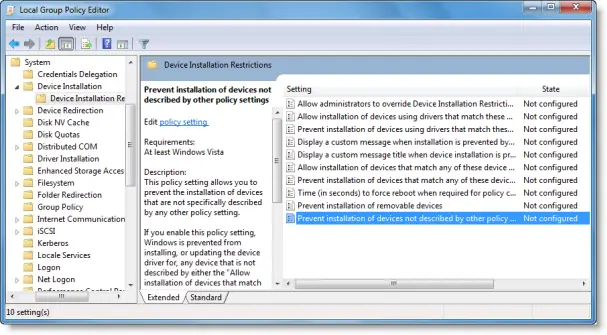 Navigate to Computer Configuration > Administrative Templates > System > Device Installation > Device Installation.
Now in the RHS pane double click on Prevent Installation of Devices not described by other policy settings.
Set it at Enabled. Click Apply / OK.
3] Using Windows Registry
If your Windows does not have Group Policy, you can navigate to the following key in Windows Registry:
HKEY_LOCAL_MACHINE\SOFTWARE\Microsoft\Windows\CurrentVersion\DriverSearching
Set the value of SearchOrderConfig to 0 to block driver updates. A value of 1 allows downloads of driver updates.
Restart your computer.
Stop automatic driver installation or reinstallation
If a Device Driver has already been installed and you want to remove it and then stop that particular driver from being update, do the following:
Uninstall the Driver via Devices Manager
Use the Show or Hide Updates Tool in Windows 10 to block the particular driver update.
Hope this helps.