Updates on Windows 10 are all about security patches and new feature additions. Although it is recommended always to keep your Windows computer updated from a security perspective, there might be reasons that you want to postpone, delay or do not install updates at all. Some reasons include slow or limited internet connectivity, or you don't like to be interrupted between your work for Windows Update. In this post, we've covered a small but effective utility called StopUpdates10 that can help you block Windows Updates as well as new version Upgrades on Windows 10.
Block Updates on Windows 10
Windows 10 is little hard on its users when it comes to updates. There is no inbuilt option to disable or stop updates completely. There are ways available that let you turn off Windows Update on Windows 10, but they are a little cumbersome.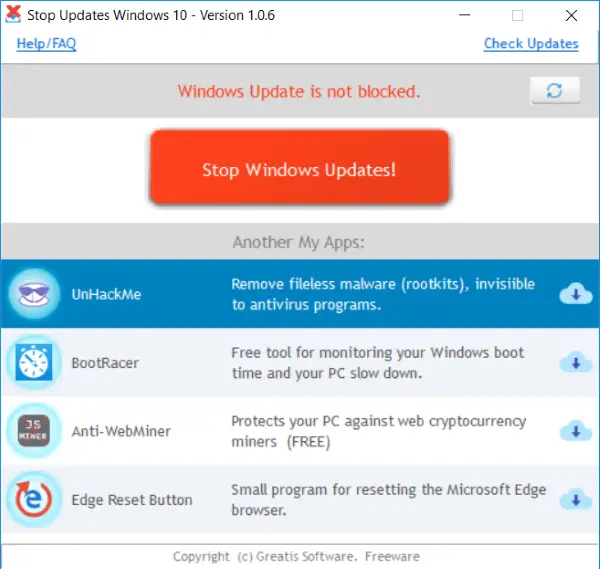 StopUpdates10, on the other hand, makes it a lot simpler for its users to disable & block updates on Windows 10. With a click of a button, you can completely disable updates without breaking anything. The program performs a set of tasks in the background which ensures that Windows should not be able to download updates from the server.
StopUpdates10 can also stop forced upgrades and all update notifications so that you can focus more on your work and less on the updates. The main motive of the tool is not to completely disable updates (it is not recommended as well), but to provide you with an option to block them temporarily. Accordingly, StopUpdates10 also offers a quick Restore button that can bring your computer back to the original state where Updates are allowed. The restore button comes very handy when you are on a better internet connection and decide to update.
Using the tool is simple enough, download the installer and follow the steps. Once installed, run the program and hit the orange button that says Stop Windows Updates. Voila, all the updates have been disabled now. You can verify this by opening Task Manager and checking the network usage by any of the Window's internal processes.
How StopUpdates10 works
If you are curious enough, the developer of the tool has provided us with the entire list of actions that happen in the background. The tool makes the following changes:
Registry Values: The program automatically changes the registry values for 7 registry keys for you so that you do not have to do it manually. All the registry changes can be easily restored back with the restore button.
Windows Update Service: StopUpdates10 completely stops this service and prevents it from auto-starting, essentially killing the automatic updates mechanism.
Blocks Processes: The tool also blocks some of the other processes like "EOSNOTIFY.EXE","UsoClient.exe", "MusNotification.exe", "UpdateAssistant.exe","WINDOWS10UPGRADERAPP.EXE", "remsh.exe", "dismHost.exe", "SIHClient.exe","InstallAgent.exe","Windows10Upgrade.exe", "WaaSMedic.exe", so that you do not get any update related notifications on your computer.
Restoring changes is also easy as is. All you need to do is hit the Restore Windows Updates button, and all the changes will be rolled back. The program also displays the status of Windows Update. Apart from that it also provides you with command line features so that you can include StopUpdates10 in your scripts as well.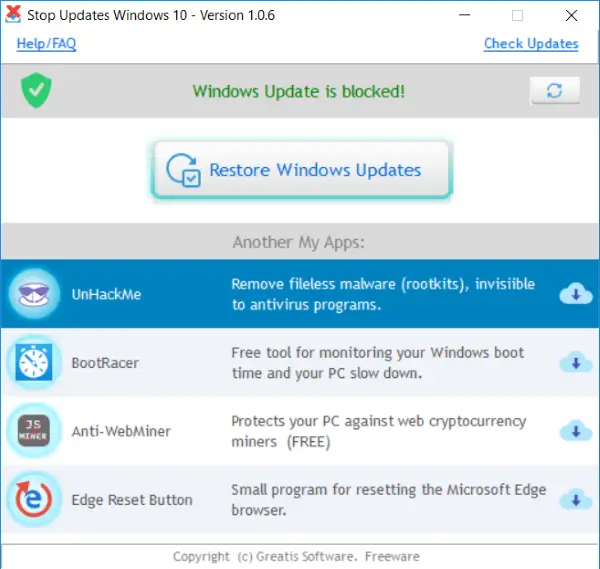 StopUpdates10 is a useful tool to have installed on your computer. It lets you block Updates as well as Upgrades on your computer for any period. The best part about this tool is that it does not delete or break any application on your computer. All the changes made are completely restorable and can be done with a single click.
StopUpdates10 is also easy and intuitive to use. It is completely free for both and personal and commercial usage and does not contain any adware. Click here to download StopUpdates10. It now includes a Stop Guard service that will fully block Windows updates in any case.
There are more free tools to block Windows 10 Updates listed here.