Apps & features Settings in Windows 10 comprise of settings that let you work around apps such as uninstalling or moving an app. You can choose the default apps to use, as well as search, sort and filter apps by drive. In this post, we will also be covering the concepts of Offline maps and Apps for websites and more about apps.
Apps & features Settings in Windows 10
To open the App Settings in Windows 10, click on the Start menu > Windows Settings > Apps. The Apps and features window will open. Under Apps, you will see six tabs or sections as mentioned below.
Apps and features
Default apps
Offline apps
Apps for websites
Video playback
Startup
We will now look at all of them step by step.
1. Apps and Features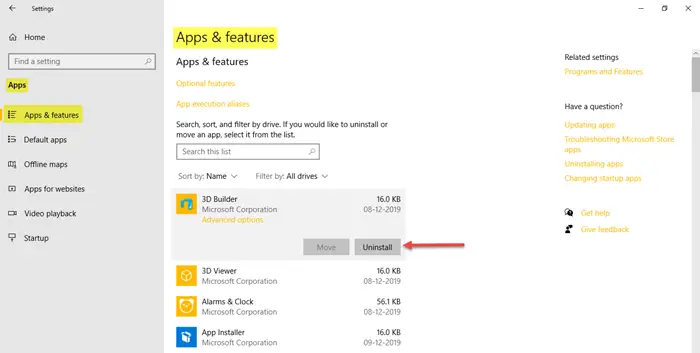 This section allows you to search, sort, and filter apps by drive. All you have to do is search for the name of the app in the search box given there. You can also move or uninstall an app.
Advanced options under every app will give you all the information about version, data usage, battery usage, app add-ons, and downloadable content. You can terminate, reset, and uninstall the app here as well.
2. Default Apps
You can choose your default apps here. You can select which apps to use to check your email, listen to music, view or edit pictures, to watch videos, and so on. At the end of the page, you will see three additional related settings.
Choose default apps by protocol
You will also find the Reset button when you want to set it back to the default apps that Microsoft recommends.
3. Offline Maps
Offline maps are the already downloaded apps that you can use even when you are not connected to the Internet. Click on the plus sign to download maps as per the country and region you are looking for. The Maps app will use these offline maps when you search for places or directions.
Under Storage Location, you can choose where you wish to store the downloaded offline maps. You can set the Metered Connections and Maps Updates to on / off as per your requirements.
4. Apps for Websites

You can associate apps with websites that can be opened by an app or a browser. To open the website with a browser, turn off the app.
5. Video Playback
In this section, you can change HDR video settings in Windows HD Color settings. Under Related Settings, you will find more settings such as display and battery settings.
You can choose to automatically process the video to enhance it, and also choose to play the video at a low resolution in order to save network bandwidth. Under Battery options, you can choose to optimize for battery life or video quality.
6. Startup
Startup apps are the apps that can be configured to start when you log in. As mentioned, these apps will mostly start as minimized or as a background task. You can sort these apps according to name, status, or startup impact.
We can conclude now by saying that we have covered all about apps and its optional features, default, and startup apps, offline maps, video playback settings, and apps for websites.