When you install Windows 11/10, a few small games & apps get pre-installed along with the Windows installation. For example, you may find Bubble Witch 3, Microsoft Solitaire Collection, etc, getting installed. If you wish to, you can uninstall preinstalled Apps & Games as well as all the apps that you have installed from Microsoft Store via Windows Settings.
Uninstall preinstalled Apps & Games via Windows Settings
How to uninstall Apps & Games via Windows 11 Settings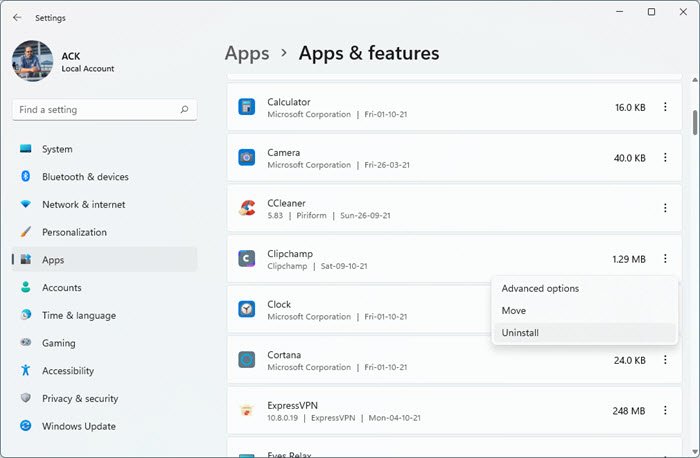 Open Windows 11 Settings > Apps > Apps and features > Locate the app > Click on the 3 vertical dots and select Uninstall.
How to uninstall Apps & Games via Windows 10 Settings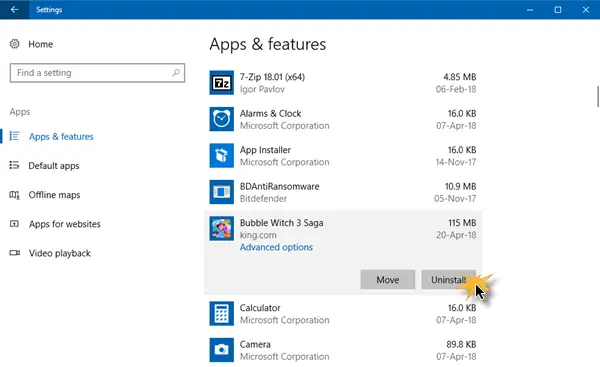 While you can always right-click on the Game or App icon in the Start Menu and select Uninstall, you can also uninstall them via Settings.
To uninstall an app, Open Windows 10 Settings by pressing the Win + I button together and go to Apps > Apps & features.
On your right-hand side, you will see all the installed games and apps which came with the Windows 10 installation.
Choose an app and click the Advanced options button.
Click on the Uninstall option.
Click the Uninstall button again for confirmation.
That's it! Your selected app will be uninstalled immediately.
Note: You may not be able to uninstall all the preinstalled apps such as Calculator, Camera, Mail and Calendar, Maps, etc. But you can uninstall apps like SketchBook, Spotify, as well as any Microsoft Edge extension.
Other options to uninstall:
10AppsManager will let you easily uninstall and reinstall Windows Store apps.