Windows 11/10 has a lot of options and flexibility to change the title bar color and other color schemes. To change the title bar color, Windows borders, Action center color, you have visit Settings >  Personalization > Colors page. When you use a color, it is saved under Recent colors. If you want to delete this Recent colors history in Windows 11/10, you can follow this tutorial.
Before getting started, it is recommended to create a System Restore point and backup Registry files to be on the safe side.
Delete Recent colors history in Windows 11/10
To delete Recent colors history in Windows 11/10, follow these steps-
Open Registry Editor
Navigate to Colors folder in HKEY_CURRENT_USER
Delete ColorHistory values
Restart Windows Settings.
Here is the guide in detail.
To get started, open the Registry Editor first. For that, press Win+R, type regedit, and hit the Enter button. You need to click the Yes button on the User Account Control popup. Following that, navigate to this path-
HKEY_CURRENT_USER\Software\Microsoft\Windows\CurrentVersion\Themes\History\Colors
After clicking the Colors key on your left-hand side, you will find some values like these-
ColorHistory0
ColorHistory1
ColorHistory2
ColorHistory3
ColorHistory4
These are the five colors that appear under the Recent colors heading in the Colors section. For your information, the ColorHistory0 represents the currently set color.
You need to delete these values. If you want to remove all five colors from the history, you can select all values in the Registry Editor, right-click on them, and select Delete.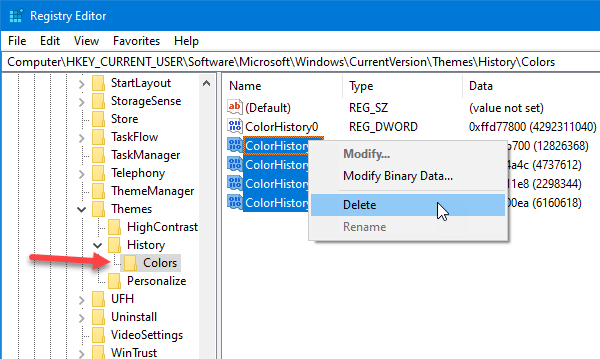 However, if you want to remove one color or so, you need to select the specific value in the Registry Editor and delete that one only.
After deleting, the Recent colors history section will be filled up with the default set of colors.
That's it!