In today's post, we will show you how to access and run the Hardware and Devices troubleshooter, which seems to have been deprecated from Windows 11/10. Technically, the Hardware and Devices troubleshooter hasn't been removed entirely from the Windows 10 operating system per se. Rather, it has been "buried" or hidden within the Windows 10 v1809 or later, and Windows 11.
The reason has been that, Microsoft after careful deliberation over observation via telemetry, determined the Hardware & Devices troubleshooter had the lowest daily usage and was usually run in tandem with other troubleshooters, therefore it was no longer needed and specific troubleshooters were to be used instead.
Listed below, are the main hardware and the most common ones that require a troubleshooter:
Keyboard.
Bluetooth.
Video playback.
Audio.
Printer.
Internet connection.
Battery.
Nevertheless, people across Windows online forums have been asking where it is as it had helped then in solving certain hardware issues.
A typical Windows user complaint about this missing troubleshooter is highlighted below.
A user complained:
Without the hardware detection troubleshooting my SD CARD port doesn't work! I have to always run the find my hardware/device troubleshooter to be able to open my SD card port!
Another user complained:
Previously the Hardware/Devices troubleshooter was useful when the brightness keys F2 and F3 stopped working temporarily. So, is there an alternative option now?
Hardware and Devices Troubleshooter missing
For Windows 11/10 users that still need to run this, apparently useful tool, do not despair, for there's a possible way to access this troubleshooter.
You will have to run the Troubleshooter using the command line. To invoke the troubleshooter, all you need do is to launch the command prompt, then type or copy and paste the command below and hit Enter.
msdt.exe -id DeviceDiagnostic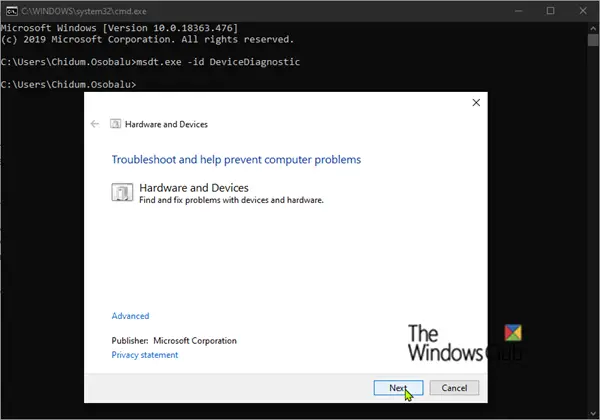 Once the troubleshooter displays, you can now proceed to run the tool as usual.
You can also download and use our useful freeware FixWin to open the troubleshooter with a click.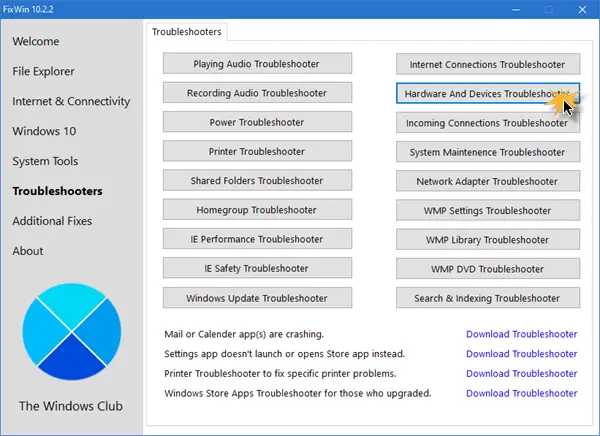 You will find the button in the Troubleshooters tab.
That's it, folks!