Error Code 21 is a Device Manager error code on Windows 11/10 that appears with the error message, Windows is removing this device. Although it is not a troublesome error and has no major consequences, you may find this message stuck on your computer for hours on end. In this article, we will explain to you what this error is, why you may face it and how you can rid your computer of it.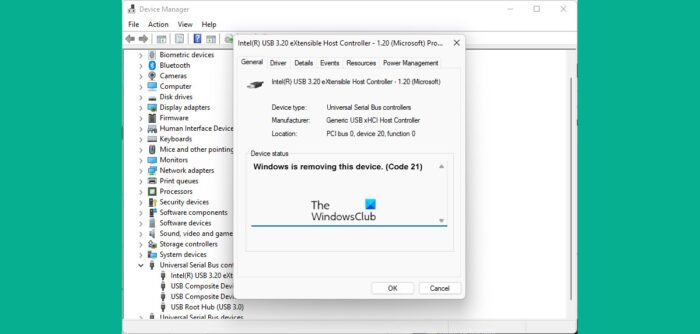 This Device Manager Error Code is found in the device status of the device properties, an option available in the Windows Device Manager. This error message can be found among other, more commonly found error codes like code 3, code 10, and code 21. More often than not, this issue is faced when Windows is trying to remove/uninstall an external hardware device and crashes in the process.
Fix Device Manager Error Code 21, Windows is removing this device
The common causes behind this error include system problems while loading the device driver or the relevant driver files being damaged. Let's look at how you can fix Device Manager Error Code 21 on Windows 11/10:
Wait for the error to fix itself
Restart your computer
Uninstall the problematic device
Run the Hardware and Devices Troubleshooter
Perform a clean boot on your Windows PC
1] Wait for the error to fix itself
As already mentioned, this isn't an error you should worry about, and quite often, it takes care of itself. You should wait for the device removal procedure to complete in a few minutes, and if your screen is still stuck, you can press F5 to refresh your screen.  Check if this is of any help and if not, move on to the other solutions mentioned below.
2] Restart your computer
Another possible solution to this error is to restart your computer. Some temporary glitches may cause Error Code 21 to occur, in which case restarting your PC should help remediate this issue and complete the process of device removal. In order to restart your computer, click on the Windows button > select the Power option and further click on Restart.
3] Uninstall the problematic device
Another solution is to uninstall the device using the Device Manager.
Click on the Search icon and type in Device Manager
Expand the options and locate the driver that you suspect is causing the issue
Right-click on it to open the Context Menu and click on Uninstall Device
Confirm it and wait for the process to complete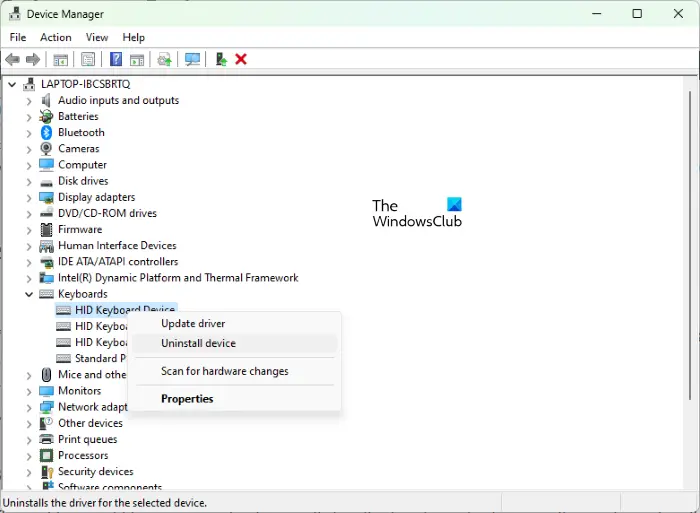 Then, click on the Action option from the menu at the top and further select Scan for Hardware Changes. Wait for a few seconds to check if you're still facing this issue.
4] Run the Hardware and Devices Troubleshooter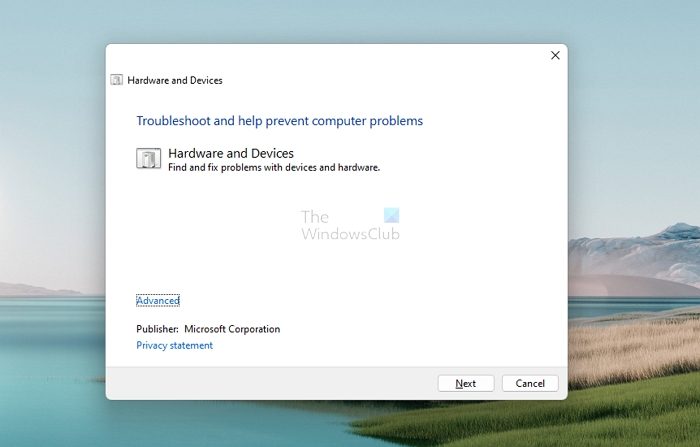 You can try and shell out the bug that is causing this Device Manager error using the relevant device troubleshooter.
Open the Windows Settings with the Windows + 'I' key combination
Click on System from the list of options to your left, select Troubleshoot, and further click on the other troubleshooters option
Browse through the different troubleshooting options available and select the category that your device belongs to
Click on 'Run' and wait for a few minutes for the process to complete
The process scans the relevant drivers and data files for the device to check if there is any corrupted data that may be causing relevant errors and issues.
5] Perform a clean boot on your Windows PC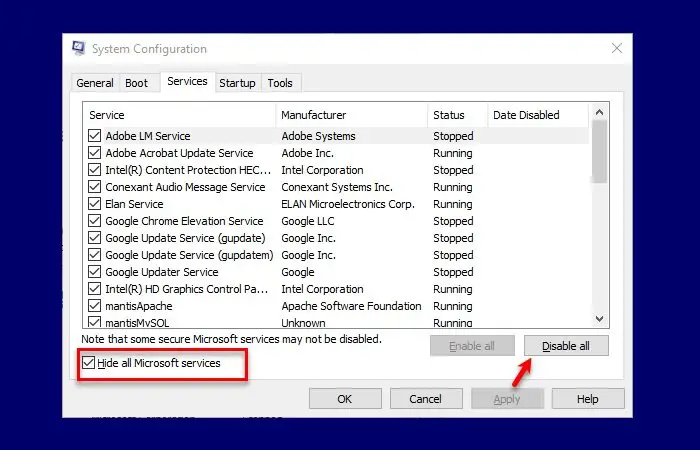 Lastly, you can also try performing a clean boot of your Windows 11/10 PC, and then booting it back up normally. Doing just this has been know to help. Here's how you can do that:
Open the Run command with the Windows + 'R' key combination and enter 'msconfig'
Click on the Services tab and select 'Hide all Microsoft Services'
With the resultant list of services, click on the Enable All tick box to the bottom-right of the dialog box
Now, visit the Startup tab and click on the Open Task Manager option
Select each application previously enabled and click on the Enable button
Finally, restart your computer and check from the Device Manager if the error persists.
How do you fix this device is not working properly because Windows cannot load the drivers required for this device, Code 31?
If your device listed in Device Manager shows an Error Code 31, it simply means that the device is not working properly because Windows cannot load the drivers required for this device. While you may restart your computer multiple times to see if the error gets resolved, if it doesn't, you will have to reinstall the drivers once again.
Open Device Manager, and then right-click on the device which is having this issue.
On the menu that appears, choose Update Driver to start the Hardware Update wizard.
While Windows Update should find a stable driver for you, in case it cannot, download new drivers from the OEM website and manually update it.
How do I get rid of the Windows stop code error?
A Windows stop error code is generated when Windows crashes. It is typically when you see a BSOD, and if you have outdated or corrupted internals, then it must be something you frequently face. Windows stop code errors can generally be fixed by restarting your computer, running the SFC and CHKDSK utilities, or updating your Windows.
Is Blue Screen of Death fixable?
A BSOD is a sign that your Windows has stopped loading. Also known as a Stop error, they are mostly related to hardware or driver issues. You may wonder if these issues are fixable, and the answer is yes. By applying the right methods or making the right updates, you can fix BSOD errors on your Windows computers.
We hope you find this article helpful and will not face any further issues with the Code 21 Error on your Windows PC.