If you see a Stop Error – 0x7B INACCESSIBLE_BOOT_DEVICE after applying Windows Updates on your Windows 11/10/8/7 system, know that it is the result of the boot state that the system gets. Microsoft has laid down some steps that will help you address this issue. Let us take a look at them.
0x7B INACCESSIBLE_BOOT_DEVICE Blue Screen after Windows Updates
When you get the 0x7B INACCESSIBLE_BOOT_DEVICE error, you might be at a loss. Maybe you can't even understand the problem, but don't worry, that is only normal. What's more, this apparently complicated problem has some working solutions.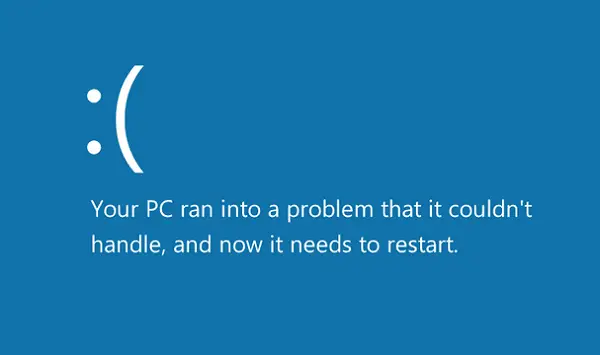 This stop error stems from a flaw in the boot state due to device drivers and data corruption. Sometimes it could also be a result of hardware failure or a virus. Without exception, you will get this stop 0x0000007B error on the Blue Screen of Death or Stop Error.
Even when Windows recovers from the problem, you still get a prompt that says "Windows has recovered from an unexpected shutdown" and this problem can happen on any version of Windows. If this is your problem too, here are some solutions.
Just restart the device to see if the problem solves itself. Sometimes it does and never reappears again. Eles, read on.
1] Make changes to the Hard Drive Controller

If you recently make changes to your hard drive controller, this could be the reason, so reverse the situation by undoing these changes. You carry out any of the following procedures :
Use System Restore.
Reconfigure the new hard drive controller.
Remove the new hard drive controller if reconfiguring doesn't work and you don't essentially require it.
Run Startup Repair
Go back to the version of the hard drive controller and device drivers you had before the driver update.
All these may or may not solve the problem depending on what caused it. If this solution doesn't work, at least you'll know your hard drive controller isn't the problem.
2] Verify SCSI chain termination
If you are using SCSI hard drives, faulty termination is likely the cause of the error. So you need to cater to this problem in order to solve it. However, home computers usually use PATA and SATA and not SCSI, so this might not be your problem, to begin with.
3] Verify installation
Make sure the hard drive is installed correctly. If you haven't installed any new drive recently, the problem could be something else.
4] Verify BIOS configuration
You need to make sure that your hard drive is correctly configured in the BIOS. Change settings as needed to ensure proper configuration.
5] Scan for virus
As mentioned earlier, the stop error can be a result of a virus. So you need to scan for virus and mainly check the boot sector and MBR for malware attacks. If this is the problem, follow the usual routine of antivirus software assistance and restart your device. Always keep your antivirus updated in order to prevent this problem from happening at all.
6] Update drivers
Outdated hard drive controller drivers can cause this error, so update the device drivers.
7] Change mode in BIOS
Some advanced SATA features can cause this error. Change the SATA (AHCI) mode to IDE mode (ATA or Compatibility Mode) to undo the error and avoid it in the future. In some older versions, the solution might be just the other way around. Clearing the CMOS can also help.
8] Run chkdsk
If the boot volume is corrupted, running chkdsk on the hard drive will solve the problem. You might have to run chkdsk from the Recovery console.
9] Hard drive errors
If a hard drive has gone bad, you will need to replace it. There is no way out from a damaged hard drive.
In order to avoid the error from occurring again, configure the patching infrastructure so that CU and delta updates are not simultaneously installed during a single reboot.
Read: Bluescreen after installing Drivers in Windows
Advanced Troubleshooting: Error 7B Inaccessible_Boot_Device after Windows Update installation
When you receive Error 7B Inaccessible_Boot_Device after Windows Update installation, then it's completely different from the scenarios we have covered above. We will have to check if there is a pending Windows 11/10 installation and unload the registry hive to fix it. Boot Windows into Safe Mode using any media installation or if you can get access to Advanced Recovery mode.
Windows Update Installation Status
Open the Command Prompt, and run the following command to verify the Windows update installation and dates. Assuming C is your system drive:
Dism /Image:C: /Get-packages

The result of this command should reveal the Install pending and Uninstall Pending packages.

Run the command dism /Image:C:\ /Cleanup-Image /RevertPendingActions. 
Navigate to C:\Windows\WinSxS, and then check whether the pending.xml file exists. If it does, rename it to pending.xml.old.
Revert Registry Changes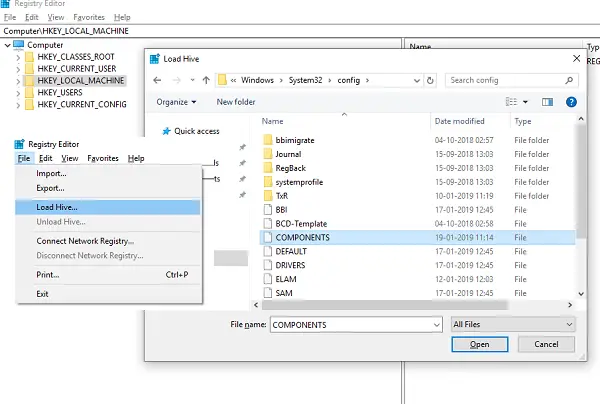 Load Hive
Type regedit in the run prompt to open the Registry Editor.
Select HKEY_LOCAL_MACHINE, and then go to File > Load Hive.
Navigate to C:\Windows\System32\config, select the file that is named COMPONENT. Open it.
Save the name as "OfflineComponentHive." It is our new Hive.
Expand HKEY_LOCAL_MACHINE\OfflineComponentHive, and check whether the PendingXmlIdentifier key exists.
Create a backup of the OfflineComponentHivekey, and then delete the PendingXmlIdentifier key.
Unload Hive:
Select OfflineComponentHive, and then select File> Unload Hive. Select HKEY_LOCAL_MACHINE, go to File > Load Hive. Navigate to C:\Windows\System32\config, select the file that is named SYSTEM. Open it. When prompted, enter the name OfflineSystemHive for the new hive.
Expand HKEY_LOCAL_MACHINE\OfflineSystemHive, and then select the Select key. Check the data for the Default value.
If the data in HKEY_LOCAL_MACHINE\OfflineSystemHive\Select\Default is 1, expand HKEY_LOCAL_MACHINE\OfflineHive\ControlSet001.
If it is 2, expand HKEY_LOCAL_MACHINE\OfflineHive\ControlSet002, and so on.
Expand Control\Session Manager. Check whether the PendingFileRenameOperations key exists. If it does, back up the SessionManagerkey, and then delete the PendingFileRenameOperations key.
Reboot the computer, and you should not get any error related to 7B Inaccessible_Boot_Device.
For a few more suggestions, visit Technet.
See this post if you receive INACCESSIBLE_BOOT_DEVICE error after you used Reset in Windows.

What causes inaccessible boot?
There are several reasons behind the inaccessible boot, including corrupted or damaged boot partition on the hard drive, damaged or incorrectly configured boot loader, malfunctioning or failed hardware components, such as the hard drive or RAM, and so on. The inaccessible boot can often be fixed using a diagnostic or repair tool, such as the Windows Startup Repair Tool. If the problem persists, it may be due to a hardware failure, wherein you will need to get a new one and reinstall everything.
Can a new Windows Update cause BSOD?
Yes, a new Windows Update can cause a Blue Screen of Death (BSOD) error. This can happen if the update contains bugs or conflicts with other software or drivers on the system. It is always a good idea to back up your important files before installing any updates in case of a problem. You can also check Microsoft Forums and take peer feedback to find out if anybody has reported any major issues after recent Windows updates.