After an unexpected shutdown, when users turned on their computers, an error message popped up on their screens saying Windows has recovered from an unexpected shutdown. According to some users, their computers rebooted automatically and showed the error message after they signed in to Windows. On expanding View problem details in the error window, a Stop Error is displayed as the Problem Event Name.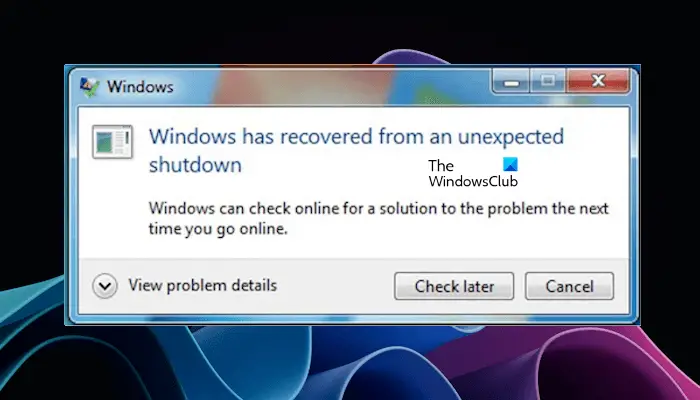 Windows has recovered from an unexpected shutdown
If you see the Windows has recovered from an unexpected shutdown error message, follow the suggestions provided below:
Check for driver update
Run Blue Screen Troubleshooter in the Get Help app
Monitor your GPU and CPU temperature
Perform a Memory test
Repair your system image files
Troubleshoot in a Clean Boot state
Perform a System Restore
Let's see all these fixes in detail.
1] Check for driver update
Corrupted drivers are one of the causes of the Blue Screen errors on Windows computers. Open the Device Manager and see if any driver shows a yellow warning sign. Go through the following instructions:
Expand all the branches one by one and see if any device driver shows a warning sign.
If you see a warning sign, consider reinstalling that device driver.
To reinstall the device driver, right-click on the affected device driver and select Uninstall device.
Restart your computer. Windows will automatically install the missing driver on restart.
You can also open the corrupted device driver properties to check for the Device Manager error code. This will help you in further troubleshooting.
If none of the device drivers show the warning sign, you can check for driver updates. There are many ways by which you can update your device drivers.
Windows Optional Updates also show driver updates (whenever available). Go to the Windows Optional Updates page and install the driver update (if available). If the Windows Optional Updates show updates other than the driver updates, consider installing them too.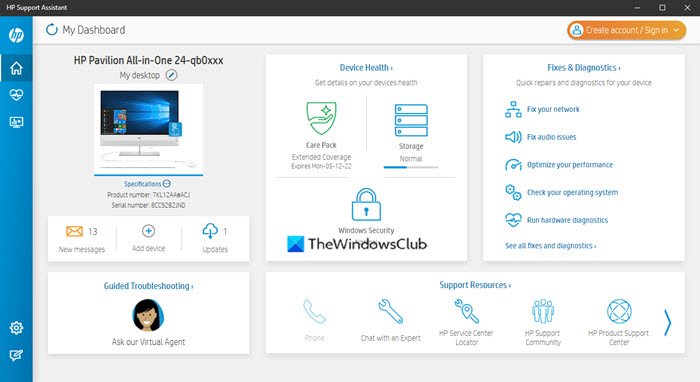 You can install third-party Driver Updater software to check for driver updates. Alternatively, dedicated tools are also available for most computer brands. These dedicated tools allow users to keep their computers in good condition by updating the required software or firmware. Users can also take professional help directly from the support team. Some popular tools are:
Read: How to find which Driver is causing the Blue Screen
2] Run Blue Screen Troubleshooter in the Get Help app
You can use the Get Help app to run the Blue Screen Troubleshooter. Previously, there was an Online Blue Screen Troubleshooter on the official website of Microsoft. But now, Microsoft has redirected it to the Get Help app. The steps to do this are as follows: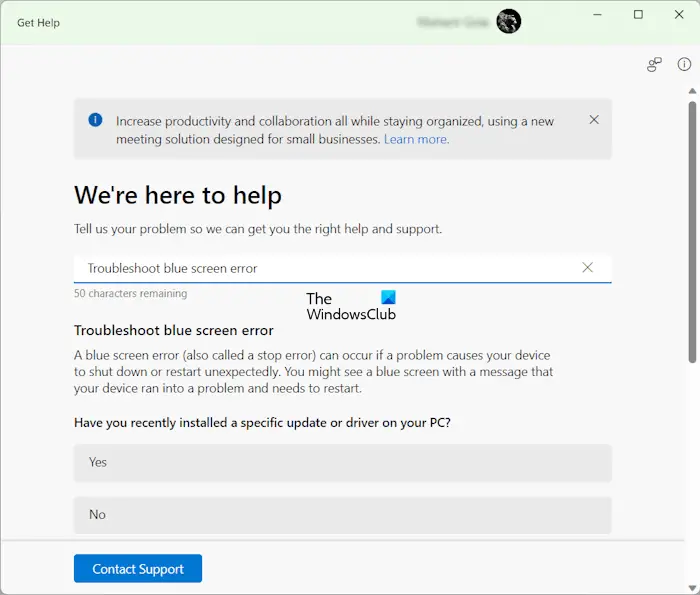 Open the Get Hep app.
Type Troubleshoot blue screen error.
Select the result that matches the keywords.
The Blue Screen Troubleshooter will open in the Get Help app.
Now, follow the instructions displayed in the app to troubleshoot the error.
3] Monitor your GPU and CPU temperature
Hardware issues can also cause Blue Screen errors on a Windows computer. The Blue Screen is a state where Windows can no longer manage to operate safely. Hence, to avoid damage to the system or its components, it enters the Blue Screen. That's why it is suggested to troubleshoot the Blue Screen and find its cause to protect your system from damage.
According to some users' feedback, their CPU temperature rose above safe levels, due to which their computer crashed with a Blue Screen error. On investigating, they found that a lot of dust had accumulated due to which the heat sinks stopped working. After cleaning the computer properly, the issue was fixed.

We suggest you monitor your GPU temperature and CPU temperature by installing third-party software. Windows built-in Task Manager also displays the GPU temperature. If you have not cleaned your computer for a long time, it is time to clean it properly.
4] Perform a Memory test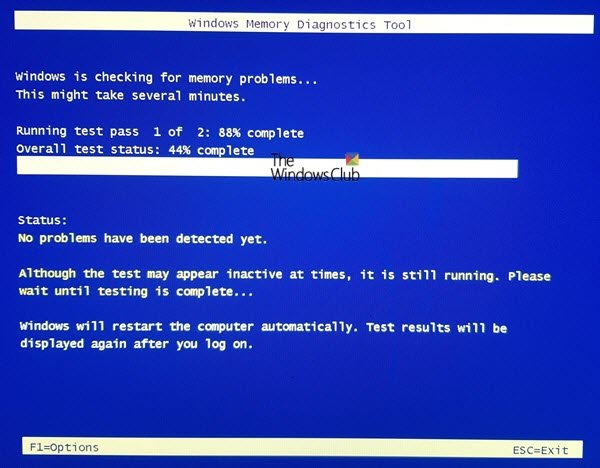 Windows Memory Diagnostic Tool is a built-in tool in Windows computers that helps users check RAM health. A faulty RAM shows many symptoms. If you notice these symptoms, you need to take action before your RAM dies. Running the Windows Memory Diagnostic Tool will let you know whether your RAM is healthy or not.
5] Repair your system image files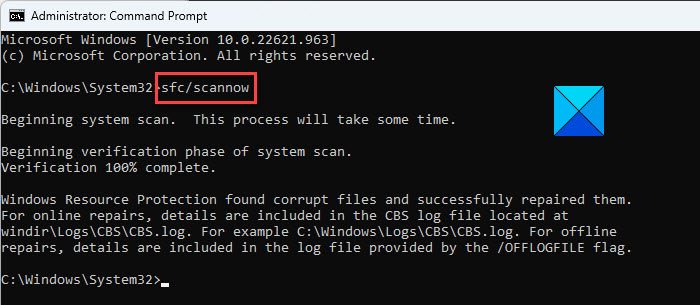 Corrupted system image files can also cause several issues on a Windows computer. We also suggest you scan and repair your system image files. Windows operating system has a built-in tool to repair corrupted system files, known as System File Checker. Launch the Command Prompt as an administrator and run the SFC scan.
6] Troubleshoot in a Clean Boot state
Have you recently installed a program? If yes, that program might be causing this issue. In this case, uninstalling that program can help. If you are not sure about this, you can troubleshoot in a Clean Boot state to find the application or service responsible for this problem.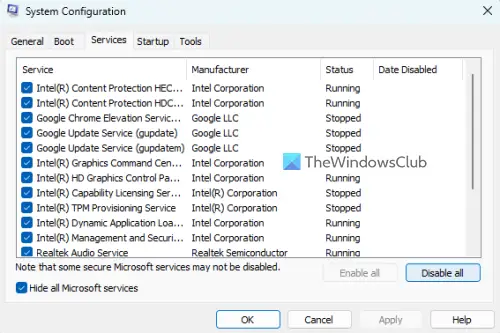 Some users reported that the error message "Windows has recovered from an unexpected shutdown" keeps popping on their screen while working on the computer. In such a case, the Clean Boot state is helpful for troubleshooting. Enter the Clean Boot state by using MSConfig and then monitor the behavior of your system.
If the error message stops popping up and your system becomes stable, a third-party background application or Service is triggering the Blue Screen error. If that app is enabled again, it will bring the problem again. Hence, by enabling and disabling the background applications, you can find the culprit.
Related article: How to Recover Data after a Blue Screen of Death in Windows 11.
7] Perform a System Restore
System Restore is a powerful tool to repair your computer. It takes your system to the previous working state when a problem occurs. When it is active, it creates restore points automatically. You can use any of these restore points to restore your system.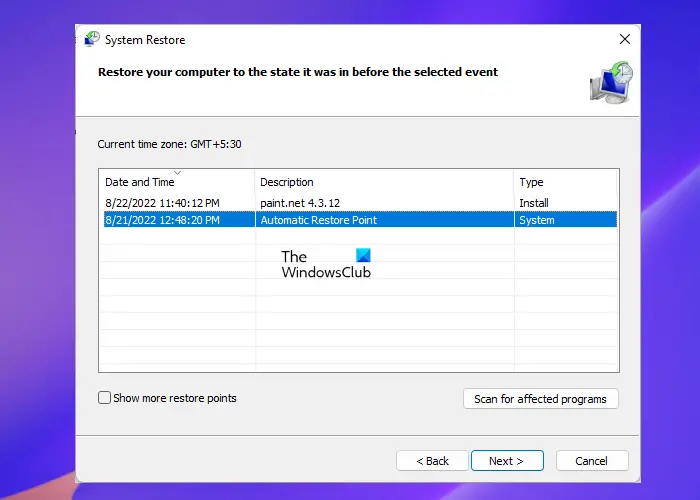 While performing the System Restore, you will see all the restore points along with the date on which they were created. Select the restore point before which the problem won't exist. Do note that this will uninstall all the programs that you have installed after that particular date.
Read: Blue Screen after Windows Updates in Windows.
What causes a PC to shut down unexpectedly?
There can be many reasons why a PC shuts down unexpectedly. Hardware issues are among the most common causes of this problem. Heating issues can also cause a PC to shut down unexpectedly. In addition to this, faulty RAM can also cause the same problem. Other causes include software issues, malware infection, etc.
How do I fix unexpected shutdown?
If your computer shuts down unexpectedly, to troubleshoot the issue, you should know its cause. You can use Windows Event Viewer to find the cause of the unexpected shutdown.
Read next: USB tethering causes Blue Screen on Windows.