Troubleshooting Windows Stop Errors or Blue Screens has never been an easy job. You usually check your hardware, update device drivers, maybe do a few other things and hope things work out. Apart from including the Blue Screen Troubleshooter in Windows 10, Microsoft has launched a web page that helps beginners & novice users troubleshoot their Blue Screens on Windows 11/10. The built-in Blue Screen Troubleshooter is easy to run and fixes BSODs automatically.
Windows 11/10 Blue Screen Troubleshooter
The online Windows Blue Screen Troubleshooter from Microsoft is a wizard that is meant to help novice users fix their Stop Errors. It offers helpful links along the way.
1] Microsoft Online Blue Screen Troubleshooter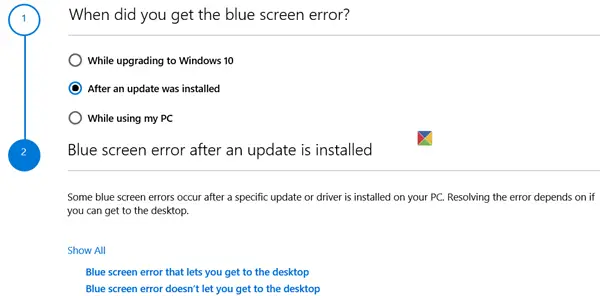 Blue Screens in Windows 10 are simple and do not display Stop Error information. So if you want to get the error code, you may have to force Windows to display Stop Error details.
Having done this, visit the Microsoft site to get started. You will see a simple wizard that will walk you through the process of troubleshooting Blue Screens.
You will first be asked – When did you get the blue screen error?
While upgrading to Windows 10
After an update was installed
While using my PC.
Select your option.
If you select While upgrading to Windows 10, you will now be asked to go back to your previous version of Windows, of the setup already does not do so automatically.
If you select After an update was installed, you will be asked to check for updates or remove newly installed hardware.
If you select While using my PC, you will be offered some helpful suggestions if you can get to your desktop, as well as, if you are unable to access the desktop.
The troubleshooter is pretty basic and is meant to assist a user move forward in this onerous task of fixing your Blue Screen error.
Read: How to find which Driver is causing the Blue Screen on Windows?
2] Built-in Blue Screen Troubleshooter
In Windows 10 you can access the Blue Screen Troubleshooter via Settings > Update & Security > Troubleshoot.
Run it and see if it can fix your problem.
The troubleshooter queries the event messages of the last week & interprets the bug check codes, and checks if it was caused by:
Device drivers
Faulty hardware or Disk drive
Memory failure
Windows Services
Malware.
UPDATE: The built-in Blue Screen troubleshooter is no longer available starting with Windows 10 v1809. You may use the online Troubleshooter.
If this does not help you, there are some more tips to help you fix the Blue Screen of Death in Windows under different scenarios. If you need more detailed help, check out this detailed BSOD guide.
TIP: In case you did not know, Microsoft also offers an online Black Screen Troubleshooter to help fix Blank and Blank screen errors.