Troubleshooting Windows Stop Errors or Blue Screens has never been an easy job. You usually check your hardware, update device drivers, maybe do a few other things, and hope things work out. Microsoft offers a Blue Screen Troubleshooter in Windows. Earlier, it offered an MSDT-based Troubleshooter and then an Online Troubleshooter, which we have touched upon in brief at the end of this post. Now Windows 11 offers a new Blue Screen Troubleshooter that can be run in the Get Help app. This new built-in Blue Screen Troubleshooter is easy to run and helps you fix BSODs.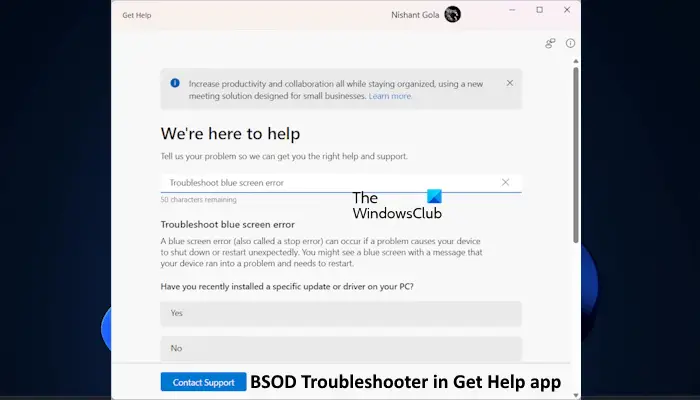 A Blue Screen error occurs when Windows shuts down or restarts unexpectedly due to a serious problem. It is an attempt by Windows to protect a user's computer from damage. Both hardware and software issues are responsible for Blue Screen errors on a Windows computer.
How to run Blue Screen Troubleshooter in Windows 11
To tun the new Get Help app based Blue Screen Troubleshooter in Windows 11, follow these steps:
Click on Windows Search and type Get Help.
Select the Get Help app from the search results.
When the Get Help app opens up, type a related keyword, like Troubleshoot BSOD error, Troubleshoot Blue Screen error, Fix Blue Screen errors, etc.
Press Enter.
The Blue Screen Troubleshooting wizard will open.
Follow the instructions displayed in the app to troubleshoot the error.
To troubleshoot the BSOD, you have to answer the questions displayed in the Blue Screen Troubleshooter in the Get Hep app. Based on your response, it will generate another question. Now, answer that question. In this way, you can troubleshoot the BSOD errors on your system with the help of this troubleshooter.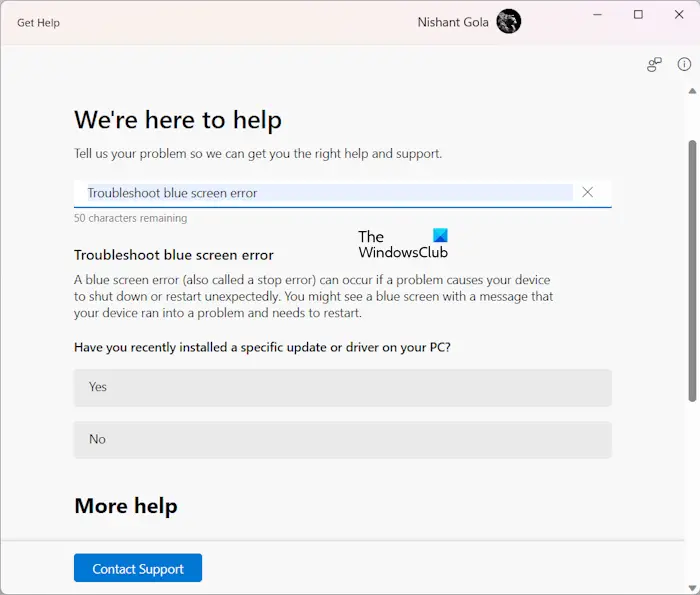 The major causes of a Blue Screen error on a Windows computer include faulty hardware, a corrupted driver, and a Windows Update. Hence, the troubleshooter will ask you general questions, like:
Have you recently installed a specific update or driver?
Have you recently added new hardware to your PC?
You have to select either Yes or No. You can also change your response by clicking on the pencil icon. Based on your response, it will show you how to fix the problem. The troubleshooting guide will also contain links to advanced troubleshooting, like creating a System Restore Point. These links are helpful for users who are not tech-friendly. Clicking on these links, users will land on the official website of Microsoft.
In the end, it will ask you whether your problem is fixed or not. You can submit your response accordingly. If your problem is not fixed, you can select No. Then, the troubleshooter will ask you to contact Microsoft support.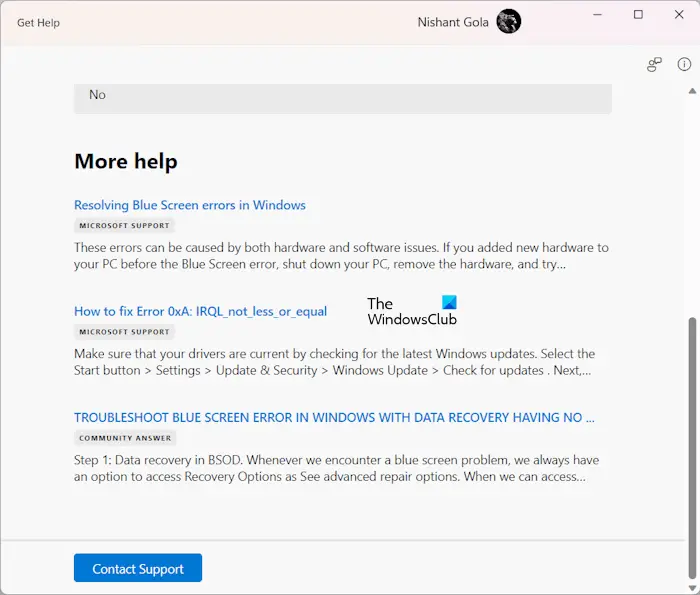 If you scroll down to the bottom, you will see some links to the articles related to your problem under the More Help section. For example, if you are troubleshooting a BSOD error in the Get Help app, it will show you the articles related to the BSOD error, like how to fix Blue Screen errors in Windows, how to fix Error 0xA: IRQL_not_less_or_equal BSOD on Windows, etc.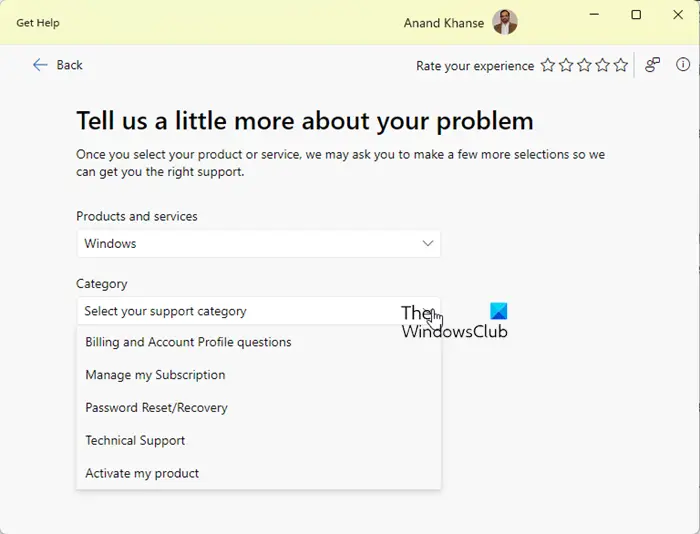 If you want to contact Microsoft support, click on the Contact Support button available on the bottom left side of the Get Help app.
Read: How to run Audio Troubleshooter in Get Help app of Windows 11.
How to fix Stop Code error in Windows 11?
A Stop Code is the error code that you see when your system crashes with a Blue Screen error. There are many causes of a BSOD error, like corrupted drivers, faulty hardware, etc. The stop error codes do not contain much information; hence, you can debug the Memory Dump files to know the cause of the stop code error or BSOD error. Based on the information, you can troubleshoot Stop Errors.
TIP: If you want to get the error code, you may have to force Windows to display Stop Error details.
How to repair Windows 11 with cmd?
You can use different command-line utilities to repair Windows 11, like System File Checker, Deployment Image Servicing and Management (DISM), Chkdsk command-line utility, etc. FixWin is a free tool that can help you fix common Windows issues.
Read next: How to use Camera Troubleshooter in Get Help app of Windows 11.
Microsoft Online Blue Screen Troubleshooter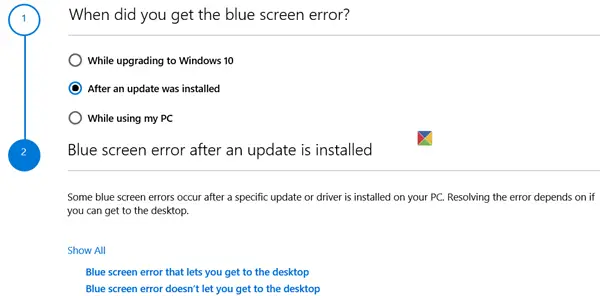 The online Windows Blue Screen Troubleshooter from Microsoft was a wizard that was meant to help novice users fix their Stop Errors. It offered helpful links along the way. It has now made way for the new Get Help app based Blue Screen Troubleshooter.
Microsoft has now redirected the Online Blue Screen troubleshooter to the Get Help app.
Read: How to find which Driver is causing the Blue Screen on Windows?
Built-in Windows Blue Screen Troubleshooter
In Windows 10, you can access the Blue Screen Troubleshooter via Settings > Update & Security > Troubleshoot.
Run it and see if it can fix your problem.
The troubleshooter queries the event messages of the last week & interprets the bug check codes, and checks if it was caused by:
Device drivers
Faulty hardware or Disk drive
Memory failure
Windows Services
Malware.
TIP: In case you did not know, Microsoft also offers an online Black Screen Troubleshooter to help fix Blank and Blank screen errors.