If your Windows computer restarts or reboots without warning automatically or goes into a reboot loop, here are a few suggestions which may help you identify and fix the problem. There are several reasons that could cause this to happen. The problem could any! It could be the failure of some hardware component, over-heating, Windows Update or a Stop Error.
Computer restarts automatically without warning
There are many reasons why your computer is shutting down and restarting by itself. Hardware failures like faulty RAM or damage to a hardware component are the most common causes of this problem. One possible cause of the problem is accumulated dust. Recall when you cleaned your computer the last time. If we talk about software issues, corrupted system files, corrupted drivers, faulty Windows Update, etc., are some causes of this problem.
You will have to identify your problem and then see which of the following scenarios applies to you. Do you get to see a Blue Screen? Does your computer overheat? Updated your Driver recently? Installed some Windows Updates? Once you can identify the probable cause, things could be a bit easier.
Windows 11/10 shuts down unexpectedly and restarts automatically
There could be various reasons why your Windows 11/10 computer restarts automatically, randomly, without warning:
Reboot after Blue Screen or Stop Error
Rebooting due to Hardware failure
Restarting after Windows Update every time
Driver problems causing reboots
Malware.
Let us examine each of these scenarios.
1] Reboot after Blue Screen or Stop Error
To prevent a software or driver issue from restarting your computer repeatedly after a Stop Error, do the following. You need to do this so that you can read the error code, which in turn can help you troubleshoot the issue.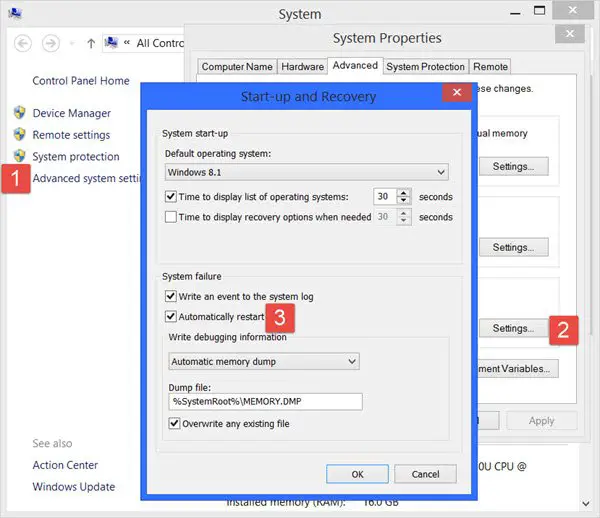 Using the WinX Menu of Windows 10, open System. Next click on Advanced system settings > Advanced tab > Startup and Recovery > Settings.
Uncheck the Automatically restart box. Click Apply / OK and Exit.
Now if your Windows were to crash due to a Stop Error, it will not restart the computer but will display the error message, which can help you troubleshoot the Blue Screen.
This post on Windows Stop Errors or Blue Screens Guide and Resources will help you troubleshoot the issue.
2] Rebooting due to Hardware failure
Hardware failure or system instability can cause the computer to reboot automatically. The problem could be the RAM, Hard Drive, Power Supply, Graphic Card or External devices: – or it could be an overheating or BIOS issue.
This post will help you if your computer freezes or reboots due to Hardware issues.
3] Restarting after Windows Update every time
If your Windows is stuck in an endless reboot loop, try to get into Safe Mode or access Advanced Boot Options. Here you can open a command prompt windows or system restore or perform an Automatic Repair. Windows 7 users may want to consider repairing Windows 7.
See this post if your Windows is stuck in a reboot loop after Windows Update. and this one if you receive a Your PC will automatically restart in one minute message in Windows 10.
If you wish, you can also prevent Windows from restarting after Windows Updates by using the Group Policy or Registry Editor.
4] Driver problems causing reboots
If you recently updated your device drivers and now find that your Windows restarts without warning, you might want to troubleshoot your Driver problems or consider rolling back your driver to the earlier version.
This post will show you how to Uninstall, Disable, Roll Back, Update Device Drivers.
5] Scan your Windows for malware
Malware or virus infection could also be a possible cause for your computer restarts. Deep scan your computer with your antivirus software. You may want to also use a second-opinion on-demand antivirus software to scan your Windows, just to be doubly sure.
Related: The computer restarted unexpectedly or encountered an unexpected error.
I hope something here helps you. If you have any inputs to add, please do so in the comments section.