If your Windows 11/10 system gives you a message Failure configuring Windows updates, Reverting changes, Do not turn off your computer message, then this post may help you troubleshoot the issue. This is a generic error that might appear any time a Windows update fails.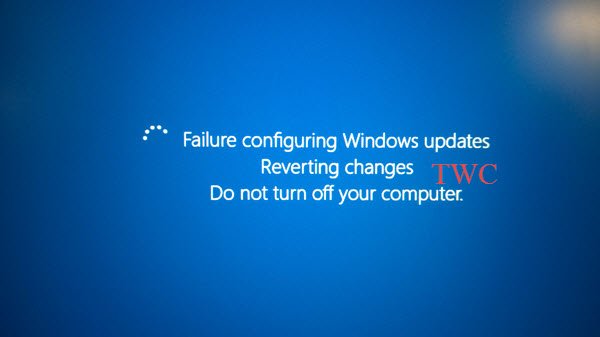 Failure configuring updates, Reverting changes, Do not  turn off your computer
If you are facing this issue, your computer will normally take 20-30 minutes to revert the changes. Here are a few steps you may want to try and see if it helps resolve your problem.
1] First, you should try and restart your Windows computer and then try to install Windows Updates again. See if this helps.
2] If it does not, then run the Windows Update Troubleshooter. Although Windows includes a built-in troubleshooter, download one from there as it includes more fixes.
3] Perform a System Restore operation and then try again.
4] Boot into Safe Mode, Run msconfig.exe, select the Services tab, select Hide all Microsoft services and Disable all and Exit. Now restart your computer and run Windows Update.
5] Start your computer in Clean Boot State and see if you can now install the Windows Updates. Installing Windows updates in a clean boot state prevents them being blocked by some Windows Services and software – including security software.
6] Navigate to C:\Windows\WinSxS\ folder, search for a pending.xml file and rename it. You may even delete it. This will allow Windows Update to delete pending tasks and build a fresh new update check. See if this helps.

7] Navigate to C:\Windows\SoftwareDistribution\Download folder and delete the contents of the Software Distribution folder. Restart your computer and try now.
8] Run System File Checker.
9] Use the Deployment Imaging and Servicing Management (DISM) tool.
Run DISM.exe /Online /Cleanup-image /Scanhealth  first.
Then run DISM.exe /Online /Cleanup-image /Restorehealth to repair your Windows Image.
Once the scan is completed, restart, and try again.
10] View your Windows Update History and remove any recent update which may have potentially caused this issue.
Open Settings > Windows Update > View update history.
11] Repair your Windows installation. Some of you may want to consider a Refresh or Reset operation. OEM users may want to consider a factory reset.
Read: Something didn't go as planned, No need to worry, Undoing changes
How long does Failure configuring Windows updates reverting changes take?
If you face this Failure configuring Windows updates reverting changes issue, reverting your computer can take anywhere from 20 to 30 minutes, depending on your system configuration. Once the process is completed, you will be shown your Windows login screen.
Computer stuck in a reboot loop
If your computer gets into an endless reboot loop, try to get into Safe Mode or access Advanced Boot Options. You can open a command prompt window or system restore or perform an Automatic Startup Repair.
Let us know if anything helped you or if you have other suggestions.
Also see: We couldn't complete the updates, Undoing changes.
Some generic links which can help you troubleshoot Windows Update errors and problems: